Oksana Goliak
By Katrina McDowell on Feb 7, 2023 in People
Yardi's global offices help property managers, owners and investors succeed worldwide. Journey with us to the Middle East and meet Oksana Goliak, office manager of the Yardi Dubai office.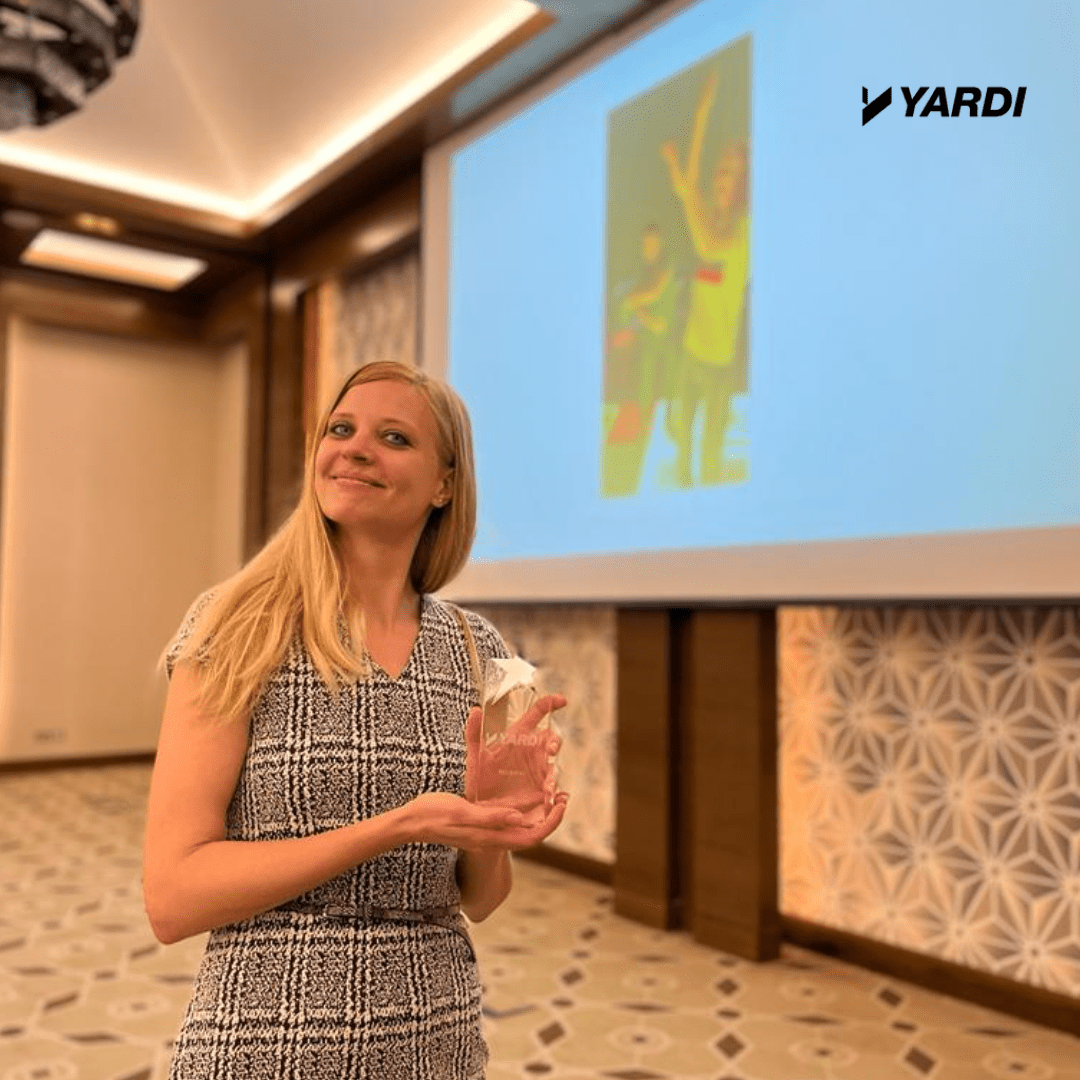 Meet Oksana Goliak
Goliak has been working at Yardi for eight years. As the office manager, she ensures that the office operates smoothly with over 65 employees. In addition, she is involved with human resources responsibilities, works closely with senior directors, and retains employee happiness and engagement.
"My workday routine varies daily. I am involved in many roles such as office management, supplier relations, Human Resources, the IT department, purchasing, employee engagement and team building, to name a few," said Goliak.
Goliak enjoys Yardi's corporate culture, work environment, colleagues, and Yardi inspirational leaders in how they encourage employees.
"We follow our corporate mission and vision. It helps us achieve the goals we set, and spreads the word that Yardi is a reputable organization where people enjoy working," shared Goliak.
Teambuilding confidence
Goliak likes that Yardi appreciates employees' hard work, acknowledges performance, values contribution, and understands challenges while keeping a happy culture. Even during the pandemic and lockdown, Goliak could engage with her team via online platforms and still have regular team-building activities. Employee activities are encouraged with corporate and management support.
"I am proud to say, our Dubai team has virtually climbed the highest mountain peak, Everest, we run through the Amazon Forest, and have explored The Great Wall of China. And now we've launched monthly sports challenges called Yardi Sports League, where employees can participate and play in the teams. So far, we have had a football tournament, badminton, volleyball, and cricket, and in February, we are preparing for a basketball game," enthused Goliak.
Since working for HR, Goliak has received much feedback during Yardi's interviewing and hiring process, which is where Yardi shines.
"Most of our employees have extended years of experience within Yardi, career growth, and positive feedback from clients, and all of this we can see on social media platforms such as LinkedIn and our achievement awards," shared Goliak.
Yardi is hiring globally! Interested prospective employees can explore opportunities on the Careers site.
Bird of passage
Goliak travels to explore new cities, different cultures, and nature. She's been to 25 countries over the last five years. Gym time is never skipped after work, and she attends a Japanese martial arts school twice a week. When she is not working out, she likes to fulfill her weekends at the cinema, performance shows, museums, parks and malls.
In her travels, she's been able to engage with Yardi colleagues from different regions.
"Our colleagues are very social and engaged worldwide, which is amazing! It will be great to see any of Yardi's worldwide colleagues coming to Dubai on a short trip, stopover, leisure, or business trip – please pass by the Dubai office and have a cup of coffee with us," Goliak said.
Learn more about the dynamic members of #TeamYardi on the People page.