MS Gong Ride
By Erica Rascón on Nov 21, 2017 in People
When was the last time that you hopped on a bike and cycled nearly 51 miles? Team members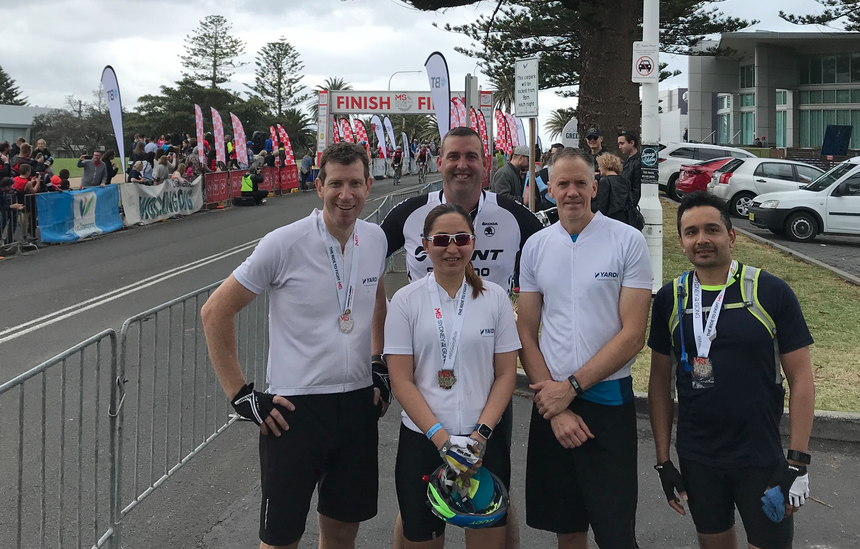 from the Yardi office in Sydney recently completed the 82km bike ride fundraiser, MS Sydney to the Gong. The course traces the southeastern coast of Australia, from bustling Sydney to beautiful Wollongong. The feat of endurance and passion raised funds for those living with multiple sclerosis.
Graeme Pearse, Shaunak Kelkar, Zane George, Charobelle Campos and Chris Mumford were among the Yardi representatives. Most of them were cycling novices.
"Before getting to the event, it's important to note that we are novice riders, amateur at best," shares Mumford. "Some of the team didn't even own a bike when I first sent an email out to see who was interested. But a bit of training together gave the necessary confidence that we could do the distance."
The iconic race is worth the effort. About 10,000 cyclists get the opportunity to tour spectacular coastline south of The Harbour City. Most importantly, they are able to raise money for a debilitating illness that affects more than 23,000 Aussies. With compassion in their hearts and training as their foundation, the Yardi team prepared to overcome the odds.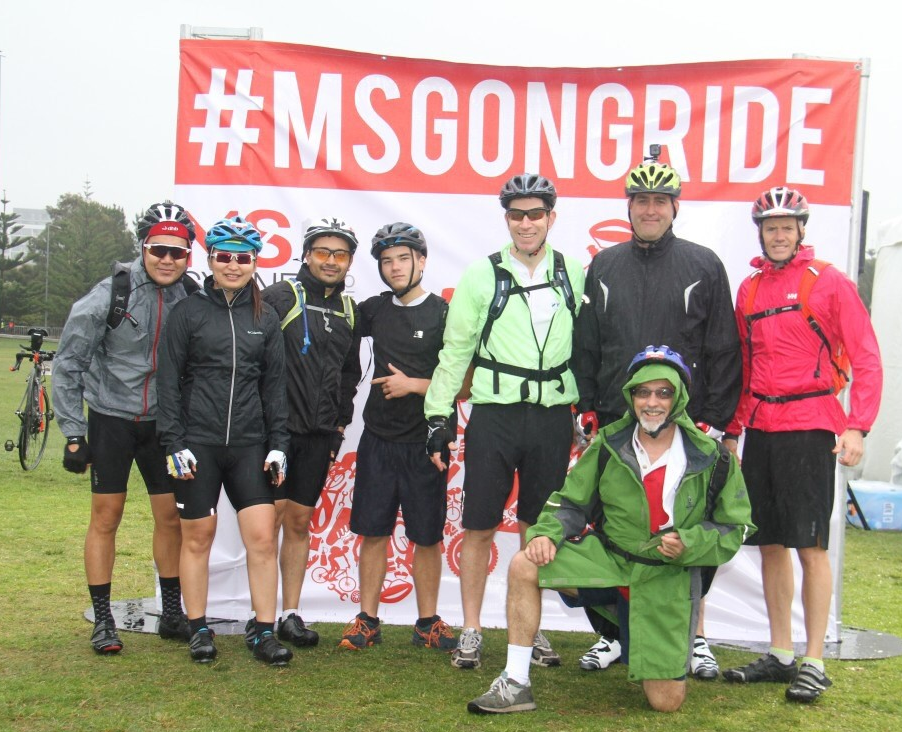 The odds weren't favorable. At 7:30am, the Yardi team congregated near the start line, close to the back of the pack along with other beginners. The cyclists, amateurs and professionals, huddled against the cold rain which would last for long periods throughout the ride.
Mumford says, "That said, the mood was upbeat with everyone excited about the challenge ahead and being part of something big and knowing this was raising money to a very worthwhile cause. The start, finish and route throughout was lined with many people cheering us on and many of those were living with MS. They must have stood in the rain for many hours as the cyclists went by, but their enthusiasm in cheering the cyclists on never wavered. They made the atmosphere very special."
Drawing strength from each other and the crowds, each member of the Yardi team completed the 82km ride. "Yardi provides the opportunity to come together as a team to give back to such worthwhile causes," reflects Mumford.
In addition to employee participation, Yardi corporate also made a donation to the cause. This year, MS Sydney to the Gong cyclists raised a total of $2,686,453 AUD.
"Yardi actively encourages volunteerism. Knowing that it is supported throughout the company—at all levels with funding and time—means it is real and not just a cursory gesture."
To learn more about MS to the Gong 2018, register your interest in advance.
Yardi is Energized for Good! Join the team by exploring our career opportunities.