Jonathan Gonzalez
By Katrina McDowell on Sep 12, 2023 in People
Meet another sensational Yardi employee, Jonathan Gonzalez, team lead for the commercial Voyager Client Success TX 1 team who began his journey as an intern.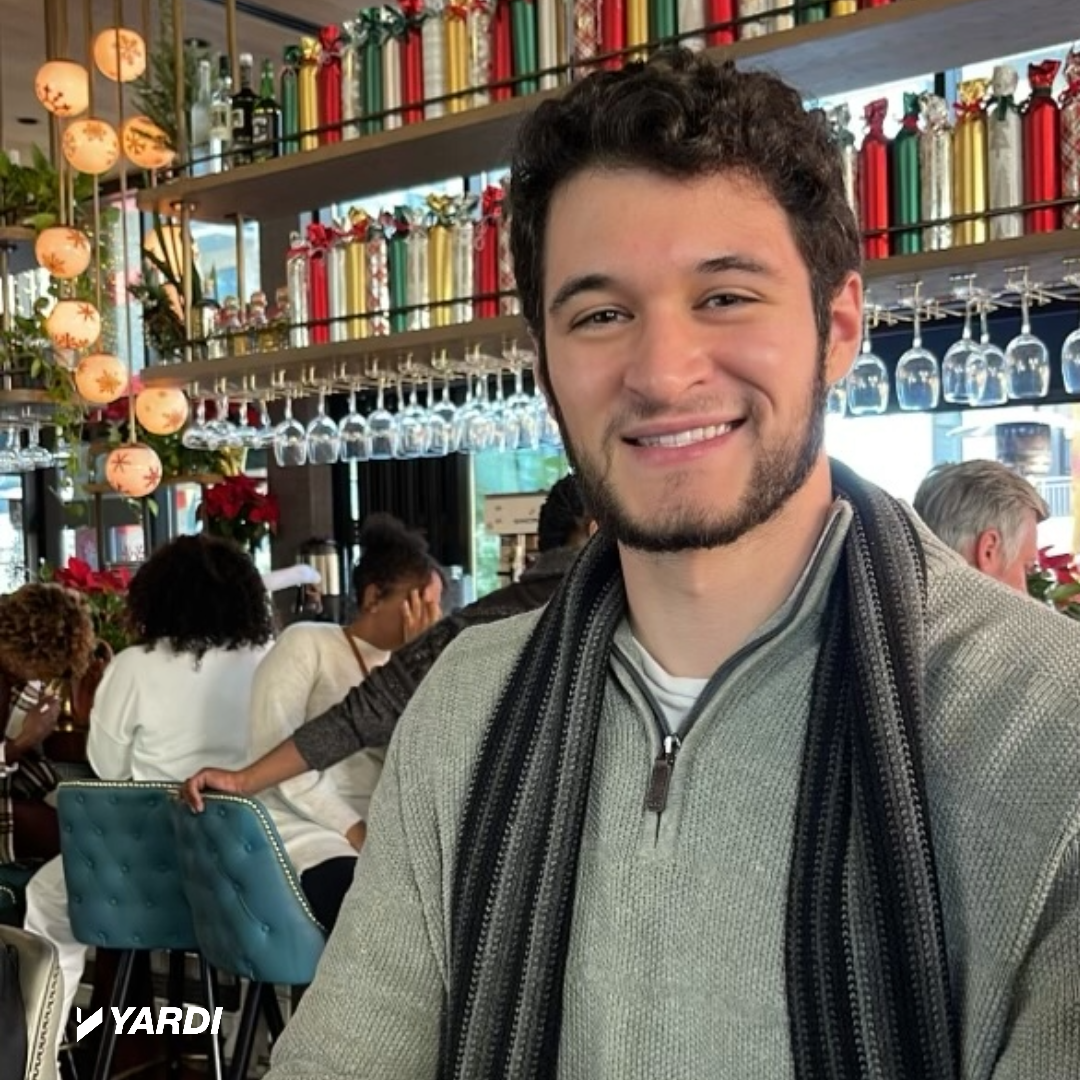 Yardi's offices have many internship opportunities for those interested in learning about exciting and expansive world of real estate technology.
Meet Jonathan Gonzalez
Jonathan Gonzalez has been at Yardi for nearly five years and became a team lead for commercial in July 2022. He works with clients to achieve success with the products they are licensed for and finds new ways to improve their work lives with Yardi's complete product line. He also works with his team to ensure they succeed in providing an excellent customer service experience and developing their careers.
"I put a heavy emphasis on being available for my team, especially since we have transitioned to a hybrid work structure. My goal is to be available as much as possible to build relationships with my team members while also providing them with the mentoring they need to grow," says Gonzalez.
In addition to his team, Gonzalez assists his clients in achieving the maximum results with their licensed products. He spends his days reaching out to perform health check calls with clients to review their system usage and assist with critical escalations to ensure they are well taken care of.
Gonzalez takes pride in having satisfied clients with support and confidence within his team that is more willing to utilize Yardi's full product load.
"Helping my clients achieve success in all their Yardi products is what I most enjoy about working at Yardi. Seeing my clients fully functioning and happy with their software gives me a sense of purpose for my work," shares Gonzalez.
Confident Colleagues
Gonzalez enjoys the welcoming environment of Yardi, where everyone is eager to see success in each other. Yardi is a company that allows open communication that enables employees to work with anyone, whether an account manager or VP.
"Overall, working at Yardi and with Yardi employees gives me a sense of comfortability and confidence that there are people and a company that are supporting me," said Gonzalez.
Gonzalez describes Yardi as "a welcoming and supportive environment that will challenge you with experiences that will help you excel in your career and as a person."
Yardi is hiring globally! Interested prospective employees can explore opportunities on the Careers site.
Double Vision
Gonzalez spends his time outside the office playing sand volleyball and pickleball with friends. He also serves as a youth leader at his local church weekly. Most importantly, he loves to spend time with his family. His twin brother, Jordan Gonzalez, also works at Yardi in sales, and recently, they both have worked with the same clients.
"We never planned to work for the same company. It just worked out that way. God really does have a sense of humor. Yardi has been a big blessing in my life, and I thank God that I was able to find a great company to work for," Gonzalez gleamed.
Learn more about the dynamic members of #TeamYardi on the People page.