Jay Shobe
By Erica Rascón on Jul 5, 2016 in People
Jay Shobe, Vice President, Technology at Yardi, has spent his entire life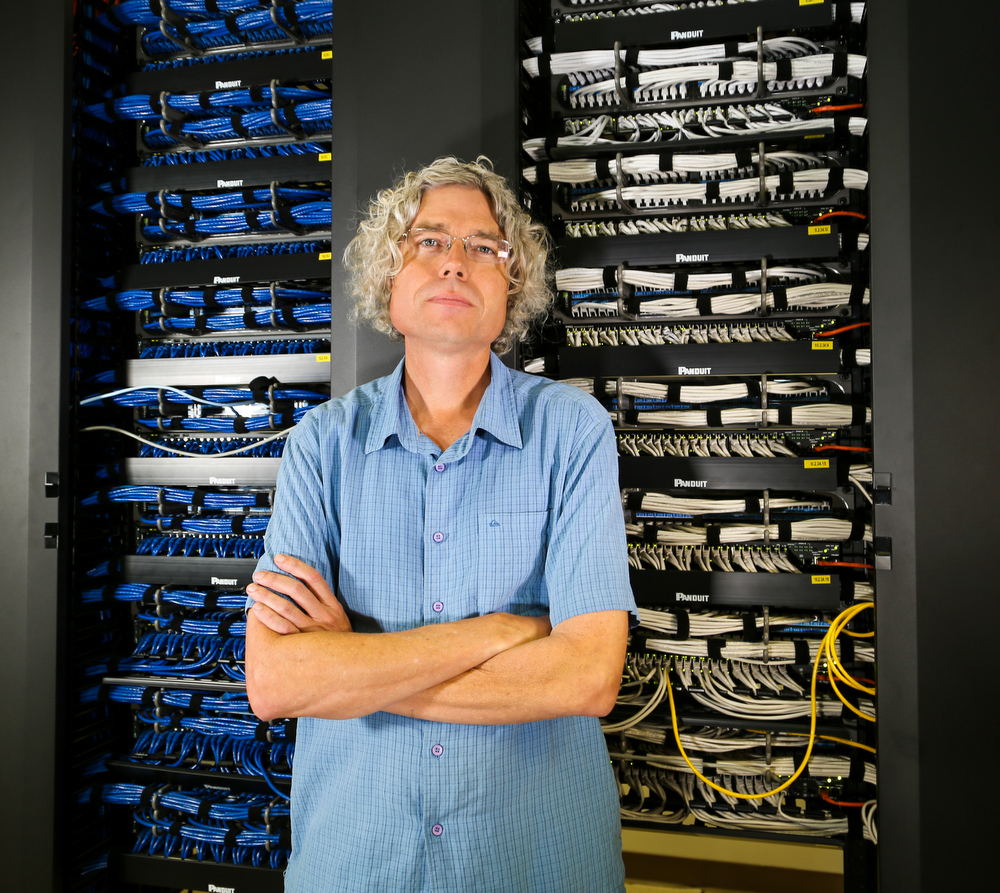 around technology. He grew up using an early incarnation of a PC that ran on a Burroughs operating system, connected to ARPANET (pre-internet) via an acoustic coupler (pre-modem).  "So yeah, I go back a ways," he says casually.
Tech is in his blood. It's with this full breadth of knowledge and experience that Shobe proudly transitioned into his role with Yardi Cloud Services nearly two years ago.
"I was in development for 20 years before I transferred to Cloud Services," begins Shobe. "This group is dedicated to making sure that the vast environment—12 data centers across the world, 5,000 clients in the cloud and millions of people connecting on a daily basis—and all the different data that we keep in that environment is safe, secure, and performing properly."
The dedication of Shobe and his team is what makes Yardi Cloud Services one of the most trusted and relied upon cloud service providers in the industry. Cloud services play a vital role in the growth and viability of Yardi as more businesses transition to remote networks.
The cloud allows clients to transfer IT infrastructure, support services, and data security into the capable hands of specialists. This transition is an integral part of today's corporate growth strategies: when combined with big data, reports indicate that businesses experience 53 percent greater growth than their self-hosted peers.
Client data is stored in a cost-effective and scalable software management solution that is secured offsite under the care of Shobe and the Cloud Services team. They are the unsung heroes of many growing enterprises.
"The cloud today is viewed similar to electricity or plumbing; you expect that it's going to be working. You don't say a little thanks to the power and water company for getting it done," says Shobe. "But when there is a problem, the tolerance is short. That's a big challenge that we take seriously."
Yardi data centers are protected from virtual threats by a series of firewalls and around-the-clock monitoring. In the real world, biometric screening, onsite security, video surveillance, and fire suppression mechanism are only the tip of the iceberg in protections.
Even with those measures in place, security threats are an inevitable daily concern. For Shobe, maintaining clients' trust is a matter of facing threats with a combination of preparedness and diligence.
"When there is a problem, we jump on it," says Shobe. "We make sure the systems that we're building are secure and the monitoring programs are functioning properly. We conduct forensic evaluations when we detect a problem to make sure that we've closed any loopholes."
Shobe knows that this sounds good on paper. But what prospects and existing clients always want to know is, Does it work? Is the cloud truly secure?
"I say, 'Don't ask me, ask our clients.' We have an incredible list of clients that trust us with their data: some of the world largest banks, insurance companies, hedge funds, sovereign wealth funds—these are people and companies that have very stringent audit requirements," explains Shobe. "We've been able to assure them that their data is secure and safe."
Shobe continues, "If you're still unsure, don't as me, ask our auditors. Regular audits test penetration and vulnerability assessments. They do this all day, every day. We get validation that our environment is secure through these processes."
Security surfaces as a leading concern as more businesses turn to the cloud as a foundation for growth. Forbes reports that 58 percent of enterprises predict their use of cloud computing will increase top-line revenue growth within three years. When revenues depend on the data within the cloud, cloud security is a top priority.
Clients' data and their pending revenues rest in good hands.
"Yardi has a great group of people," says Shobe. "We roll up our sleeves, get things done. We put clients first. Clients are why we do what we do and why we do it well."