Cynthia Parker
By on Jun 30, 2014 in People
With a strong track record in affordable housing development, San Francisco-based BRIDGE Housing decided to take it up a notch. In its 30th year in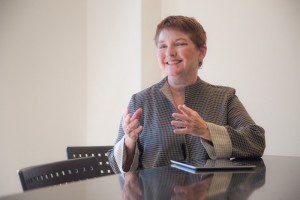 existence, the Bay Area non-profit announced that it would aim to double the size of its portfolio by 2017.
One year into the effort, CEO Cynthia Parker reports that things are going swimmingly.
"Last year we delivered 1,000 units of housing, and we have 1,800 in some phase of construction or development right now, and we have a pretty huge pipeline. We are working on all cylinders at this point," Parker told us in a recent interview.
With a regional focus in the Pacific Northwest that's expanded the reach out of the BRIDGE portfolio beyond California, and multiple involvements in public housing revitalization projects, the company has plenty on its plate. They're also incorporating green technology into their new and remodeled buildings, and pushing innovative mixed-demographic residential models.
Read on for more of our interview with Cynthia Parker.
What does this big growth spurt say about BRIDGE's health as a non-profit housing developer?
Parker: Over a 30 year span, we have been working to get to this stage, where we are a very high functioning organization. With the help of others, we've built out our platform so that we have the infrastructure in place to do this kind of development. It's really important to do that first.
What are some of the components of that platform?
Parker:  I would say our affiliation with IT, our ability to use software programs from Yardi, and our build-out of SharePoint for database management. We're doing enhancements this year on our payments and receivables. We're looking to do everything we can to have the best tools we need to be efficient developers.
Tell us about your green initiatives?
Parker: Within our active portfolio of properties, built over the last 30 years, we have been very engaged in recapitalizing and greening wherever we can. Beyond that, we're looking at everywhere we can to save water – particularly in California, with the drought. We're changing landscaping and in one case looking at a water recycling plant for a large-scale development that we own. Overall, we want to reduce energy consumption by 20 percent by 2020.
Can you talk about your focus on public housing revitalization?
Parker: The public housing in our country, for the most part, has been neglected.  We've seen city after city where HUD, over time, has reduced their subsidy sources. We see a lot of deferred maintenance. While there are some housing authorities that are doing fine with the old model, others are starting to really need capital infusions to keep their properties up.
We see high performing housing authorities in Seattle and at the Oakland Housing Authority, one of our partners in the Bay Area. In San Francisco, the housing authority was a low performer and the city essentially took over governance and management. It's Mayor Ed Lee's intent to work to recapitalize as much as they can using the RAD program or some other mechanisms.
What is the RAD program, which you're involved with as a partner?
Parker: The Rental Assistance Demonstration program is a HUD program, where a Housing Authority applies to convert their public housing into a more privatized model.  In that model, there is more of a Section 8 rental assistance contract that goes with it, which helps support debts, along with other subsidy sources.  In this case, we'll be receiving those from the City of San Francisco. There are also tax credits. You move the public housing into a RAD program with newly recapitalized buildings. We proposed and were awarded 700 units from the city of San Francisco, so we will be taking them through that RAD process. We'll be redoing the units, making them green, modernizing and making them more livable for the residents. We will also manage them after the project is complete.
Can you speak to your efforts in transit-oriented development (TOD)?
Parker: TOD is incredibly important as an infill strategy, and it allows affordable housing residents to be located near transit networks and save on transportation costs. It's creating neighborhoods that may not have had housing – projects are going up on parking lots and surplus land sites.  It's good for the environment and the residents.
We have over 3,000 units of TOD in our portfolio – I think we're the largest TOD developer of affordable housing in the country. We have another 3,000 units in our pipeline. We're very actively engaged and will continue to be.
What are some of the challenges involved in TOD development?
Parker: They are incredibly complex. Oftentimes there are public-private partnerships, with the transit agency, or municipality, or a combination of both, to secure the land. Quite often they are contaminated and you have to secure funds for remediation. There are many other things. But we know that we're committed to it, I know there are a number of other developers with a similar philosophy, but there are high barriers to entry. You don't just have to be a developer, you have to be able to juggle the competing needs of the public agencies.
How is your expansion into the Pacific Northwest going?
Parker:  We have three TOD projects going on in Portland. One of them is in the Pearl neighborhood, targeting mixed income residents and families. That's an emerging neighborhood with limited housing for families–it has been more urban empty-nesters. But it's next to a park and there's a pre-K program nearby, so we really feel like we're rounding out that community. We'll start construction this year.
The other project in Portland is in the Eastside, in a former industrial area that is becoming a cool neighborhood popular with designers and startups. It's another mixed income project, with about 50-50 split between affordable and market rate units. We also just purchased a property in Hillsboro, a suburb of Portland, on the light rail line. We will be rehabbing that property within the next year.