CRE Tech 5.0
By Jim Young on Jan 6, 2017 in People
Editor's note: Jim Young is the Founder and CEO of Realcomm. At a recent Yardi Executive Briefing, he spoke about CRE 5.0. In this guest blog post, he further expands on the subject.

The commercial and corporate real estate industry has many moving parts. Change is the only constant as companies around the world continually add and subtract from their organizations and portfolios. A merger today and a disposition tomorrow requires a complex network of individuals and processes to keep up with the changing real estate needs of a company.
The people and processes involved in keeping a real estate portfolio moving smoothly require a significant amount of technology, automation and innovation. It is no longer possible to keep asset, lease, utilization, energy, operations and other data in spreadsheets or other disconnected information silos. In addition, there are four primary categories of technology associated with commercial and corporate real estate, 1) Real Estate Operational Information; 2) Transactions; 3) Smart, Connected, High-Performance Buildings; and 4) Next Generation Space.
Over the course of the last 30 years, there have been five major phases of automation that have impacted the commercial and corporate real estate industry. Following is an overview of this CRE Tech evolution:
CRE Tech 1.0 started over 25 years ago. Companies like Manhattan, Tririga, Yardi, MRI, CTI, J.D. Edwards, Argus, Angus and others, were the first to enter the real estate technology space. Their primary functionality was targeted on lease administration, asset management, accounting and property management. CoStar, which was founded in 1987, emerged as an industry giant, although the company has focused more on transactional and market data. Comps Inc., another market data company (acquired by CoStar), was also an early pioneer as were DataQuick, Damar, MetroScan and others. On the smart building side, companies like JCI, Honeywell, Schneider Electric, United Technologies and Siemens were some of the companies laying the foundation for the building automation industry.
CRE Tech 2.0 started in the mid '90s amidst the dot-com boom-and-bust. Riding the wave of the dot-com mindset, investment and hope, billions of dollars were invested, and to some extent lost, in the CRE Tech revolution of the time. Companies such as Property First were sold to LoopNet, which was then acquired by CoStar. Companies such as Broadband Office, RealtyIQ, Realcentric and many others, simply vanished into thin air. This was also the period where smart buildings were given a new, broader, more integrated definition by companies such as Tridium.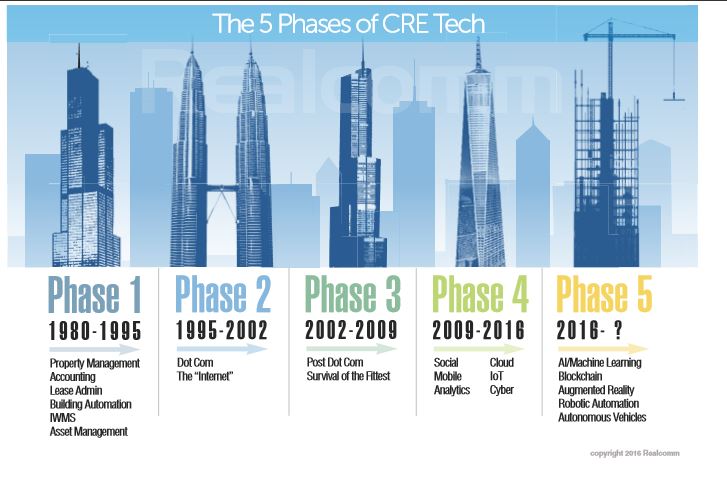 CRE Tech 3.0 was the period after the dot-com bust, up until 2009. Fueled by IP-enablement, wireless broadband, data integration, enhanced user experience and mobility, this became a period of long, patient, sustained growth by those companies who survived the bust. Good ideas, solid business plans and great management were the attributes initiated and implemented at these organizations. Companies such as Virtual Premise (acquired by CoStar), Air Photo/Keyhole (now known as Google Earth), Avid Exchange, Nexus Systems, Corrigo, Millennia Group, ESI (acquired by CBRE), Controlco and others, became strong and respected companies in the industry during this period.
CRE Tech 4.0 as best we can tell occurred in the 2009-2015 timeframe. This makes sense, as the economic collapse of 2008 occurred one year earlier. In all economic setbacks, it takes a couple of years to stabilize, after which the rebuilding and innovation starts. By current estimate, there are at least 500 companies that have entered the space in the last five to six years. This includes the four different categories of CRE tech listed above. Some of the companies who have gained a degree of traction in this newest chapter of CRE tech are VTS (recently merged with, Hightower), CompStak, Lucid, Switch, KGS Buildings, WeWork and LiquidSpace. Of course, there are many other notable new companies, but there are too many to list here.
CRE Tech 5.0 technologies have been in the works for some time but only just began to surface in mainstream conversations in 2015. In February, Google's DeepMind ARTIFICIAL INTELLIGENCE platform beat the Korean Go champion. In September, Uber started utilizing AUTONOMOUS CARS in Pittsburg, and earlier this year, Wall Street held major, private meetings regarding the future of BLOCKCHAIN. Add to this AUGMENTED REALITY, ROBOTICS AND DRONES and you have the makings of another major technology paradigm shift.
Every one of these technologies will continue to have significant impacts on commercial and corporate space. The aggressive adoption of these new tools will have major effect on the information systems we use to manage these assets, the way we operate portfolios, smart buildings and the ways we create and use space. The bottom line is our assets will be smaller, more flexible, more efficient, sustainable and more cost-effective to operate.
How will the industry keep up? That is the major question thought leaders in our community are asking. In an industry long known for its measured adoption of technology, automation and innovation, it's valid to inquire: "If we are still working on figuring out how to receive rents electronically, how can we even conceive of the ways artificial intelligence might impact our industry?" With such profound benefits coming from these new technologies, it is no longer a matter of if, but when.
There are many reasons why adoption in commercial and corporate real estate is not keeping pace with other industries:
• Industry executives have difficulty understanding the complexities of today's technology options.
• IT professionals have various levels of knowledge pertaining to the business needs of the real estate industry.
• Many professionals are risk-averse when it comes to major automation projects.
• Technology suppliers sometimes have difficulty translating technology features to business benefits.
• Commercial and corporate real estate and service provider relationships have struggled to identify, synchronize and execute on strategies that involve technology.
• Cyber and privacy issues present new risks which have yet to be fully understood
• There are in inordinate number of companies to identify and evaluate
• The challenges of integrating five generations of technology is daunting
The good news is that a growing number of real estate professionals are beginning to realize that we can no longer rely on analog and automated systems to operate these vast and complex portfolios. There is too much at stake with respect to productivity, occupant experience, resource conservation and financial optimization.