Changemakers Series
By Natalie Mahn on Jul 30, 2021 in People, Senior Living
This year, Senior Housing News (SHN) has honored a variety of senior living leaders through their Changemakers series. And without fail, each member of the Changemakers class is inspirational, unwavering and transformative in their approach to industry obstacles.
That certainly describes Yardi client Fee Stubblefield, founder and CEO of The Springs Living.
Headquartered in McMinnville, Oregon, The Springs Living owns and operates multiple senior living communities across Oregon and Montana. Fee started the company in 1996 with a mission to create communities that felt like home and since then, he's elected positive change in the company's design and operations. That's exactly why he was chosen as a 2021 Changemaker and interviewed in this special series, sponsored by Yardi.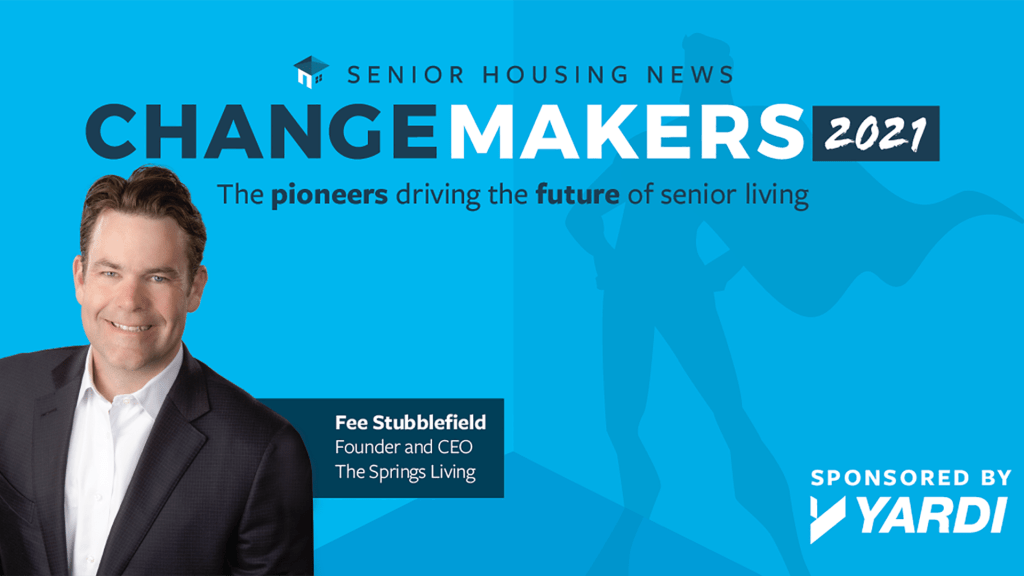 In this excerpt from his SHN interview, you'll learn how Fee has led The Springs Living through a period of change — and how he's preparing for the future. Plus, you'll get an inside look at Fee's approach to innovation, his dedication to senior living and his tolerance for risk.
Do you agree that change-makers are risk-takers, and secondly, how do you describe your own personal tolerance for risk?
I would say that we're probably categorized as both innovators and risk-takers, but I don't see it that way. I don't see it as risky. This is what we've learned. This is what we believe the market wants and we have hedged it in ways that we think makes sense — that eliminates risk. It's been really fascinating to see how different people look at the mountain from a different side. When you go on a hike, you look up the hill and you think, okay, I'll remember that spot when I get there, and then when you get up there, it looks completely different. Our view of the mountain is that we are mitigating risk every step of the way. Do we invest in R&D and experimentation based on what the market wants? Yes. Could some people call that risky? Sure. We don't. Every day we hire a new employee — the kid that's getting their first job. Every day we bring in a new resident that is going through this phase of life. That's a different generation and we have to evolve.
It's riskier to avoid change. I've seen too many instances where people drive right through the curve. You have to keep your eyes on the road, or your customer and your employees. No road is straight forever.
In what ways do you think the industry needs to change to prepare for the future?
Covid has accelerated the understanding that healthcare and housing will continue to merge.
The supportive services will happen in the environments that we create. To do that, capital providers need to continue making proper considerations and allocations for operational systems and platforms while investing in the workforce..
We know that's the key, not building buildings. We all know this, but I think we're addicted to the capital markets and the real estate base that has driven financing in senior housing. What have you actually done to look at your underwriting differently or to invest in those operational platforms? I think that's the number one change.
For many years, operators have been willing to go out there and collect a small management fee for a whole lot of work. We've tied what those resources are — 4%, 5%, 6%, to, in some cases, 7% — to a model of multifamily real estate underwriting. The reality is that as an operating business, we're closer in class to a hotel, if not beyond a hotel, where branding and management fees run 12-13% or higher.
That's the number one area where we can reallocate some things, and I know that's a really hard question. On a real estate balance sheet, that's moving some dollars around, but I think you can get both, and I think you can avoid eroding values while funding operations correctly. I know the market will pay for better operations.
There's a way to do this where the real estate owners don't erode their value by seeing the management fees go from 5% to 13%, because they are able to garner a higher dollar from the customer to make up that difference. I think there's a way to blend it in and to make it work, and we're going to have more focus on risk adjusted capital. It's not just about spending your money, it's about effectively using your dollar.
If you use your dollar better, you're going to get better results, you're going to get more consistent results and you're going to get more stable occupancy. You will lease-up quicker, and operators who do that should be paid on a risk-adjusted basis for the quality of the returns. That will mimic the quality of the operations, whether it's a high-end product, a middle market or an affordable product — it doesn't matter. Quality still exists in every one of those tranches of brand experience and affordability for the customer.
Covid-19 is just an accelerant to what we knew was coming, and that's the silver lining in this whole deal. It's been a tough year, but it brought things front and center, and it's going to result in some very good quality enhancements for our industry.
Check out Fee Stubblefield's complete Changemaker interview with SHN.