Changemaker Series
By Natalie Mahn on May 25, 2022 in People, Senior Living
"Often I've found that change comes at the most unexpected times, but I believe that's what makes our work so meaningful."
Those words come from LCS President and CEO Joel Nelson, a member of this year's Changemakers class. The annual Changemakers series recognizes bold, strategic leadership in senior living.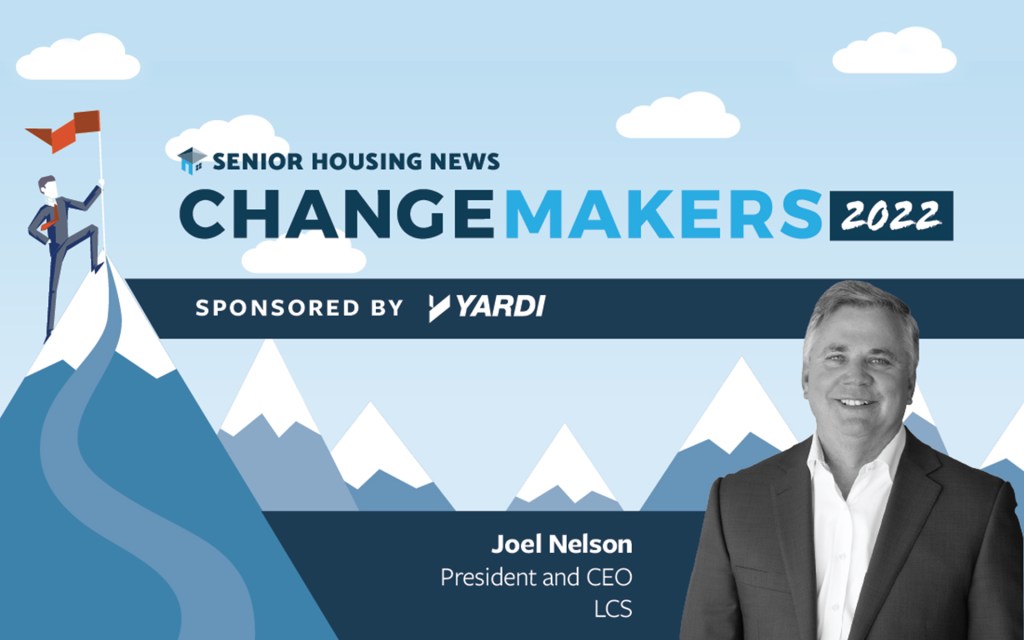 With leaders like Nelson interviewed by Senior Housing News (SHN) throughout the series, you get an inside look at how industry pioneers are sparking change. Yardi is proud to sponsor Changemakers for the fourth consecutive year.
Introducing Joel Nelson
Joel Nelson's career at LCS — a Yardi client and one of the nation's largest senior living organizations — has been full of change. From starting the company's real estate business to now operating over 130 communities in the LCS Family of Companies, Nelson is skilled at navigating challenges and developing solutions.
In his SHN interview, Nelson shares how being prepared for change is critical, and discusses which changes he believes are vital for the industry's future. Keep reading for a highlight.
SHN: Thinking back on your career in senior living, what are some of the changes you're especially proud of leading?
Nelson: I've had the good fortune to be in the industry for the last 36 years, and there have been many changes in LCS and the senior living industry during that time. The one I'm most proud of is when I was given the opportunity to start our real estate company back in 2010. It was transformational for the company and who we are, and it has driven even more changes as a result.
There's a lot to be proud of in this industry, which is why I stuck around for so long. I've been on multiple association boards, and for the last couple of years, I've served as co-chair on public policy and advocacy for Argentum. I'm very proud of what we were able to do during these challenging times. I think we're at the very beginnings of getting an ear that might be open to some change in the perspectives of our industry. There's a lot of more work to do there, but we changed the pendulum.
SHN: How have you changed as a leader in your tenure with LCS?
Nelson: All leaders go through cycles. There are cycles of learning, cycles of leading and cycles of change. All three of those require adaptation as a leader. Maybe it's the new market; maybe it's new clients. I think the biggest change I've experienced as CEO of the organization is taking a back seat in problem-solving.
As an operations guy, that's what I know. We dig in, roll our sleeves up and solve problems. At the highest level, I've had to figure out how to take my experience and ride alongside my team members to help drive change and solve problems within our industry. That's a marquee of LCS — giving back what we've all received in our own professional development. As CEO, it's critical that I get the next generations prepared to continue the legacy of LCS.
SHN: Talk about a time when you tried to execute a change and it didn't go according to plan. What lessons did you learn?
Nelson: There have been many. A pivotal point in my career and the company was getting into real estate, and there were a lot of mistakes made as we learned that business. Today, we operate two distinctly different platforms.
When we chose to diversify our product and take a more aggressive owner position, we discovered we were best suited for multiple continuums of care and the larger size of the communities. Our infrastructure was not appropriately sized for a 60-unit community or an 80-unit community. We determined just philosophically that we wanted to have more than just a straight memory care building. We went and said, "We'll have memory care in all of our communities, but we're going to have it along with AL, IL and have the continuum as we move forward."
As we looked at that, we went back and reset our entire rental strategy in 2018. Our COO today, Chris Bird, came in and did a masterful job executing that change.
We did two things. We first changed the size, and said, "Our best niche was to be in that 120 to 150-plus unit with multiple levels of care." The second part that we changed was moving to portfolio relationships. We have programmatic JVs on the development side, and we have programmatic strategies on the acquisition and ownership side. We're not doing one-off, one-site developments, because they don't align with the efficiencies, scale or consistency for us to implement all of our best practices.
As I said, there were many mistakes and lessons in that area alone. Today, we like where we're at. We're active in the development side and the acquisition side, both on life plan and rental.
See more of Joel Nelson's interview
To learn more about Joel Nelson's journey as a senior living leader, read his full Changemakers interview with SHN.
Curious how Yardi solutions help operators like LCS elevate their communities? Explore our Yardi Senior Living Suite brochure and don't hesitate to get in touch with questions.