Baked Goodness
By Erica Rascón on Dec 5, 2019 in Giving, People
You ever get a warm, fuzzy feeling when you do something good for someone else? It's not that dissimilar to the first bite of your favorite dessert made by a loved one. Both are rich with compassion, joy, and the warmth of the holidays.
Yardi Atlanta introduced its first annual Bake Off, a baking competition that honors the spirit of holiday giving. It has set the tone to be a favorite for years to come.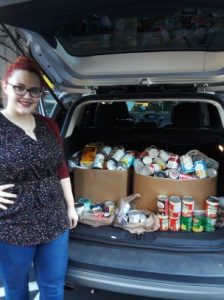 Creating The Bake Off
Yardi Atlanta's first annual Bake Off was bittersweet. In the past, the office hosted a potluck for Thanksgiving. Yardi corporate provided the ham and turkey and all additional sides and desserts were made by employees. It was a fun and much anticipated event.
Yet as the Yardi Atlanta team grew, volunteer coordination of the potluck became less feasible. A fantastic local caterer saved the day. Yet devoted bakers—as well as devoted eaters of homemade goodies—sought a creative way to continue the tradition.
"The Bake Off now serves three purposes," explains volunteer coordinator Kelsey Aslani, technical account manager, consulting practices at Yardi. "The Bake Off was formed because so many of the employees here really enjoy making food to share. This helps maintain the sense of community that Thanksgiving at Yardi has always garnered. Secondly, we were able to maintain a focus on corporate social responsibility by supporting local nonprofits."
With a smile, she adds, "Lastly, everyone loves a good competition."
Baking for Good: North Fulton Community Charities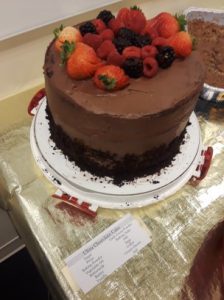 Proceeds from The Bake Off benefit North Fulton Community Charities (NFCC) and Atlanta Food Bank.
Yardi contributes ongoing support to NFCC , a local nonprofit that serves more than 4,000 people. Families turn to NFCC for emergency aid and enrichment programs. Through the organization, they access resources to promote self-sufficiency and prevent homelessness and hunger.
Each year, nearly 1,500 adults participate in NFCC life skills and workforce readiness classes. About 90 percent of them graduate, subsequently increasing their wages and improving wage earning potential. Yardi is proud to support a nonprofit that offers such long-term hope to local families.
Atlanta Community Food Bank (ACFB) partners with over 600 nonprofit organizations in 29 metro Atlanta and north Georgia counties. The alliances supply groceries and meals for about 755,400 people in the region who struggle with food insecurity: about 1 in 7 adults and 1 in 5 kids live in food insecure households that visit ACFB for assistance.  The average client visits the food bank eight times per year. The ACFB works hard to ensure that every dollar can provide people in need with nutritious food. With monetary donations, every $1 provided can provide food for four meals.
Yardi Atlanta hosts several fundraisers for nonprofits throughout the year. The team was thrilled to turn the Bake Off into another opportunity to support  worthy causes.
The Bake Off Season One, a Success!
The success of the first Bake Off was a team effort. Aslani coordinated the event and served as a liaison between Yardi and NFCC. Team members volunteered as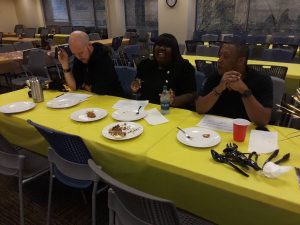 judges including Tristan Bollenbaugh, team lead for PHA; Amber Brown, associate technical account manager for lease docs; and Rafael Price, associate technical account manager for YES Energy.
The group designated three Bake Off categories (cakes, pies, and others) and a judging criteria based 80 percent on taste and 20 percent on presentation. They decided that one winner from each category would receive a $25 Tango gift card. To support the nonprofits, employees would donate canned goods or monetary gifts in exchange for dessert samplings.
The event proved to be a success! The Bake Off received 16 entries including four cakes, six pies, and six other dishes! The winners are as follows:
Cake Category: Dana Doghaimat's Ultra Chocolate Cake
Pie Category: Laura Perez' Cinnamon Roll Apple Pie
Other Category: Michael Sturniolo's Midnight Trifle Delight
Michael Sturniolo set the bar high for participants next year. He was the only contestant to receive a perfect score from one of the judges. Team members are jovially planning to break his record next year.
Most importantly, the Bake Off raised $237.80 for Atlanta Food Banks and 234 nonperishable foods for NFCC. But the giving doesn't have to stop there. Show your support for by making a donation or volunteering with either organization!
Yardi is Energized for Good all year long. Check out the Giving page for more inspiring stories from Yardi offices, employees, and clients.