Yardi ATL Prom Drive
By Erica Rascón on Mar 16, 2018 in Giving, People
Yardi Atlanta recently celebrated the most successful Yardi Prom Drive, supporting Foster Care Support Foundation (FCSF) in nearby Roswell, GA.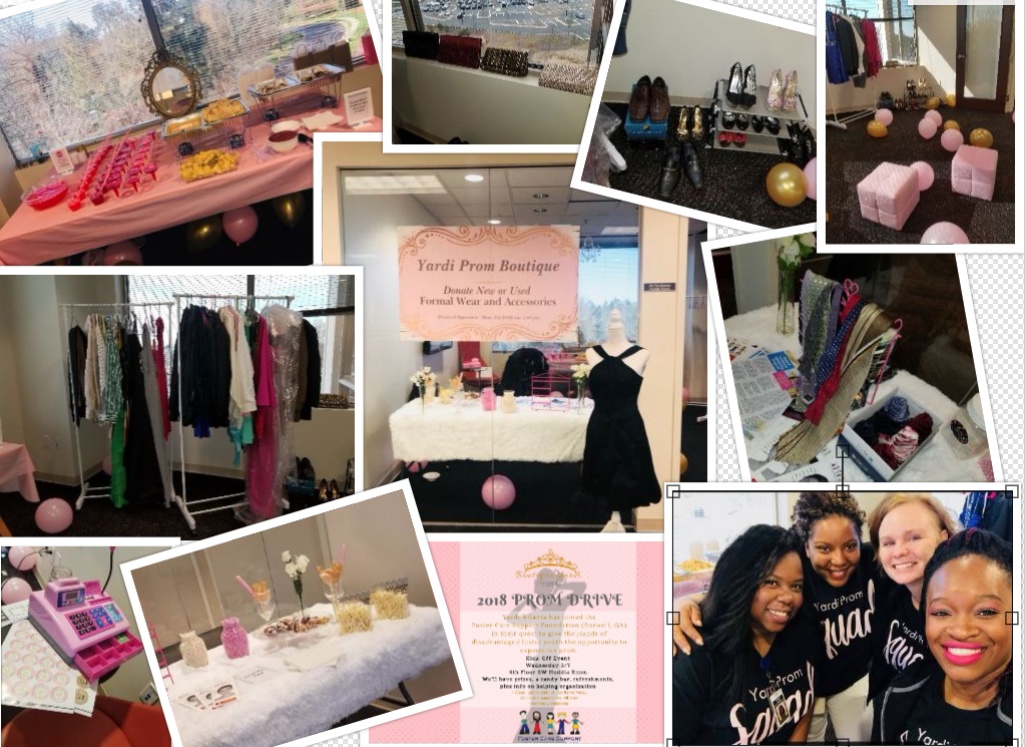 About Foster Care Support Foundation
Each year, approximately 8,000 children in Georgia are in need of foster care. Placement in a good home is only part of the battle. Many foster parents and relatives struggle to provide enrichment materials and experiences for the children in their care.
For 17 years, FCSF had provided free clothing, infant care equipment, and developmental learning tools to thousands of foster and relative care families. The organization accepts gently used materials to offset its annual operational costs of $700,000.
To date, the organization has served more than 50,000 children through its services.
Yardi Atlanta + FCSF
Yardi formed a relationship with FCSF through the local grant committee. Committee members Shana Winbush and Marilyn Duffield proposed the idea of supporting foster families. The timeliness of FCSF Prom Drive was a perfect fit.
Yardi hosted this year's Prom Drive Boutique in honor of FCSF. Committee member Keiya Huguley helped to coordinate the event.
"Many foster families don't have $200-$500 to pay for the tux, suit, dress, shoes, accessories, make-up, hair, nails, and everything that goes into attending a prom. Prom Drives give foster children a better chance of living a life close as possible to 'normal,' despite circumstances. These types of drives are helping families financially and impacting them emotionally," observes Huguley.
To raise awareness for the clothing drive, the committee started a prom photo contest that selected daily winners for a week. Employees submitted their prom photos to enter the daily drawing. Daily winners received entry into the final drawing where they were eligible to become Yardi Prom King and Queen.
But before announcing the winners, the team created a snazzy place where employees could donate and showcase gently used formalwear and accessories. Attendees enjoyed refreshments while dropping off their clothing and monetary donations. Stories filled the room including a few tear jerkers.
One Yardi employee donated over 20 ties and bowties—including his favorite tie—as well as three suits, two pairs of slacks, and black dress shoes. Huguley suggested that he keep his favorite tie, but the employee refused.
He responded, "These children deserve nice things too, not just used and worn out items. Now someone else can experience this tie and appreciate it like I have."
Another employee sells jewelry as a personal part-time business. She posted the Prom Drive event on her personal Facebook page and asked friends and family to donate jewelry to the cause. She donated some of her own jewelry creations in addition to the pieces she received.
"These two individuals nearly put me in tears, going over and beyond for our drive," said Huguley.
"This year by far, was the most successful prom/formal wear drive Yardi Atlanta has ever had!" exclaimed Huguley. "We surpassed our goal and collected 126 items. We also collected nearly $100."
At the conclusion of the Prom Drive Boutique, Huguley crowned Johnathan Atkins and Tamara Mullgrav as 2018 Yardi Prom King and Queen.They received crowns, a corsage and boutonnière, as well as fun commemorative t-shirts.
All items from the Prom Drive Boutique will be donated to FCFS to make school dance attendance more affordable for families.
The event reminded Huguley why she enjoys working at Yardi: "Don Rogers and our team leads instantly supported us and our event. From monetary donations to simply allowing us time to plan our charity events, Yardi has always sent the message that we are a key staple in our communities and should always support philanthropic efforts," she said.
To learn more about how you can support Foster Cares Support Foundation, visit fostercares.org. Explore more Yardi employees who are Energized for Good on the Giving Page.