A Home Run
By Leah Etling on Oct 24, 2013 in People
Steve Schutz would have come to the Fall 2013 Yardi Advanced Solutions Conference (YASC) no matter what – as a 12-year user of Yardi products, he recognizes the value of the event to educate and inform him about developments and solutions for the sof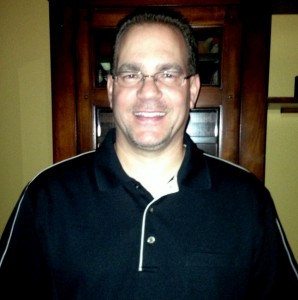 tware he uses daily.
"I do everything from training, document writing, help desk, troubleshooting, setting up properties, setting up menus, just about anything and everything," said the Yardi Director for Trade Street Residential, an East Coast multifamily management firm.
A free entry to the conference (valued at $995), $500 VISA gift card and VIP seating at the conference gala event managed to put a smile on his face and new baseball jersey in his closet. Steve's name was drawn at random from hundreds of entry forms.
Oh, and he learned a few cool things about the new Voyager 7S, too. Trade Street will upgrade to the new Voyager version in November. In addition to its device and browser agnosticism, two things that piqued Steve's interest in 7S are its search capabilities – it features global and predictive search – and overall look.
"The search functions are great. As the help desk person, I often get the phone call: 'Where can I find this report?' And now, users can type a key word in there and find it themselves," he said.
A veteran of five YASC events, his favorite parts of the conference include networking and the opportunity to work through trouble spots in the lab.
"I've learned a lot, just being in the lab," he noted.
Schutz is based in Florida. He's worked in residential, commercial, affordable and military property management for the last 12 years.
That new baseball jersey, though, wasn't for a Chicago Cubs player – he probably already has a few of those in his collection of 150 jerseys at home.
He picked up an Asheville Tourists minor league jersey while vacationing in North Carolina over the summer to add to his closet. But $350 of the gift card still remains for fun purchases to come.
While he appreciated the prize, Steve said he still would have attended YASC either way. He'll come to both of the 2014 YASC conferences, he said.
"You get exposed to a lot of things you wouldn't normally get exposed to, you can learn a little bit more about products and features you didn't know about, and reinforce what you already know to make it better," he said.
And that's our idea of a home run. Congratulations, Steve!