Yardi Named a Best Place to Work
By Eliza Theiss on Dec 11, 2019 in News
Yardi has again been honored with a major award from Glassdoor as one of the top places to work in the U.S.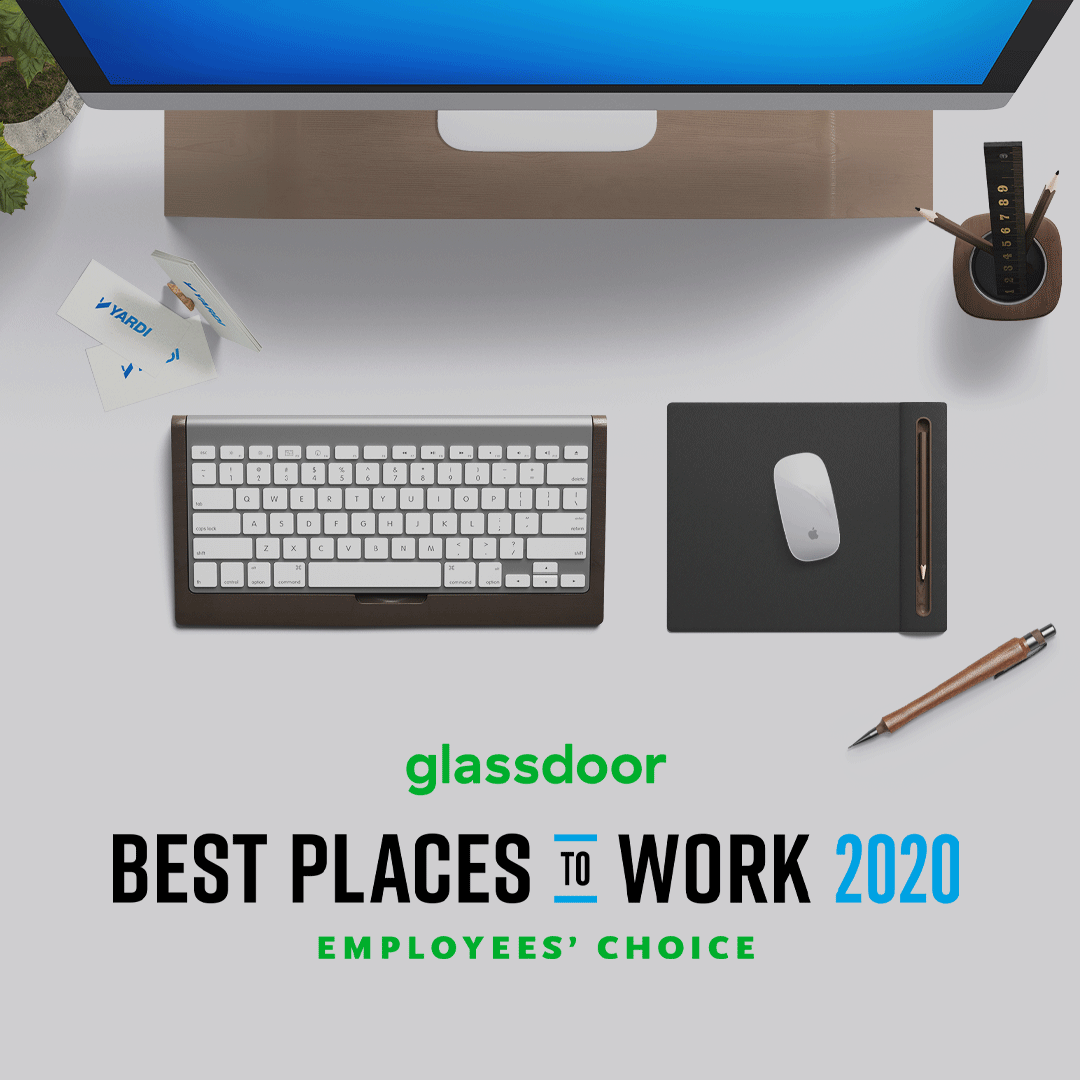 The 2020 Glassdoor Employees' Choice Award relies solely on employee feedback from Glassdoor, a popular job rating and review site. The site enables employees to voluntarily and anonymously share information about their jobs, work environments and companies. Yardi ranks No. 53 on the list of Top 100 U.S. Large Companies list.
Below are just a few words employees shared on Glassdoor that contributed toward the award and make us feel incredibly honored:
"Yardi is a great company to work for, the company culture is really great and a big factor in my 5-star rating. Yardi genuinely cares about their employees, and employee growth and retention. Though the company is established and stable, the company is still very innovative and is looking at the big, long-term picture." – Client Services Department employee review.
"The management is responsive to employees' needs professionally and personally. I have been given opportunity to grow in my role and can talk to my boss candidly. My path for growth has been outlined and my manager helps me achieve my goals." – Accounting Department employee review.
"Great place to work. I get to meet new people every day. I love working with clients to see what Yardi software products can make their life better. I look forward to many years at Yardi Systems." – Sales Team employee review.
Glassdoor's 2020 Best Places to Work list was determined using company reviews shared by U.S.-based employees between October 23, 2018, and October 21, 2019. To be considered for the U.S. large company category, a company must have had at least 1,000 or more employees and have received at least 75 ratings across each of the eight workplace attributes from U.S.-based employees during the period of eligibility. The final list is compiled using Glassdoor's proprietary algorithm and takes into account quantity, quality and consistency of reviews.
"Taking care of team members and offering opportunities to contribute to our clients' success are guiding principles," said Anant Yardi, the company's president and founder. "We are honored to receive this prestigious award from Glassdoor, and we are grateful for the supportive culture that has been fostered at all levels within our organization."
On Glassdoor, current and former employees of companies worldwide can share insights and opinions about their work environments by sharing a company review, designed to capture an authentic inside look at what it's like to work at particular jobs and companies.
"This year marks the shift to a culture-first decade in the workplace, and Glassdoor's Employees' Choice Awards winners are employers that are prioritizing culture, mission and employees at the heart of everything they do. By doing so, their employees have spoken and are recognizing them truly as the Best Places to Work in 2020," said Christian Sutherland-Wong, Glassdoor president, chief operating officer and incoming chief executive officer. "In addition to putting culture and mission at the core of how they operate, this year's winners stand out for promoting transparency with employees, offering career growth opportunities and providing work driven by impact and purpose."
This year isn't the first time Yardi has been recognized among the top U.S. companies by Glassdoor. In June 2019, President and Founder Anant Yardi was named for the third time to Glassdoor's Highest Rated CEO list. That honor was also based on feedback submitted by current and former employees. Of 100 CEOs recognized nationally, Anant Yardi ranked No. 33.
Interested in joining our winning team? We are hiring! Find out about current employment opportunities worldwide on the Yardi careers page.