Glassdoor Honor
By Leah Etling on Jun 19, 2019 in News
(June 18, 2019) – Anant Yardi, founder and CEO of Yardi, was named for the third consecutive year to a prestigious list of the nation's top corporate leaders by employer review website Glassdoor. Mr. Yardi again received a Glassdoor Employees' Choice Award recognizing the Highest Rated CEOs, which he also received in 2017 and 2018.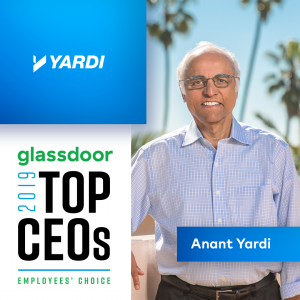 For 2019, Mr. Yardi is ranked No. 33 on the list of top-rated CEOs for large companies in the United States. This ranking is based solely on the anonymous and voluntary opinions offered by users of the Glassdoor platform, where people can rate their employment experience at past and current companies. The U.S. Large Company category includes firms with more than 1,000 employees.
Glassdoor's Top CEOs in 2019 were determined using company reviews shared by U.S.-based employees between May 2, 2018 and May 1, 2019. The final list is compiled using Glassdoor's proprietary algorithm, led by its Economic Research Team, and takes into account quantity, quality and consistency of reviews.
When submitting a review, Glassdoor users are asked directly whether they approve, disapprove or are neutral on the performance of the company's CEO. Among the approximately 900,000 companies reviewed on Glassdoor, the average CEO approval rating is 69 percent. Those on the Highest Rated CEO list all have approval ratings over 90 percent. Mr. Yardi earned a 95 percent approval rating.
"It's an honor to recognize incredible leaders who, from their employees' perspectives, exemplify exceptional vision, trust and communication. Glassdoor's Top CEOs award continues to be more competitive every year, and I congratulate each leader on their achievement," said Christian Sutherland-Wong, Glassdoor president and chief operating officer. "Today's job seekers are looking for leaders who share their values and will empower them to bring their full selves to work."
The accolade is indicative of the high esteem Mr. Yardi is held in by employees at the company. Yardi was founded in Santa Barbara, Calif. in 1984 as a software start-up. Today, Yardi is a global technology leader employing over 6,000 staff in 35 offices worldwide.
"Our corporate motto is 'Take care of our clients, take care of our employees, take care of our communities, stay focused, and grow' and we work hard to fulfill those commitments," said Mr. Yardi. "I am grateful that our employees are happy with our efforts, and to receive confirmation in this way is extraordinary."
Glassdoor is one of the largest and fastest growing job sites in the world today. Set apart by the tens of millions of reviews and insights provided by employees and candidates, Glassdoor combines all the jobs with this valuable data to make it easy for people to find a job that is uniquely right for them.
View the full list of highest rated CEOs for U.S. large companies.