Yardi EHR
By Leah Etling on Nov 24, 2014 in News
If you've been to the doctor lately, technology's advance into the patient care and treatment realm was likely evident – whether your physician made notes on an iPad or your follow-up questions were addressed in an e-mail, medicine and mobile record-keeping have become inseparable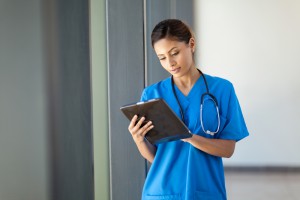 .
A similar transition has been underway in the realm of senior living, specifically in assisted-care communities. Yardi recently introduced Yardi EHR, an Electronic Health Record platform. Yardi EHR is the final piece in a single stack solution for assisted living and retirement communities, and provides seamless connectivity for resident care, medical record keeping, community marketing, property management, back office accounting, finance, and business intelligence.
For companies looking for an enterprise solution to optimize their performance in the senior care sector, it is the perfect fit.
"It really is just one completely integrated ERP and EHR solution, fully interoperable, and combining the knowledge of multiple teams from across all facets of the real estate, senior living, and healthcare industries," said Fil Southerland, Director, Yardi Health Care Solutions. Southerland was an innovator of Yardi's eMAR product, an Electronic Medication Administration Record that is now a module within Yardi EHR, and has extensive experience with senior living technology.
We spoke with Southerland about the Yardi EHR product and its many advantages for senior living providers, pharmacies and investors. Read on for more insight.
How have EHRs and the records that help run a senior living community typically interacted?
Southerland: Linking care tracking with a financial/GL accounting system has, until now, never been seamless. Stand-alone EHR developers have bolted on bare bones accounting packages that aren't fit to run care and housing organizations regional or national in scope. At Yardi, we've created an outstanding electronic health record, compliant with all HIPAA regulations.
Who will Yardi EHR be used by?
Southerland: Yardi EHR was purpose-built for assisted living and retirement communities, so it gracefully conforms to the varying needs of assisted living businesses, without getting bogged down by the rigid institutional formats traditionally put forth by hospital or long term care electronic medical record solutions. Moving forward, we will apply our innovation and ease-of-use models to the long term care segments as well.
Are there other potential beneficiaries?
Southerland: In addition to directly servicing assisted living homes, we also extend our electronic medication management solutions to the long-term care pharmacies that supply medication to senior living communities. As a result, these pharmacy providers are now able to offer their clients at assisted living management groups and senior living residences the ability to tap directly into a complete electronic medical record system.  It's a really nice tool for helping them move to the next generation workflow instead of shipping paper – prior to electronic MARS, there were paper MARs that had to be printed out every month and sent out to the residences – this is an upgrade on many levels.
How will residents benefit?
Southerland: From the residents' perspective, care can become much more personalized and higher in quality. The entire process is streamlined and the caregivers can spend more time interacting with and helping the resident, rather than dealing with paperwork.
Caregivers are going to be able to access, via an iPad or tablet, our CareStream™ technology. This is a list of all of the tasks that the caregiver is responsible for that given day, from distributing medications, and activities of daily living like meals, bathing, and doctor's appointments. The staff now has an electronic task list right at the point of care.
The caregiver is in the room, administering care to residents, and they are able to electronically check off all of the things they are doing, as well as provide feedback to the nurse or supervisor who is monitoring patient health. The result is improved quality of care and reduced risk of medication errors.
Senior living often involves multiple support systems – and physicians. How can this product address that?
Southerland: Yardi EHR is doing some exciting things like checking for potentially problematic medication interactions within the electronic workflow.
It also makes sure information flows seamlessly between parties. Senior care often involves onsite and offsite nurses and physicians. Home health agencies, specialists, hospitals, in some cases hospice providers – all of these providers need access to a unified health record, and we're able to provide that. Before, it was a very paper driven process in which it was easy for things to fall through the cracks.
How are you addressing the ever-present concern around data security?
It's always a concern, so we've worked closely with our cloud services team to implement a set of controls around HIPAA that ensure privacy and security. We encrypt all of the information, so it's a very secure, audit-compliant system. There's full insight into who has modified or viewed the resident records, which is a requirement of HIPAA.
At the end of the day, what do business decision makers need to know?
Yardi really offers a full ERP solution. Now you have a seamless flow of information, from all the care staff on up to the financial decision makers. With other systems, you have to set up a variety of interfaces. With Yardi, you have one integrated system that sits on the Yardi Voyager platform. You're able to pull business intelligence from the entire stack, and you're able to drive financial decisions based on what's happening clinically. You can manage risk, avoid litigation, and increase expansion velocity.
I've seen org charts displaying 10 disparate systems, with a complicated spider web of interfaces, attempting to cover what Yardi can cover with one turnkey solution. The industry needs to look at how they can move forward with consolidated systems, and Yardi is the technology company that can provide that.