What Students Want
By Erica Rascón on Feb 20, 2020 in News
In the 2020 National Multifamily Housing Council & Kingsley Apartment Resident Preferences survey, 373,000 residents living in 5,336 communities across the U.S. shared their feedback on what renters want. Millennial renters, particularly college-aged adults, expressed their most desirable features in rental housing.
Hot topics for the year included parking, sustainability, health, and security. Amenities in these categories interested more than 50% of respondents.
Young renters' top 10 interests
Adult renters ages 25 and under were asked which apartment features and community amenities interested them the most. The following 10 features topped their lists:
91% reliable cell reception
88% swimming pool
87% fitness center
85% controlled amenity access
84% secure, self-service, 24/7 package access
82% more storage space in apartment
83% recycling
79% visitor parking
75% common area grills
75% hot tub
"The top three categories here– connectivity, swimming pool and fitness center– speak directly to what is top-of-mind for the typical student renter," says Esther Bonardi, vice president, marketing at Yardi. "Available Wi-Fi to keep up with assignments and stay on top of their studies, a swimming pool that serves as a social oasis to unwind and relax with their friends, and a fitness center to maintain wellness in the midst of their chaotic schedules."
Bonardi adds, "One difference for students is that connectivity is a major factor in Wi-Fi reliability and speeds rather than cell phone reception. Reliable cell phone reception is a standard or necessity rather than an interest."
Reoccurring themes for college-aged renters
It's no surprise that connectivity is a prominent interest of Millennial renters. More than 91% of respondents listed reliable cell reception as a major interest. Nearly 70% were also interested in having Wi-Fi connectivity in common areas.
Parking concerns appeared multiple times on the list of young renters' most desired amenities. Nearly 80% of respondents saw the need for designated visitor parking. For their own vehicles, about 74% of respondents expressed interest in covered parking with 73% specifically requesting reserved resident parking. A controlled parking garage interested 66% of renters and 64% conveyed the desired for controlled surface parking.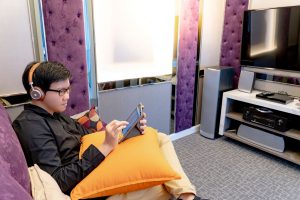 Sustainable initiatives ranked high on 72% of young renters' lists. These features can include, but are not limited to, bike sharing, car sharing and electric car charging stations. Community recycling was one of the most popular sustainable initiatives, sparking the interest of 83% of renters. On-premises renewable energy followed with nearly 70% of interested renters; options such as solar panels and ground source heat pumps are feasible for student housing and multifamily housing applications. Organic waste composting interested 53% of renters, redirecting waste from landfills.
"An emphasis on sustainability speaks to the difference notable between Millennials and Gen-Z," says Bonardi. "Multiple studies show that young people heavily consider a company's environmental opinions and commitments when making career decisions upon entering the workforce, and I think we are starting to see this infiltrate into other areas of their life such as housing."
Health and fitness amenities also ranked high with respondents. Of renters under the age of 25, 74% percent preferred non-smoking buildings. For exercise, about 54% expressed interest in a basketball court and 87% of renters want a fitness center to help them stay fit without a third-party gym membership.
Renters are interested in exercise opportunities for their pets as well.  Nearly 65% of respondents are interested in a community dog park. The green space is ideal for helping pets burn off their energy and fulfill the need for socializing with other dogs. About 54% of renters were interested in a pet washing station as well.
Lastly, though not of the least importance, college-aged renters care about security. About 71% of Millennial renters were interested in gated community access. More than 70% of respondents seek a community with a front desk representative or concierge for added security and convenience. Both screen-monitored transportation and secure bike storage interested about 30% of renters. Even package security was an expressed interest: nearly 85% of renters seek secure, self-service 24/7 package access.
Bonardi concludes, "Students expectations are pretty clear according to these statistics. Their apartment communities should be places that offer the lifestyle, reliability and the security that they're seeking."