Top 20 Cities
By Erica Rascón on Feb 11, 2015 in News
By now, you've probably heard that pedestrian-friendly access is all the buzz among Millennials and hip, active empty nesters. Mortgages and car notes are falling out of favor as these two large portions of the population steer towards rentals in walkable cities such as Seattle, Portland, and New York. A new study shines light on a few cities that are highly walkable and woefully overlooked.
"Foot Traffic Ahead: Ranking Walkable Urbanism in America's Largest Metros," by Christopher B. Leinberger & Patrick Lynch of The George Washington University School of Business takes a quantitative approach to walkability in urban environments. Researchers evaluated the top 30 metros based upon the 2012 Brookings Institution methodology that pre-defined WalkUPs on geographical and economic terms. The selected cities were evaluated based upon economic performance and social equity performance. The findings were then used to rank the metros by current walkability and projections for walkability in the future.
The 30 selected metropolitan areas are home to 46 percent of the population. Those metros also account for 58 percent of the national GDP. Interestingly, only one percent of all metropolitan land classifies as a WalkUP.
If one percent seems unreasonably low to you, there is good reason for that. WalkUPs exclude owner-occupied spaces such as universities, medical centers, federal and state government buildings. There is not a consolidated database for such complexes from which researchers could pull information. This means that nearly 30-40 percent of employment spaces were excluded from the study.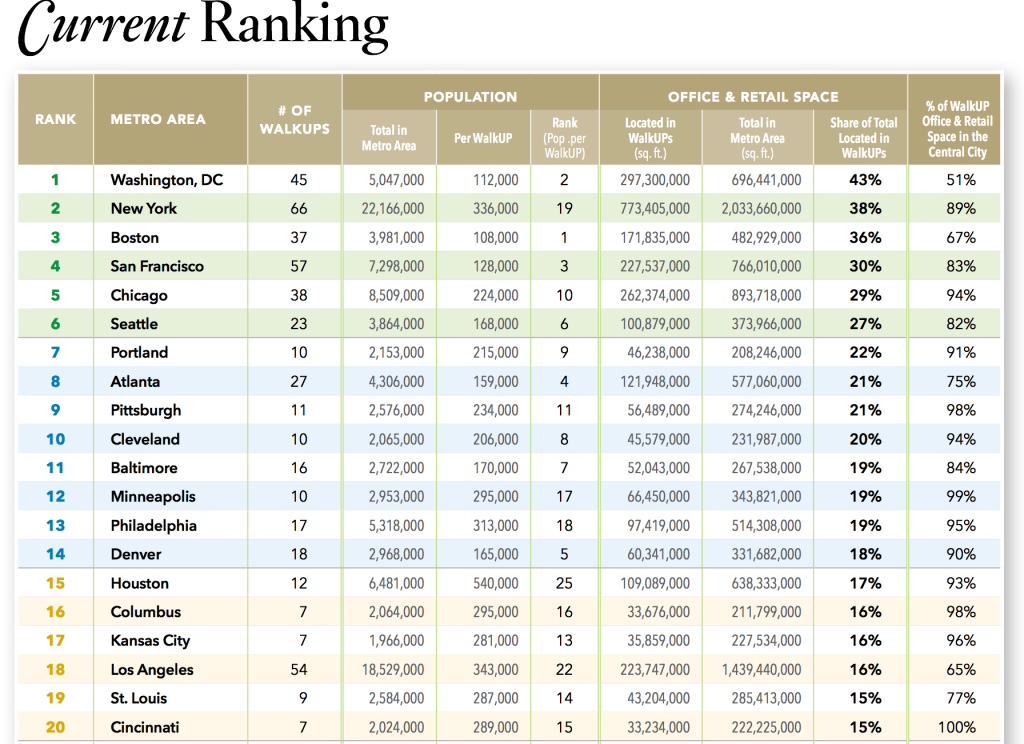 The current top six metros achieved Level 1 status, demonstrating the best distribution of walkable space in the urban core and surrounding suburbs. Level 1 listings represent 48 percent of all WalkUPs in the US.
Within the rankings, cities such as Washington, D.C. outrank hipper destinations like New York and Seattle based upon the total share of WalkUPs as well as the balanced distribution of WalkUPS.
Many may be surprised to see Pittsburgh, Minneapolis, and St. Louis make the list. The study reveals that these are untapped markets that hold great potential for future renters.
Developers should also take note that the future of walkable urbanism is slightly different than its current rankings. To determine future projections, researchers measured office space absorption, central city vs. suburban balance, and office rent premiums.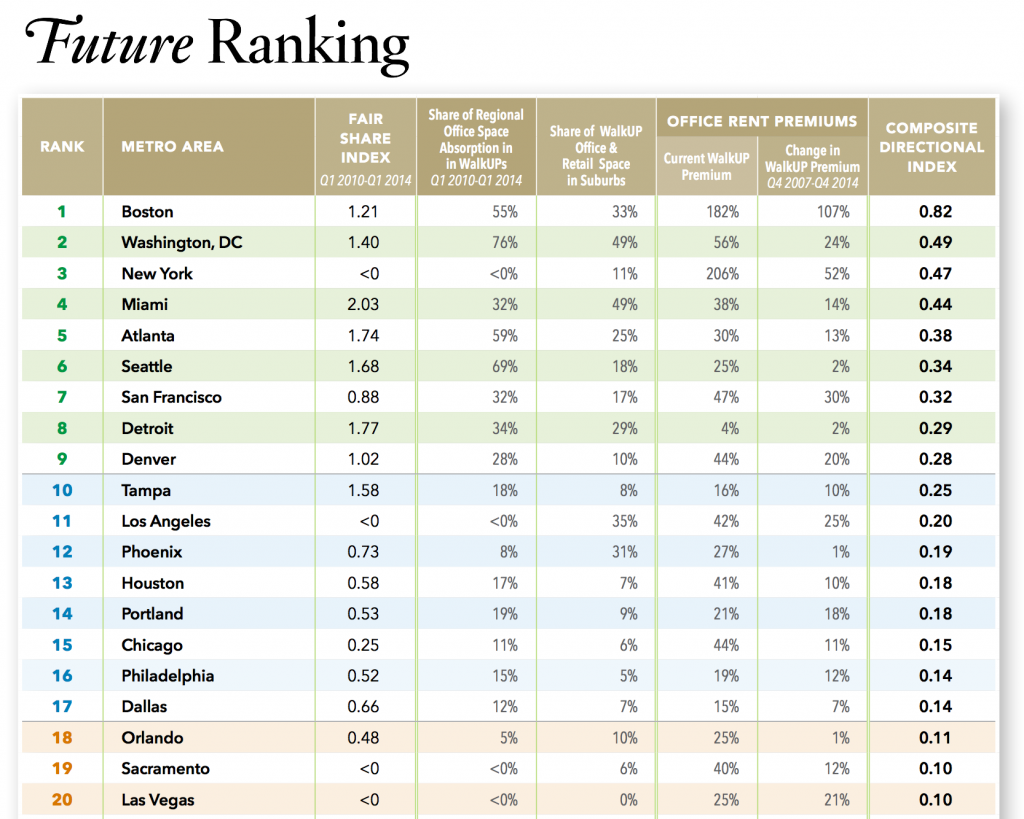 The future of Walkable Urbanism is bright, with many of the top 20 remaining on the charts. Cities such as Miami, Atlanta, Detroit and Denver climb surprisingly higher thanks to future development plans. In those cities, the rent premiums for walkable urban office space is at least 25 percent over the drivable suburban space.