The Mobile Advantage
By Erica Rascón on Jan 9, 2020 in News
Your resident portal is a convenient and secure connection to your renters. While some renters like to access the resident portal via computer, studies show that most renters prefer to use a mobile app. If your current resident portal doesn't offer a robust mobile option, you're missing out on three key points for resident satisfaction.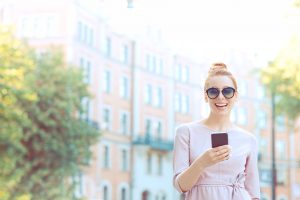 What renters want: convenience and efficiency with a mobile app
According to the 2020 National Multifamily Housing Council (NMHC ) & Kingsley Apartment Resident Preferences Survey, community mobile apps are in high demand. Community apps permit a secure and mobile-ready way for users to access resident portals without using a web browser. Renters access mobile apps directly via smartphone or tablet, two devices that most of us always have within reach. In contrast, websites are best viewed via web browser on a laptop or desktop computer, which we don't always have on hand.
A community mobile app can promote renter satisfaction in three distinct ways.
Mobile apps improve communication, task management, and daily operations for renters
Residents prefer to communicate via mobile app more than conventional methods. About 60% of survey respondents prefer for leasing management to contact them via mobile app. Only 17% prefer contact through the website portal. On average, 64.5% of renters prefer to receive notifications through a mobile app. For example, 71.5% of renters want to receive mail and package notifications through the community mobile app.
An app is also a preferred way to manage a household. On average, 58% of respondents prefer to pay rent via mobile app compared to only 23% who want to pay through the website portal. About 64% of renters want to submit maintenance requests via app. Even a formal event, like a lease renewal, is suitable for the app: on average, 46.5% of respondents prefer to renew their lease via an app. In contrast, 30% want expressed a desire to renew their lease via the online portal.
Managing day-to-day tasks through an app appeals to renters as well. About 66% of respondents would like to access smart home features through a mobile app. Most renters also preferred to book services, reserve community facilities, and view community events via app.
Resident mobile apps are in such high demand, they are slated to be the new standard for communities.
Mobile app benefits for leasing staff
Offering a robust mobile app doesn't only benefit of your residents. As a property manager, you and your staff have much to gain from the convenience of a community app.
Since residents can pay rent and submit maintenance requests through the app, your staff has less time consumed by data entry and document management
Community apps result in fewer calls and voicemails to the leasing office, saving staff time, delays, and potential confusion
You can easily track, manage, and references correspondences with residents since they are all stored electronically
Gain a competitive advantage over other properties that do not offer a robust community app
Maintain branding within your community app
Your mobile app should complement the current user experience of your website and online user portal. You can maintain such consistency with MyCafé by RentCafe, an app that's branded to match your company or property.
"Our clients work hard to brand the prospect and resident experience at their properties. Why should that experience suddenly stop when a renter logs in to make a payment or reserve an amenity?" said Esther Bonardi, vice president of marketing at Yardi. "With MyCafé, property management companies can add their own branding to convenient resident services that leave a lasting positive impression."
MyCafé reflects the functionality of the RentCafe Resident app. Renters gain mobile flexibility to update their profiles, view balances, submit maintenance requests and engage with their communities. MyCafé also offers enhanced conveniences such as Apple Pay, Masterpass, and push notification capabilities. Renters can receive reminders when their rent is due. Then they can easily and securely pay their rent with the payment method native to their smartphone or bankcard.
Learn how you can enhance the renter experience with a branded MyCafé app.