Student Housing Trends
By Yardi Blog Staff on Aug 22, 2013 in News
Gone are the days when undergraduates settled for shared rooms, communal showers and a weary daily commute to classes. Today everything is about sustainable lifestyles and people's ability to choose between a wide array of housing options, according to individual needs and preferences.
Rising incomes, improving standards of living and a diversified housing inventory have allowed the emergence of a new generation of students who express higher expectations of their collegiate housing. Moreover, parents acknowledge their children's need for personal space and are prepared to shell out more in order to ensure a flawless college experience for their offspring.
Infinity pools, entertainment corners, state-of-the-art fitness centers and electronic vehicle charging stations are not an uncommon sight at modern student-housing facilities.
Looking at the Texas housing market, Brent Little, president of Fountain Residential Partners, says that there's a huge demand for luxury living right now, from both students and their parents who are willing to pay extra for top-notch amenities. "There's a tremendous market for students looking for these accommodations," Little told the Dallas Business Journal, adding that high-end accommodations typically follow urban markets.
Proximity to the campus or town center is frequently cited by students as a decisive factor when balancing between two housing options, as well as accelerated internet con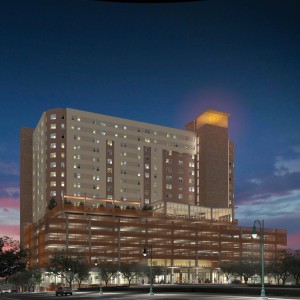 nectivity.
American Campus Communities, the largest owner and manager of high-quality student housing communities in the United States, announced it will provide unprecedented internet service of up to one Gigabit per resident at the new The Callaway House Austin (pictured at right), an off-campus community that will serve students attending The University of Texas at Austin. Gigabit speed is equivalent to 1,000 megabits per second.
"We understand how positive living environments can propel students' college success and we have made it our fervent mission to create communities that are conducive to academic achievement," said Bill Bayless, American Campus CEO. "This technology infrastructure meets the evolving demand for fast internet service desired by our residents for coursework, social media, online content and other emerging internet services."
The company selected Austin-based CampusConnect to serve as the community's internet provider and help American Campus offer students a seamless academic experience.
"Consistent with Google's recent announcement of their fiber initiative in Austin, we believe that significant improvement in internet connectivity will promote the productivity of our residents and encourage the emergence of new applications and services yet unknown", explained Jorge de Cardenas, chief technology officer at American Campus. "This infrastructure sets a new standard in student housing connectivity by removing bandwidth as a barrier."
The Callaway House strives to set a new standard in student housing products and services featuring 661 beds in full-service residence hall accommodations and 92 beds in penthouse apartment accommodations. Furthermore, the complex offers first-class amenities including an extensive recreational and social center, computer lab with iMacs and printers, a roof top fitness center, academic deck and swimming pool along with full service dining and an extensive residence life program.
The property is fully leased for its August 2013 opening.
On a larger scale, investor interest in the collegiate housing sector has grown all around the country, most likely prompted by a steady demand for both on-campus and off-campus apartments and a lack of available units around major university hubs. CBRE Global Research points out that many investors are moving into the space due to yields at 50-100 basis points (bps) above conventional multi-housing.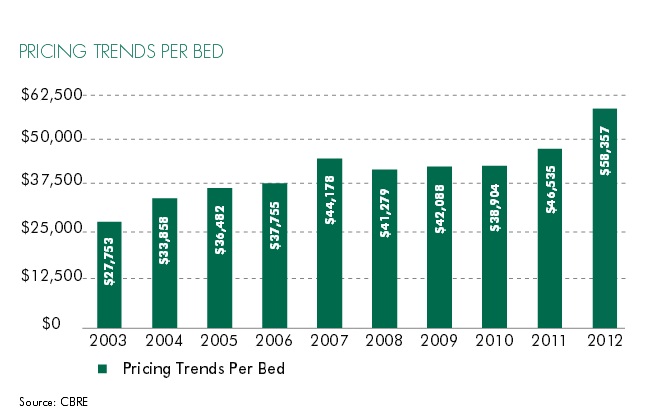 Additionally, student housing poses a reduced investment risk as students are most commonly backed-up by dependable parents. When renting an apartment to a student, legal tutors generally co-sign the lease as opposed to traditional multifamily compounds where landlords rely mostly on the tenant's credit.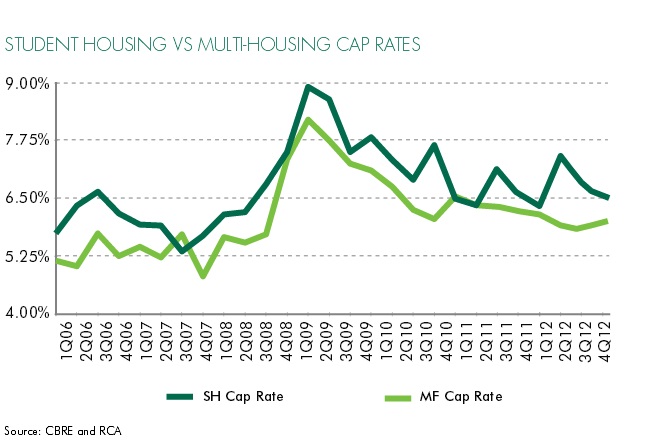 Concurrent to the increased interest drawn from new entrants into the collegiate housing market, construction is picking up in several student-oriented centers in the U.S. Seven new dormitories have broken ground during the 4Q 2012, according to a recent report from the National Student Housing Council (NSHC). King County, Washington, and Leon County, Florida, had the largest number of starts on new dorms at two properties a piece. Collectively, these seven dorms under construction are valued at $154.6 million and represent 823,000 square feet of student housing space in five counties, the report shows.