Software for Senior Living
By Nik Edlinger on Sep 21, 2020 in News
Business software is a big category. One so big that there are almost too many options to realistically consider.
Take marketing for example, which already has more than 8,000 solutions in nearly 50 distinct areas, the sheer scope of which is obvious from just a glance at the popular marketing technology landscape.
Fortunately, when it comes to senior living, the picture isn't nearly as staggering. Sure, you could choose one of the 7,000 marketing solutions for your community, and it may do the job. Or you could pick from a much smaller list of solutions that were designed specifically for senior living. Software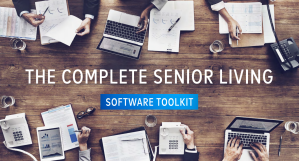 developers have spent decades in the industry working directly with communities to build products customized to their unique housing and care needs.
That said, the software market for senior living is growing in step with the industry as a whole. New innovations and features are routinely released, while entirely new products are entering the field. Digital leases, resident portals, online services, mobile charting — you get the idea. Things are changing.
Your guide to senior living software
This software transformation is likely a big reason why 83% of senior living providers feel that they've underinvested in technology. So what kinds of senior living software are available now? And what should you have?
We've created a new ebook to tackle those questions for you. The Complete Senior Living Software Toolkit breaks down each software type you can find in a modern community, explaining how it helps and highlighting the important features. That way, you can easily flip through the ebook for tools you may not have, learn a bit about their advantages and decide for yourself if it's something that would work for your staff and residents.
Essential software for senior living providers
In the ebook, we group the senior living software categories by level of value. There are options that take your community above and beyond but aren't crucial to running things. And then there are the solutions that every senior living organization should consider adopting. Here's a quick preview of the first chapter on the most important software for senior living.
Property management & accounting – The core financial software that handles the back-office business tasks. Commonly includes a general ledger, resident billing and payment processing.
Customer relationship management – Where your sales and marketing team work to grow the community. Key features are lead tracking, activity calendars and campaign management.
Electronic health records – The efficient, modern-day answer to paper-based resident records for your caregivers. Look for health assessments, incident tracking and mobile charting.
Be sure to check out the full ebook to learn more about the best software for senior living providers.