Watch On-Demand Webinars
By Natalie Mahn on Jan 27, 2023 in Senior Living
We all learn best in different ways, whether it's by reading a post like this one, exploring visual resources like an infographic or watching a short video. It's why our senior living team seeks to bring a variety of resources to the table (including all of the above) when demonstrating functionality in the Yardi Senior Living Suite.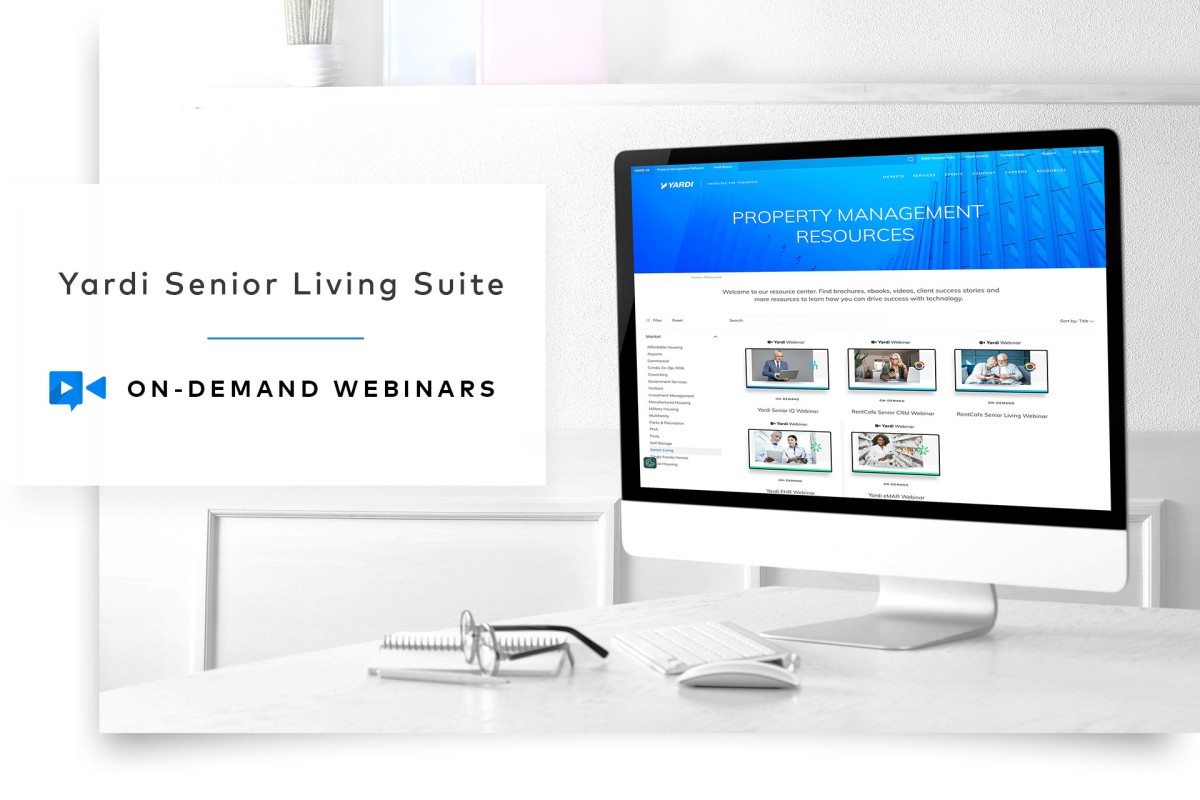 As such, we're excited to share our senior living webinars today, which offer the opportunity to explore our solutions via on-demand videos. They're quick, informative and packed with what operators need to know. And since they're on-demand, you can watch at your convenience! Simply fill out the short registration form and voila, you're set to view the webinar when your schedule allows.
Ready to start watching? See below to find the Senior Living Suite webinars we've worked to bring you:
Yardi Voyager Senior Housing
Create a foundation for success with an online, mobile-friendly platform for property management and finance. Designed for providers of all types and sizes, Yardi Voyager Senior Housing is a complete accounting system that integrates with solutions for every aspect of senior living. Join our senior living webinar to learn how Voyager helps you:
Simplify accounting with a full general ledger system
Improve transparency through centralized record keeping
Enhance staff productivity with automated tasks and workflows
Scale your operations by adding solutions for marketing, care and more
Register for the Voyager Senior Housing webinar.
Yardi Senior IQ
Operational and financial data alone doesn't cut costs, increase revenue, balance risk or optimize resident care. Actionable insight does, and that's where Yardi Senior IQ comes in. Join this senior living webinar to learn how our dynamic business intelligence solution drives smarter, faster decisions for single communities or an entire portfolio. We'll show you how Yardi Senior IQ:
Uncovers new insights from internal benchmarks and industry comparisons
Satisfies investors, board members and senior leadership with real-time data
Helps staff focus on resident care by eliminating spreadsheets, siloed databases and other inefficient operations
Empowers teams with role-based, customizable dashboards that display metrics that matter to them
Register for the Yardi Senior IQ webinar.
Yardi EHR
Drive superior resident care with efficient record keeping and medication management. Yardi EHR offers the convenience of mobile, electronic assessments, care planning, incident tracking and more. Watch our senior living webinar to learn how Yardi EHR helps:
Simplify charting to increase time for resident care
Capture all care costs from assessments
Cut medication administration costs and processing times
Comply with government reporting regulations
Register for the Yardi EHR webinar.
Yardi eMAR
How can senior living providers and pharmacies work together efficiently? With an effective electronic medication management solution! Yardi eMAR streamlines caregiver tasks by consolidating medication management, health records and finance in one single database. Register for this senior living webinar to see how Yardi eMAR enables you to:
Pass medications securely across your communities
Build stronger bonds and increase resident satisfaction
Reduce paper documentation and cut associated processing time
Eliminate risks by digitizing the medication management process
Register for the Yardi eMAR webinar.
RentCafe Senior Living
Set your communities apart by offering residents and their families the ability to stay connected. RentCafe Senior Living is an online portal for managing payments, reviewing health and wellness records, communicating with caregivers and submitting service requests whenever, wherever. Join our senior living webinar to learn how RentCafe Senior Living works to:
Increase cash flow with online payment options
Enable fast and easy maintenance requests
Drive resident engagement through community calendars
Collect confidential feedback from residents and families
Register for the RentCafe Senior Living webinar.
RentCafe Senior CRM
Nurture leads and maximize occupancy with a powerful customer relationship management solution for senior living. RentCafe Senior CRM offers instant visibility into sales and marketing activities, with prospect information flowing from sales counselors to caregivers to finance and billing staff. Watch this senior living webinar to discover how RentCafe Senior CRM allows you to:
Create positive relationships by capturing prospect details
Track leads, referrals, property tours and follow-ups
Deliver quality care by passing data seamlessly to caregivers
Forecast census numbers and manage your sales pipeline
Register for the RentCafe Senior CRM webinar.
Get in touch with us
Have questions on the Yardi Senior Living Suite? Reach out for a more personalized demo of the above solutions.