Your Business Intelligence Guide
By Natalie Mahn on Jan 24, 2023 in Senior Living
You've likely heard the term business intelligence (BI) before, but have you explored the capabilities of BI tools for senior living? Our newest ebook guides you through it, offering concrete ways senior living operators can use BI tools to their advantage.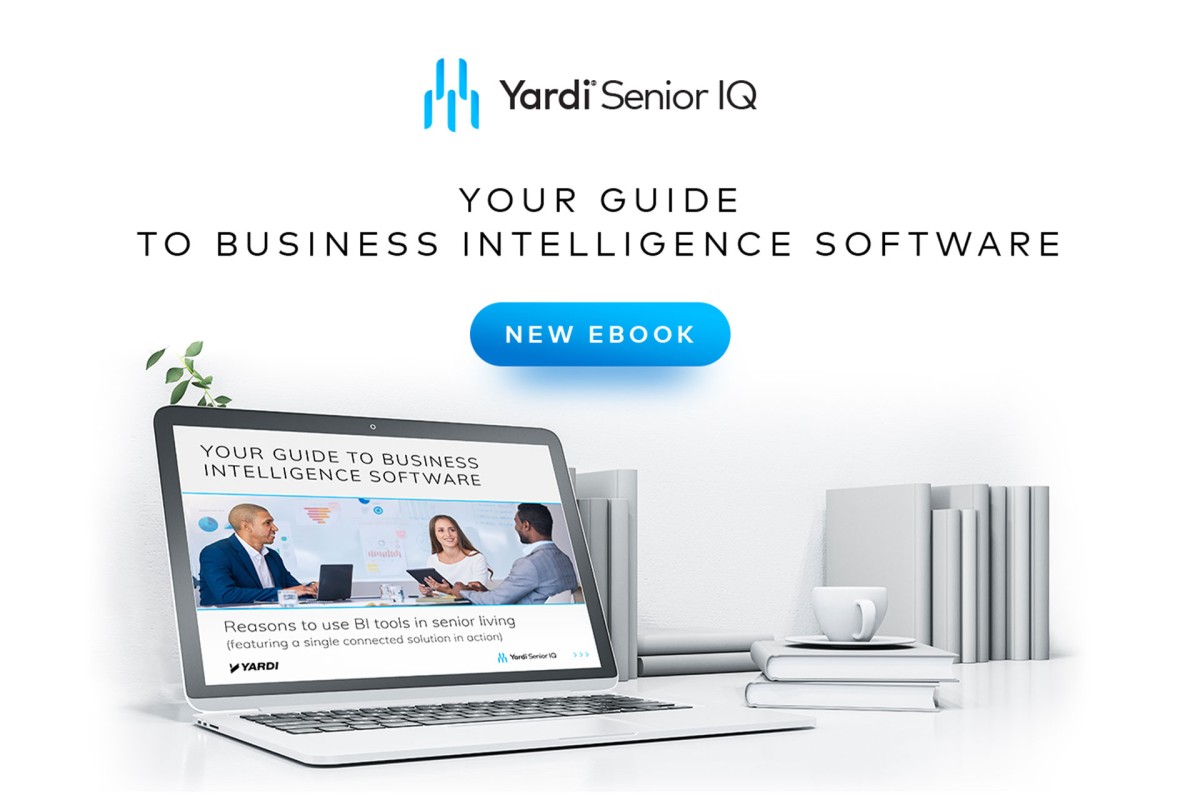 We cover the top benefits of BI software and features to look for when selecting a solution, then share how Yardi Senior IQ stands out from the crowd. Be sure to download a free copy of the ebook for all the insights!
Why should you use business intelligence?
Given the tech-driven world we're in today, it's no surprise that 80% of organizations are using BI software, according to a 2022 Gartner survey. But beyond simply being in a technology era, leaders are choosing to implement BI solutions based on the ability to unlock critical data — all at the click of a button. That real-time data enables smarter, faster decision-making.
As outlined in the ebook, business intelligence helps senior living operators (and other leaders alike) enable data visualization, streamline decisions and educate staff at all levels. That includes managers across marketing, operations and care, not just C-suite executives.
You can read the ebook for more details on what BI tools have to offer. The big takeaway is that business intelligence opens doors that manual data processes can't — helping operators drive growth in their communities.
Selecting the solution for you
How does one sort through different business intelligence solutions? It's important to find a transparent vendor who shares exactly what their solution does to help operators succeed. You should be looking for ease of use, customization options and a wide range of capabilities when vetting BI solutions.
Check out the ebook for a list of what to look for beyond those must-haves.
Say hello to Yardi Senior IQ
We can't go through the benefits of business intelligence without a solution to demonstrate. With that, say hello to Senior IQ! Senior IQ is a cloud-based, integrated business intelligence solution hosted in the Yardi Senior Living Suite. As a BI solution built for the unique needs of senior living, Senior IQ offers real-time data that's relevant to you.
There's a range of things that make Senior IQ a differentiator, but to name a few, Senior IQ offers:
Attractive, customizable dashboards
640+ pre-configured KPIs
Internal benchmarks and NIC industry comparison data
Portfolio-wide insights plus drill down capabilities
HIPAA and SOX compliant workflows
Head over to the ebook for the full list, as well as an inside look at dashboards and KPIs being created in Senior IQ today.
See what Yardi clients are saying
"Yardi Senior IQ is fantastic because it establishes orderly workflows and creates new reports from existing ones, complete with custom dashboards," shares Michael Bowles, project coordinator at Dial Senior Living. "Investors can get very specific information on demand without having to wait for us to send it." You'll find a few more testimonials like this one in the ebook.
Getting started with Senior IQ
Curious about the implementation process with Senior IQ? Let's just say you're not building charts from the ground up. Data is automatically pulled from tools in the Yardi Senior Living Suite — from financials to marketing to care — and populated in Senior IQ.
Implementing Senior IQ can be achieved in just two weeks, much less than the median implementation timeline for BI software (approximately four months, according to BI-Survey).
Read the ebook
While snapshots like this are great, we encourage you to read the ebook for a closer look at business intelligence tools! If you have any questions about Senior IQ, visit page 14 of the ebook to book a personalized demo with team Yardi.