Vitality Living Success Story
By Natalie Mahn on May 25, 2023 in People, Senior Living
"We use Yardi as our source of truth for everything."
That insight comes from Nick Byrd, chief financial officer at Vitality Living, in a recent interview discussing Vitality's successes with the Yardi Senior Living Suite. With a focus on Yardi Voyager Senior Housing, the story spotlights the challenges Vitality faced prior to working with Yardi — and shares how they've found success since then.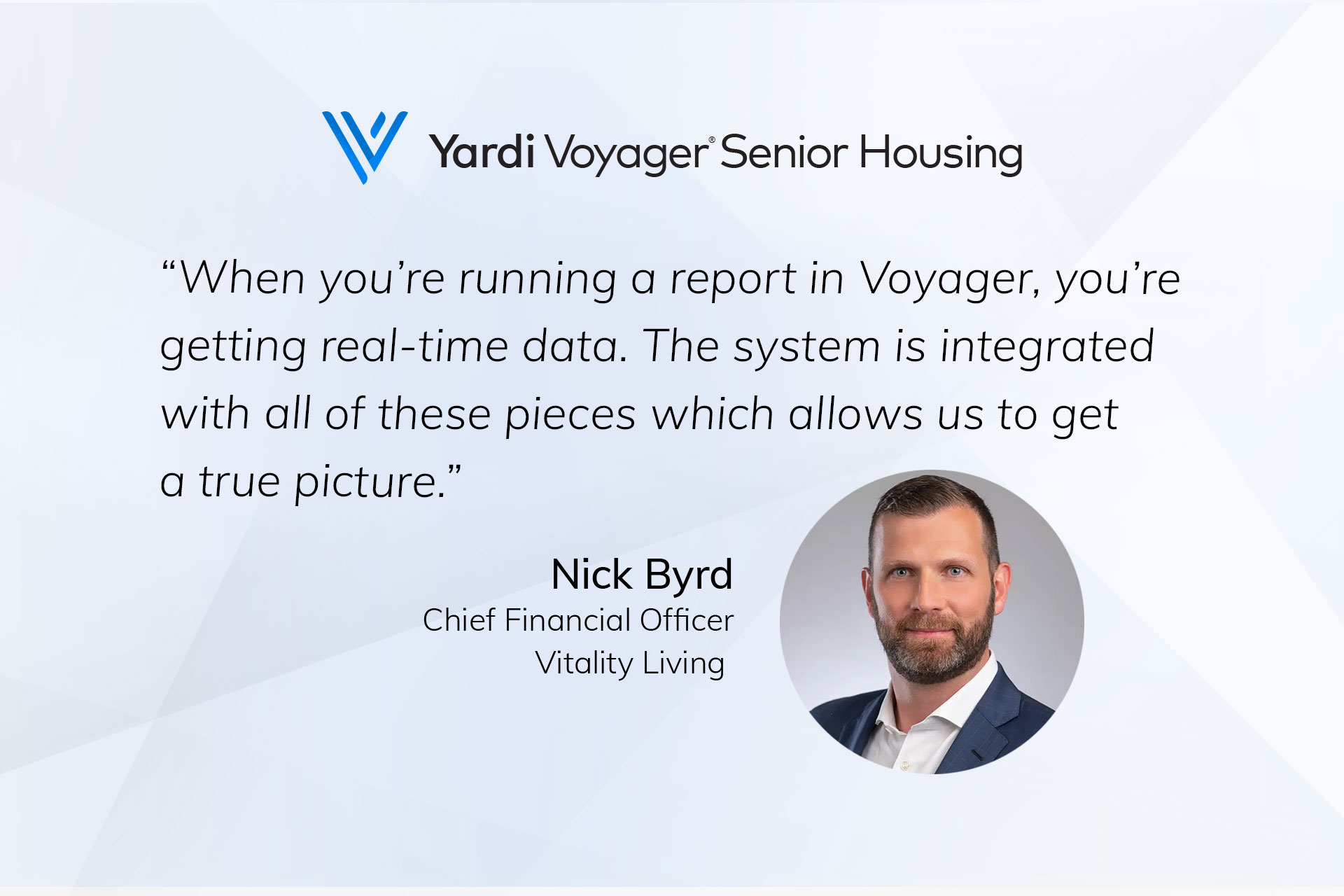 Read the highlight below, then head to the success story to get all the insights:
The Challenge: Manual Processes & Disparate Systems
Vitality used to rely on manual processes and disparate systems — taking time away from priorities, generating errors and causing confusion among teams. From monthly ACH pulls to building financial reports, key tasks became increasingly arduous. Vitality searched for a dependable, integrated solution to serve as their source of truth and alleviate the challenges they were facing.
The Solution: Yardi Voyager Senior Housing
Designed for senior living providers of all types and sizes, Yardi Voyager Senior Housing delivers property management and financial accounting on a powerful, cloud-based platform. By adding solutions across the Yardi Senior Living Suite, operators take full control of the senior living spectrum from marketing to operations to care.
The Story: Gaining One Source of Truth, Eliminating Errors & Saving Time
Prior to implementing Voyager Senior Housing and accompanying tools in the Yardi Senior Living Suite, Vitality used a mix of siloed technology and manual processes. The lack of a single connected solution — built to unite all data and workflows in one place — meant Vitality didn't have true visibility or a reliable method for retrieving important information. By moving forward with Yardi, Vitality now has a single source of truth — a solution that integrates all aspects of its business into one database.
"When you're running a report in Voyager, you're getting real time data," shares Byrd in the success story. "The system is integrated with all of these pieces which allows us to get a true picture."
With Voyager automating tasks Vitality previously did manually, errors have now been eliminated across the board. "When we would run our monthly ACH pulls in the old system, the community's business director would have to prepare the file, send it to accounting and we would manually enter all the ACH transactions, and update the amounts," explained Byrd. "You can only imagine what kind of errors that could create, and it created a ton."
Vitaly also said goodbye to time drainers when they partnered with Yardi. Since Voyager acts as their complete general ledger system, Vitality has drastically reduced time spent on key financial accounting tasks, allowing team members to shift and focus on other priorities. "We gained two days back just around the ACH process," said Byrd. "It was a manual lift before, but now things are getting updated in real time."
Read the full success story
Ready to see all the ways Vitality is finding success with Voyager Senior Housing? Read the full success story! If you have any questions for us — or you'd like to book a demo based on what you read — reach out to connect with our senior living team.