Vitality Living Case Study
By Natalie Mahn on Sep 29, 2023 in Senior Living
How does Vitality Living achieve more with the Yardi Senior Living Suite? Find out in our latest case study! Featuring in-depth insights from Vitality's chief financial officer and vice president of wellness, the resource sheds light on Vitality's major successes with our single connected solution.
Sound interesting? Explore the snapshot of Vitality's story below.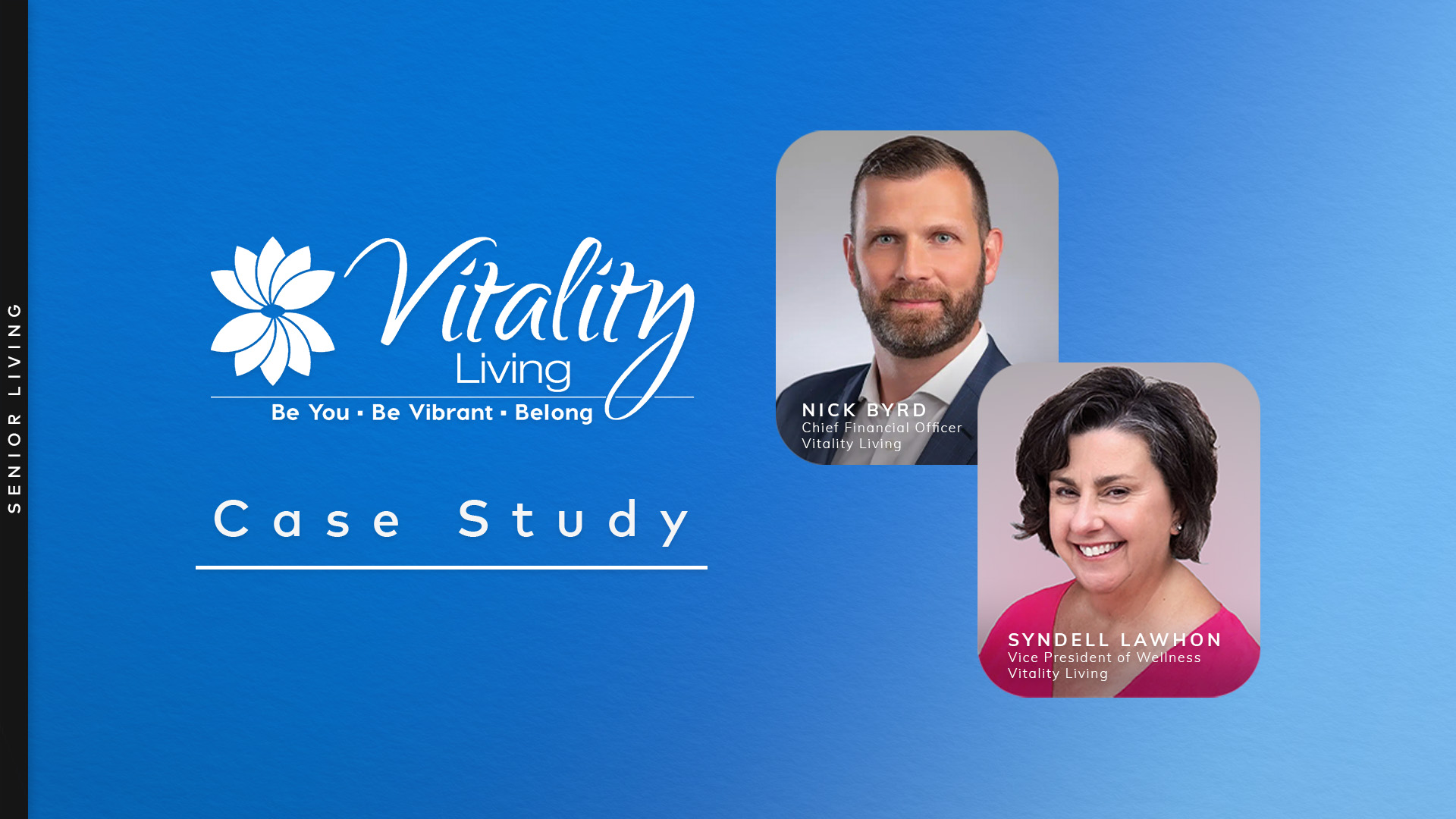 The challenge
For financial accounting, Vitality used to rely on manual processes and disparate systems — taking time away from priorities, generating errors and causing confusion among teams. From monthly ACH pulls to building financial reports, key tasks became increasingly arduous. Vitality searched for a dependable, integrated solution to serve as their source of truth and alleviate the challenges they were facing.
In terms of gathering data and presenting insights, Vitality also utilized manual processes — as their data was scattered across siloed solutions. Not only were these processes time-consuming, but they also prevented Vitality from unlocking insights regarding occupancy, falls and more, since data lacked the organization and presentation needed to reveal important trends. Not to mention, Vitality's data wasn't being updated in real time. Leaders sought a business intelligence solution that would present up-to-date, business-wide data in a visual format — all in one place.
The solution
After searching for a trusted technology provider known for creating integrated solutions on the cloud, Vitality began their journey with Yardi. Now, they're driving success at every level with Voyager Senior Housing and Senior IQ.
With Voyager, Vitality accesses automated accounting functions, real-time reporting and complete business oversight in one centralized location. "When you're running a report in Voyager, you're getting real-time data," shared Nick Byrd, chief financial officer at Vitality. "The system is integrated with all of these pieces which allows us to get a true picture."
And thanks to Senior IQ, Vitality now has a visual representation of key information — via custom graphs and tables — housed in one secure location. "There's so much information in Senior IQ that you can dig into," said Syndell Lawhon, vice president of wellness at Vitality. "There's always something we're finding on a daily basis — something else we know we could use."
The results
Since implementing Yardi solutions, Vitality Living has:
Eliminated manual processes
Gained hours back across teams
Unlocked impactful community trends
Guaranteed one source of truth
Read the full story
Head to our complete case study with Vitality Living to hear more from Nick Byrd and Syndell Lawhon, who share the details of Vitality's success using Yardi solutions.
Have questions about our dynamic senior living software? Reach out anytime to schedule a meeting with us.