Seniors Celebrate Love  
By Natalie Mahn on Feb 23, 2023 in Senior Living
Love was in the air across senior living communities this Valentine's Day, including the communities of our amazing clients! So if you're a fan of heartwarming stories, you're in the right place. We hope you'll take a moment to see how these communities made this love-filled day special.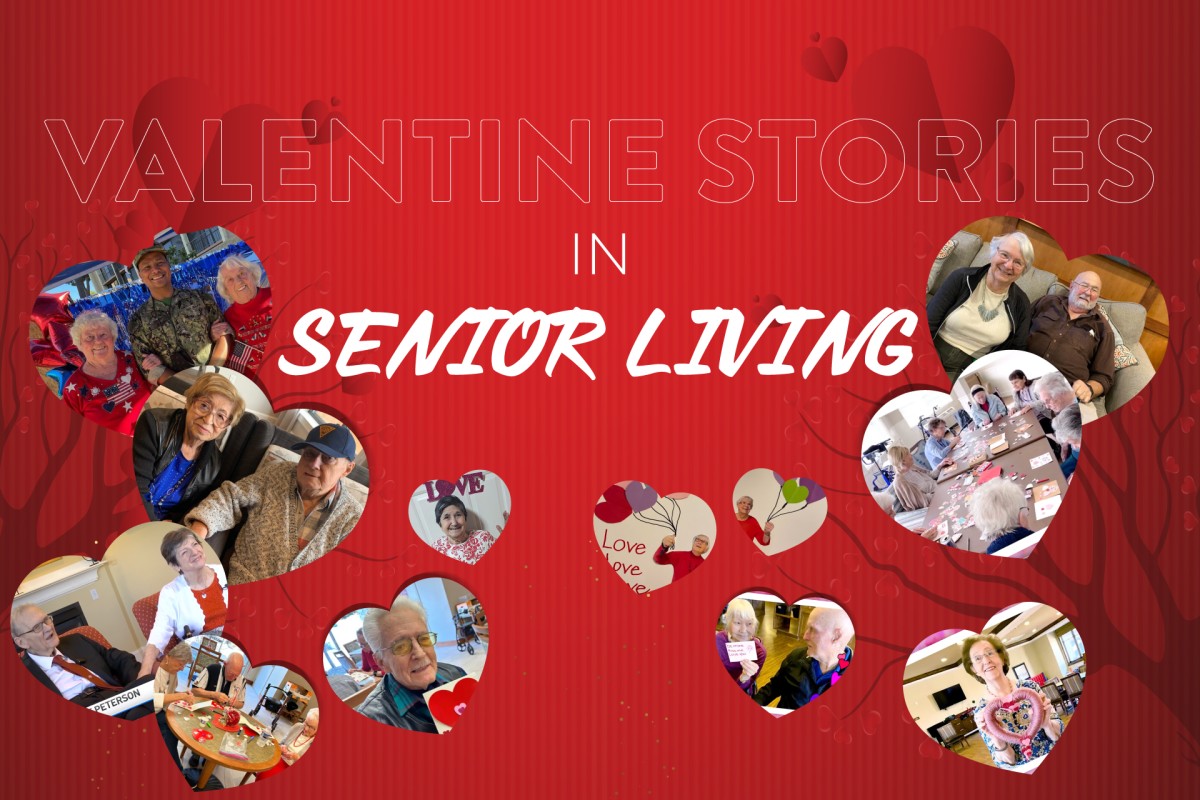 Valentine's Day in senior living
We're loving how our senior living clients celebrated Valentine's Day this year, whether they organized festive activities or celebrated resident lovebirds. From blogs to social media posts highlighting charming moments, we're happy to be resharing it all:
Pacifica Senior Living put together a blog post sharing how their communities celebrated Valentine's Day — and they spotlighted the relationships their residents cherish. Take Joyce and Joanne from their Laguna Hills community, two sisters who have maintained a loving relationship since their early days. From attending nursing school together to now residing in the same Pacifica apartment, these two lovely ladies enjoy spending quality time together each day. Read the Pacifica post to learn about Joyce and Joanne, plus see more Valentine's stories featuring Pacifica residents.
At Maplewood Senior Living, one resident couple brought the Valentine's Day spirit by reflecting on their lifetime of love. Residing in Maplewood at Princeton, residents Vicki and Marty have been together "forever" (as quoted by Vicki in Maplewood's blog post). The post delves into their journey individually and as a couple — sharing everything that led them through decades of love. Read Maplewood's post for all the feels, and to see then-and-now photos of Vicki and Marty.
Continuing with the theme of long-lasting love, check out this video featuring Benchmark Senior Living residents. As shared on Benchmark's LinkedIn, the video shows how residents Dave and Pauline celebrated 25 years together by renewing their vows. The two currently live at Benchmark's Academy Point at Mystic, but they faced challenges prior to getting there. You simply must watch the video to see how these two reached their happy ending.
At Merrill Gardens, residents at various communities enjoyed making crafts like Valentine's greeting cards for friends and family, decorating a special "sweetheart tree" and more. View this Merrill Gardens blog post to see for yourself!
Westmont Living joined the Cupid Crew Movement this Valentine's Day, which invited residents to make homemade cards for their fellow seniors. As shared by Westmont on social media (along with a wonderful photo montage of residents), the movement aims to spread love to older adults, combat feelings of isolation and strengthen the universal need for connection.
At Brightview Senior Living, love was celebrated with a "kiss cam" and let us just say, it's the sweetest thing. We strongly encourage watching their social media video to make yourself smile.
Thanks for reading!
We hope you enjoyed this roundup of sweet stories from our senior living clients. If you're interested to learn how we serve these senior living clients here at Yardi, explore our product suite.