Staff Recruitment Strategies
By Natalie Mahn on Nov 4, 2021 in Senior Living
Due to the staffing shortage in senior living, providers must find new ways to recruit and retain staff. The COVID-19 pandemic is changing the way caregivers look at, pursue and stay committed to employment opportunities.
And the staffing shortage is causing Yardi client Life Care Services (LCS) to get creative. They're developing effective strategies to attract and incentivize staff members across their communities.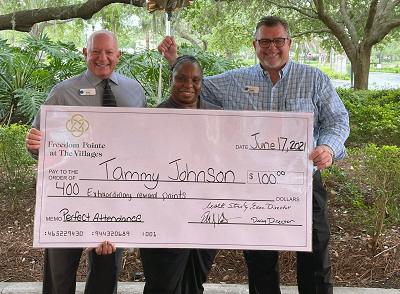 LCS' new staffing strategies
LCS manages and supports senior living communities across the nation. Currently serving 140-plus communities, having staff members to meet the needs of their seniors — over 35,000 to be exact — is critical. The 2021 staffing shortage has made this especially difficult.
But LCS is rising up to the challenge. Relayed by LeadingAge, Senior Vice President Jill Sorenson explains how LCS is attracting new employees by applying the same principles used to bring in new residents.
"When we're marketing to a prospective resident who's looking at several different retirement communities, we want to find out what's important to them," says Jill Sorenson. "Once we find out, we focus on how our community will address that concern."
Sorenson explains how this sparked inspiration for a new recruitment strategy, one to help LCS through the ongoing staffing shortage.
Building a recruitment task force within the 13 communities she oversees, Sorenson's team got to work. Their new tactics include:
Showcasing how specific communities will meet an employee's needs and desires
Ensuring a rapid response time with incoming inquiries and applicants
Maintaining a maximum five-minute waiting time for interviewees upon arrival
Preparing a group of back up interviewers, in the event the main interviewer is unavailable
Maintaining excellent communication with new hires
Creating a welcoming and robust orientation process
Due to their success, these practices have been compiled into a recruitment toolkit, which is now in use across all LCS sites.
And they're not stopping there. LCS is designating September as their "national recruiting month" complete with a calendar of events to discuss staffing strategies. This includes a "Tuesday tips call" that brings together executive directors, health care administrations, HR directors and recruiters to share fresh ideas.
It's inspiring to see how LCS is staying committed to their residents — working hard to navigate the staffing shortage by implementing new recruitment standards. We hope they inspire others across the industry to push forward, get creative and band together through this unprecedented time.
Read more about Life Care Services' recruitment efforts during the staffing shortage. To discover how Yardi supports clients like LCS with integrated senior living management software, don't hesitate to get in touch.