Yardi Senior IQ
By Natalie Mahn on Sep 18, 2023 in Senior Living
We're thrilled to announce the newest features in Yardi Senior IQ — our dynamic business intelligence solution for senior living. From brand-new dashboards to improved reporting capabilities, each enhancement is available now!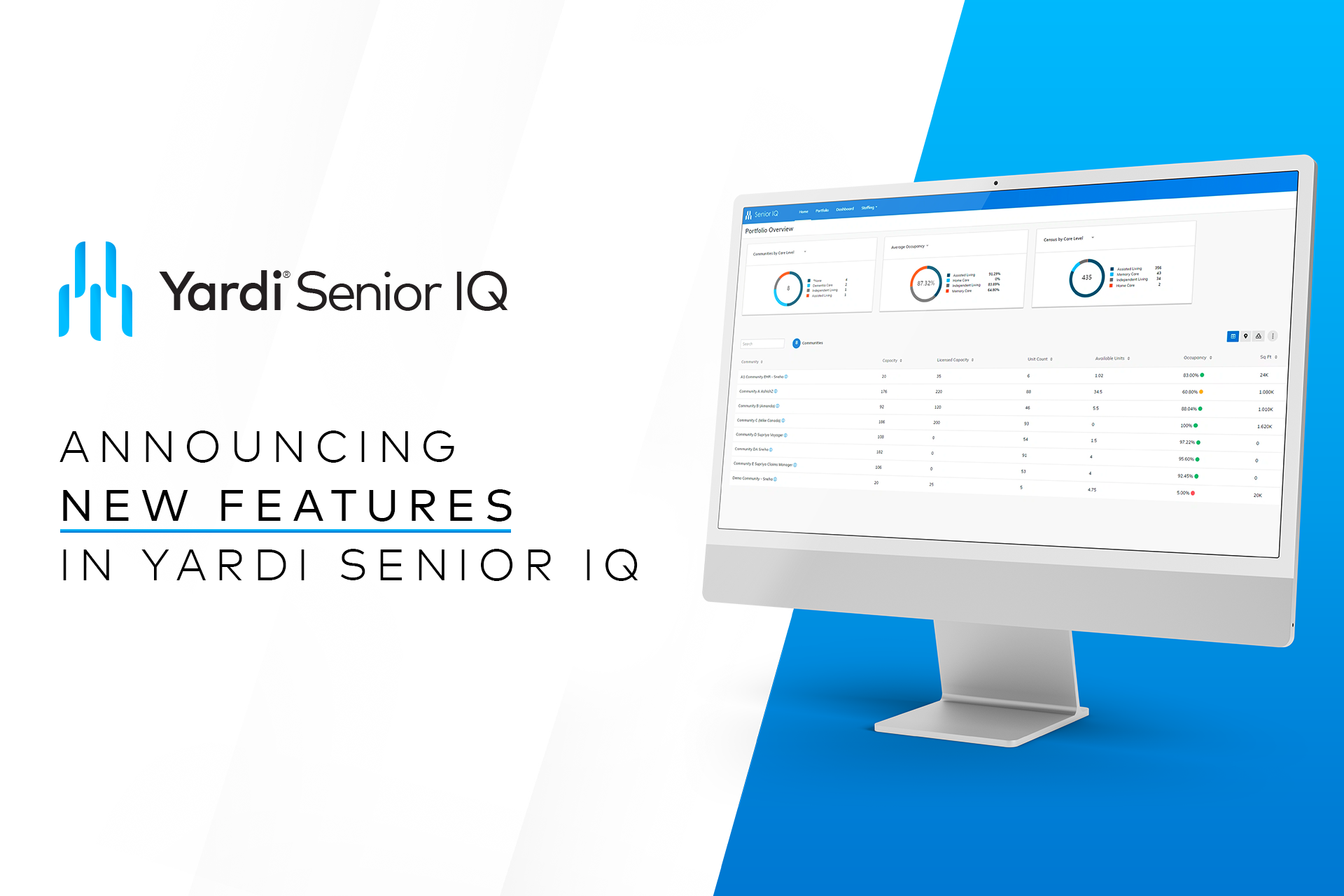 That means if you're currently using Senior IQ, you can start enjoying the latest functionality right away. We roll everything out automatically to make the transition as easy as possible for our senior living clients.
Ready to see what's new? Read the highlights below to learn what this release brings to the table.
Explore what's new
For starters, we'd like to thank our amazing senior living clients for providing feedback on Senior IQ. The following enhancements are inspired by what's been shared with our team, and we're pleased to continue evolving Senior IQ based on our clients' wants and needs.
First up, we've made it easier to use Senior IQ as a central location for gathering key data and generating reports — and to share that data with teams across your organization. Enjoy the ability to quickly reference miscellaneous reports and dashboards, displaying the KPIs most important to your organization, in routine meetings, variance calls, department check-ins and even at community stand-ups.
Moving on, in relation to labor and staffing, we've added the ability to integrate your daily labor data. This allows you to analyze overtime — sorted by department and job positions — and identify areas for improvement.
Next up, we have three new dashboards! Here's a snapshot of what they offer:
CRM success metrics dashboard — as the first of its kind, this CRM dashboard presents key metrics regarding occupancy, closing ratios, lead status, sales counselor performance and more.
Leasing documents dashboard — serving as a usage check for those operating with electronic leasing, this dashboard captures metrics like the number of leasing documents you've generated to date.
Speed to lead dashboard —this dashboardshows engagement times between new leads and first activities by sales counselors to understand conversation ratios trends.
Continuing on, we've refreshed the ability to assess trends in Senior IQ. You can quickly look at trends per unit, per resident and per resident day — as well as easily understand the cost of care per care point.
A day in the life using Senior IQ
Whether you're currently using Senior IQ or someone who's not familiar with it, we thought it may be helpful to see a realistic portrayal of an executive director driving success with the product.
So as an ED, your daily routine may look something like this:
Enter the community, greet your team and view a snapshot via Senior IQ on the community TV
Speak to families you pass in the hallways with confidence, knowing who's moving in and who's moving out based on the details presented in the snapshot
Sit down at your desk and quickly review the clinical events from yesterday via the clinical dashboards
Attend the daily stand-up meeting where teams are using a community overview dashboard to help them cover shift changes (unit turns, LOAs, incoming residents, tours scheduled and more)
Join a financial review call with regional ops to look at actual numbers versus budgets, as well as your comparisons
Wondering what else you can achieve with this business intelligence solution? Learn more about what's possible with Senior IQ.
Have questions?
We hope you enjoy the newest functionality in Senior IQ! We're always working to add more features and enhancements, so we encourage our clients to continue reaching out with ideas.
If you have any questions on what's covered above, select the Help button directly in Senior IQ to get assistance.