Interoperability In Senior Living
By Natalie Mahn on Apr 25, 2023 in Senior Living
Ready to succeed with an interoperable platform for senior living?
Our newest infographic shares how you can optimize connections, streamline workflows and maximize resident safety with Yardi EHR, our interoperable electronic health record solution designed for senior living. With verified interface partners, Yardi EHR securely collects and transfers resident data around the clock.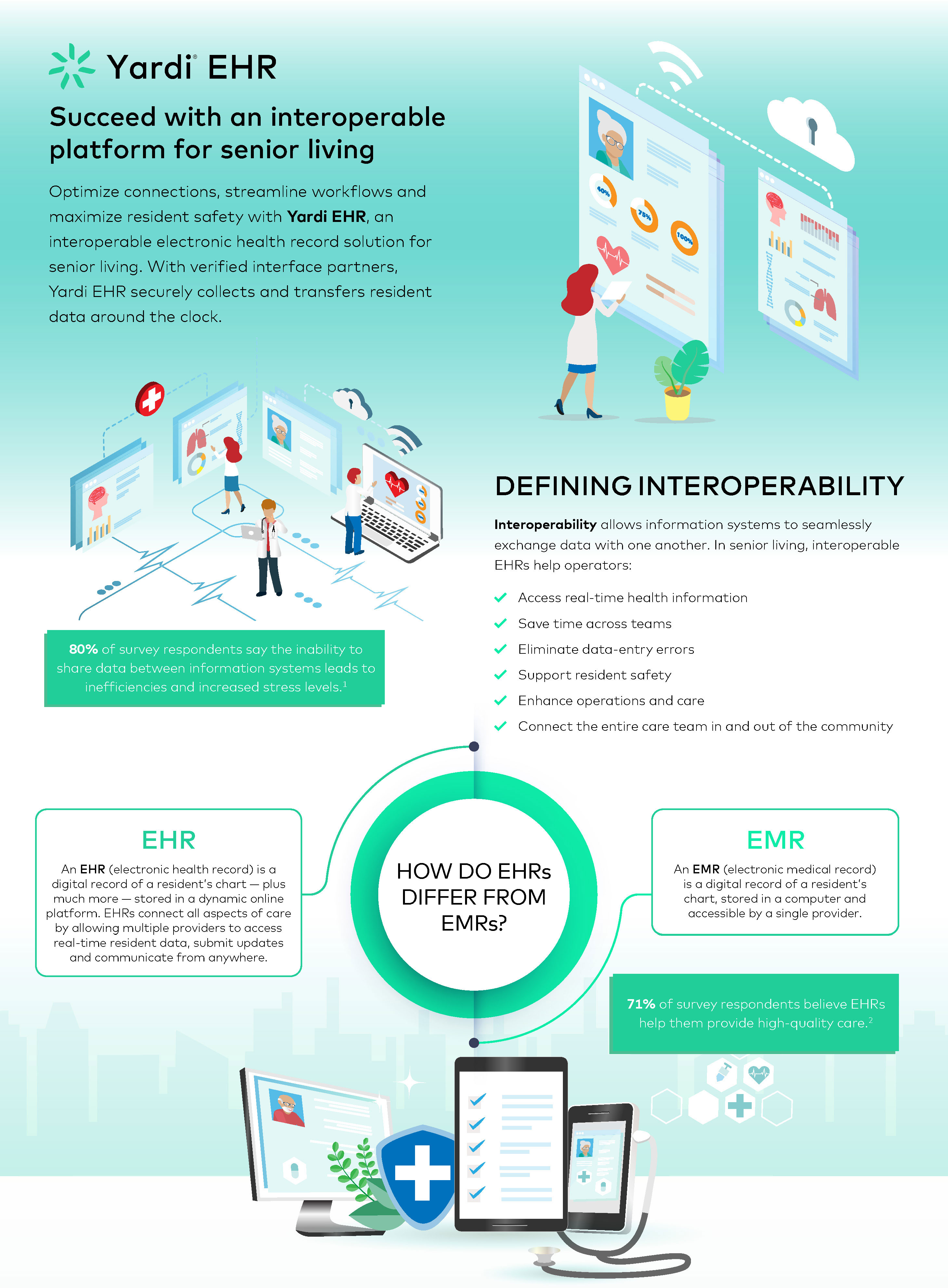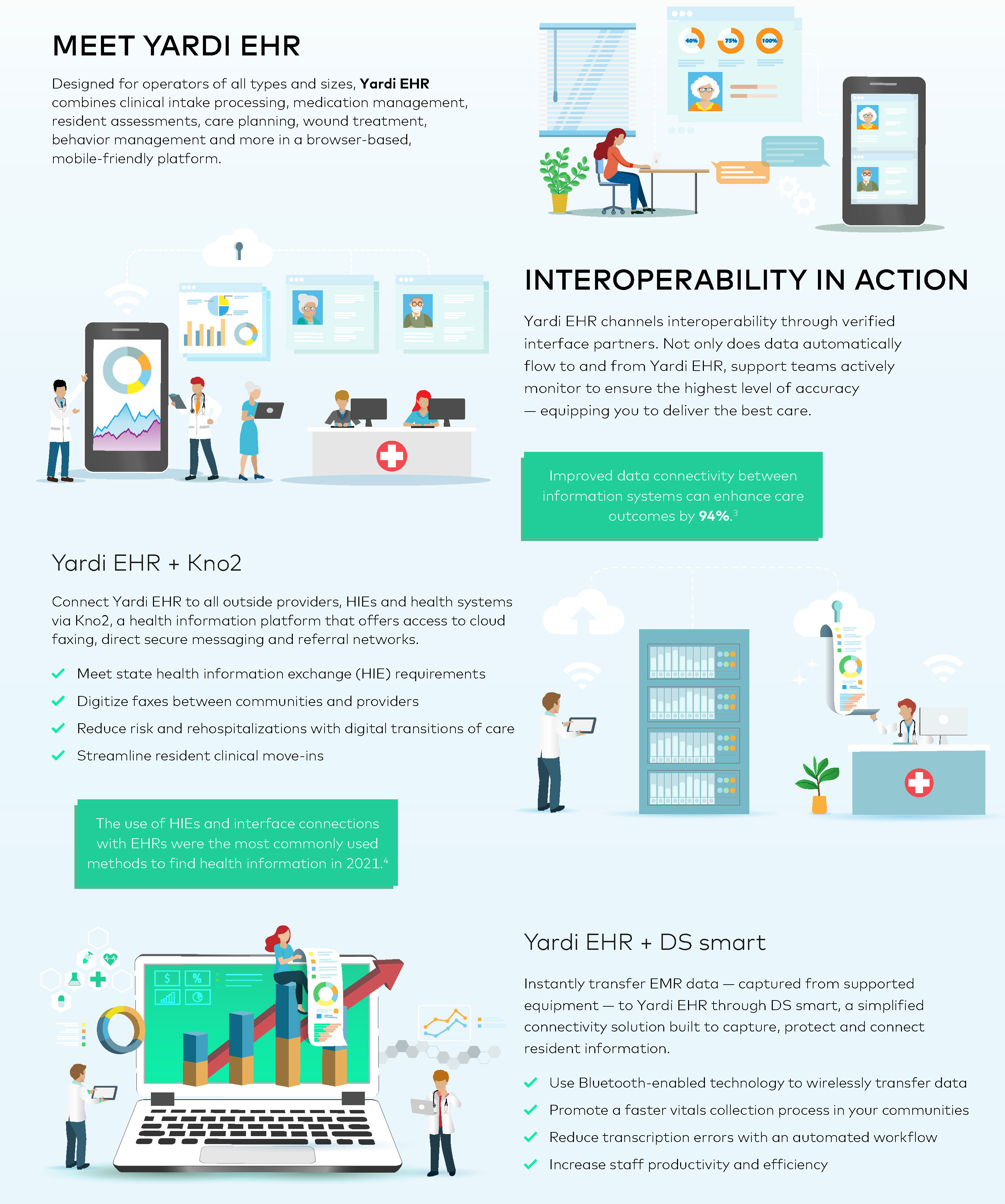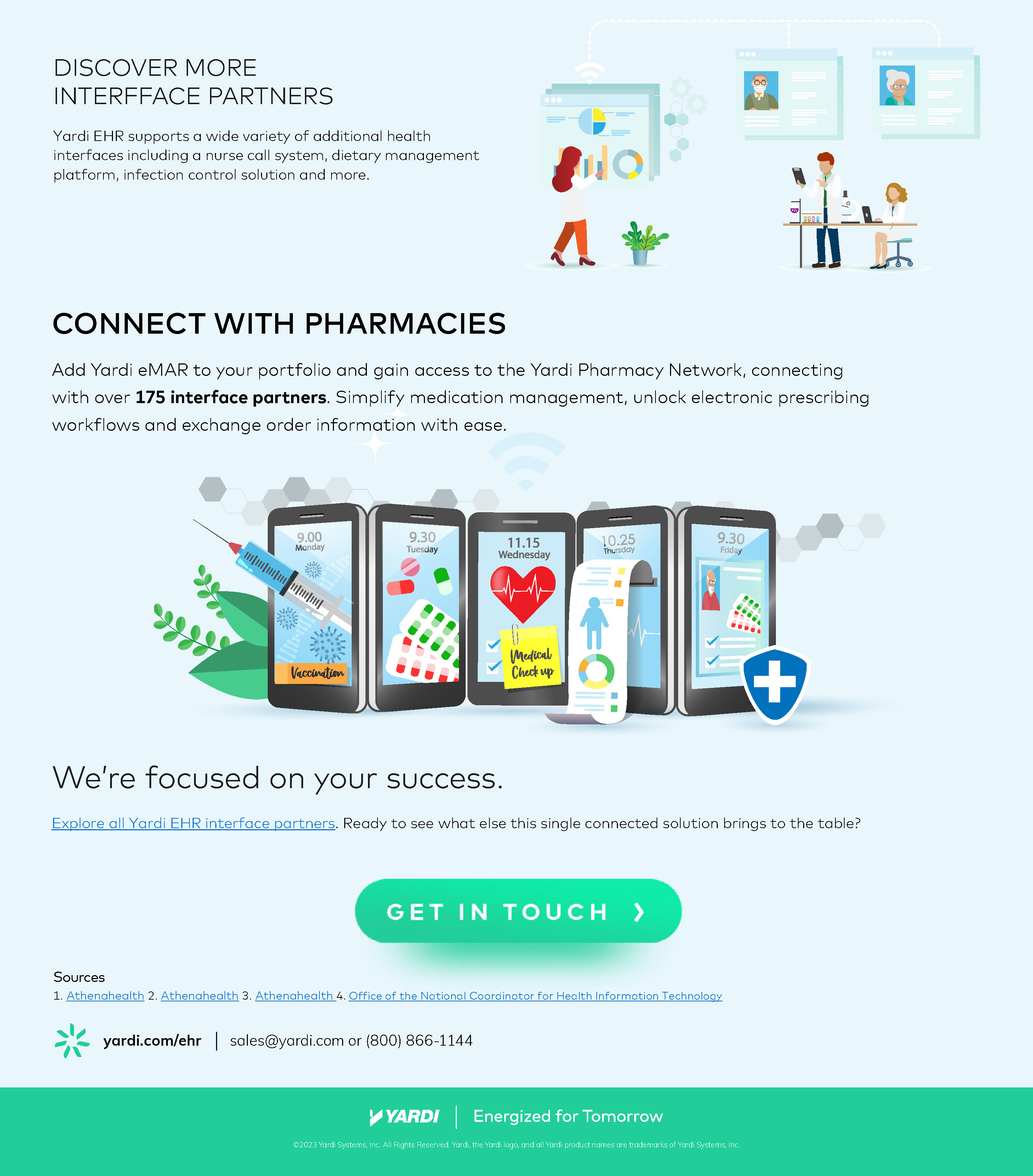 Defining interoperability
Interoperability allows information systems to seamlessly exchange data with one another. In senior living, interoperable EHRs help operators:
Access real-time health information
Save time across teams
Eliminate data-entry errors
Support resident safety
Enhance operations and care
Connect the entire care team in and out of the community
How do EHRs differ from EMRs?
Familiar with EHRs, not EMRs? Or vice versa? Here's the difference between the two:
An EHR (electronic health record) such as Yardi EHR is a digital record of a resident's chart — plus much more — stored in a dynamic online platform. EHRs connect all aspects of care by allowing multiple providers to access real-time resident data, submit updates and communicate from anywhere.
An EMR (electronic medical record), on the other hand, is a digital record of a resident's chart stored in a computer and accessible by a single provider.
Interoperability in action
Taking a look at exactly how things work with Yardi EHR, this full-service solution channels interoperability through verified interface partners. Not only does data automatically flow to and from Yardi EHR, support teams actively monitor to ensure the highest level of accuracy — equipping you to deliver the best care.
Explore Yardi EHR interface partners
You can connect Yardi EHR to all outside providers, HIEs and health systems via Kno2, a health information platform that offers access to unlimited cloud faxing, direct secure messaging and referral networks.
Depending on your license, additional features available may include Kno2-to-Kno2 messaging, online identify verification, Kno2 and national provider directories, message handling, unstructured document QC tools, configuration/interoperability settings, third-party and esign connector capabilities, third-party proprietary referral network connections, HIE connector (submission only, or submission & query), Kno2 Conversations, query initiator/respond and 360X.
Onto the next interface partner: You can instantly transfer EMR data — captured from supported equipment — to Yardi EHR through DS smart, a simplified connectivity solution built to capture, protect and connect resident information. Learn more about what's possible with DS smart.
Note that Yardi EHR supports a wide variety of additional health interfaces including a nurse call system, dietary management platform, infection control solution and more.
Learn more about Yardi EHR
We encourage you to learn more by exploring all Yardi EHR interface partners. Want a more detailed tour of Yardi EHR? Head to the infographic and select "get in touch" to schedule a personalized demo.