New Integration
By Natalie Mahn on Sep 12, 2022 in Senior Living
For senior care staff, taking resident vitals is often done manually. From capturing vital signs to recording data for each resident, the process is time consuming and heightens the risk for transcription errors.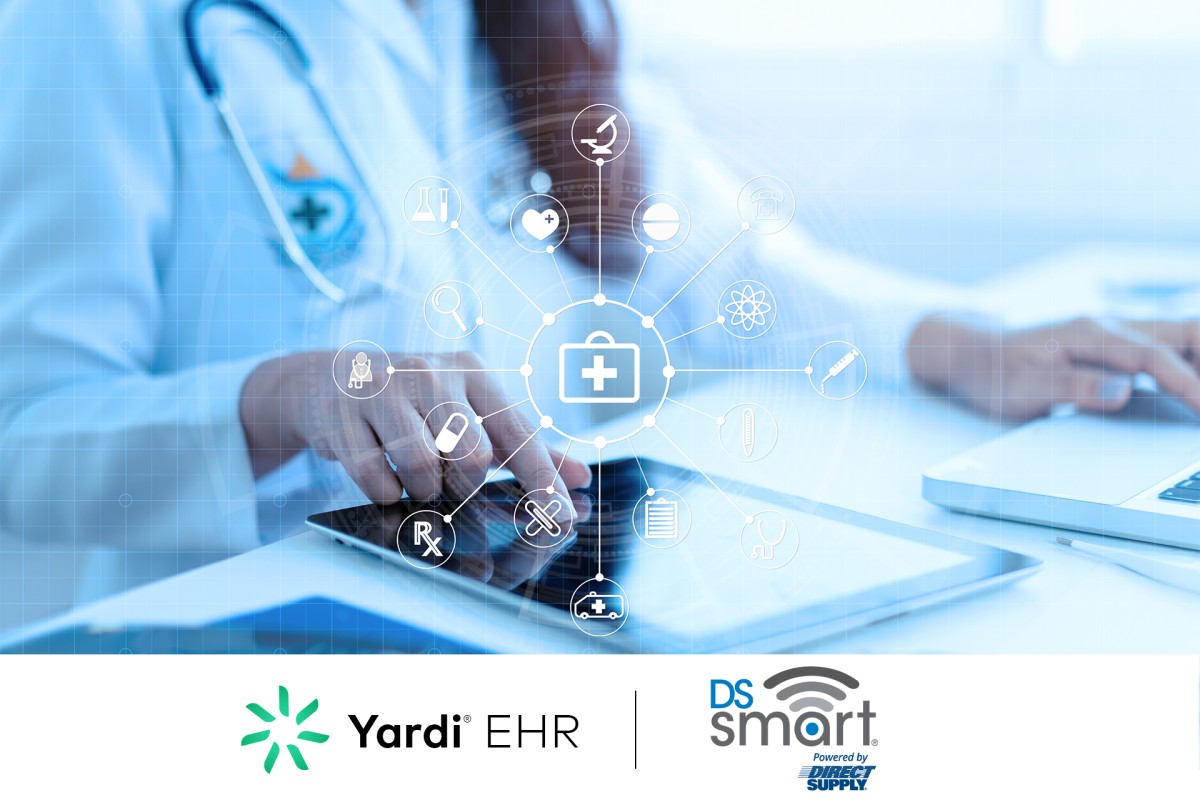 Luckily for providers and care staff, technology exists to capture, protect and connect that data. That describes our new partnership with Direct Supply, an integration between our electronic health record solution, Yardi EHR, and their DS smart technology.
At a glance, the integration enables data drawn from supported equipment — like vital signs monitors — to flow into Yardi EHR. It's an exciting step forward for us and our senior living clients.
But how does this integration simplify care workflows? Reduce errors? Improve the resident experience? We have the answers. There's a lot to cover, but that's what we're here for! See below for a breakdown of how the integration works — and how it benefits communities.
About Direct Supply
First things first, who is Direct Supply? Founded in 1985, this employee-owned company specializes in providing equipment and services to healthcare organizations, skilled nursing and assisted living communities throughout the United States.
Their technology comes in different forms, but for our purposes, we're introducing their DS smart solution. This intuitive platform gathers resident vitals taken from varying devices — from monitors to scales — in real time. This ensures resident vitals are captured quickly and efficiently, leaving no room for errors.
Our new integration
For Yardi EHR clients, a typical staff workflow with this integration involves:
Connecting a mobile device to vitals equipment via Bluetooth
Taking a resident's vitals
Reviewing measured vitals on the DS smart app
Approving a real-time upload to Yardi EHR
So once a resident's vitals are taken using DS smart technology, that data flows seamlessly into Yardi EHR. As stated, care staff can review and approve that data before the upload is complete.
As an added benefit, our clients can log directly in to the DS smart platform using their Yardi EHR credentials. That means staff won't need to manage multiple logins when they sync up with DS smart-enabled equipment.
All in all, for Yardi EHR clients, the integration:
Empowers care staff
Reduces time spent on vitals collection by 40%
Eliminates transcription errors
Improves decision making by offering real-time, accurate data
Enhances resident care
Seem like a big undertaking? Not at all! Our team is here to help streamline implementation. Learn more about DS smart technology and Yardi EHR.
Let's get started
We're ecstatic to partner up with Direct Supply, helping senior living communities bring their care services to the next level.
If you're a current client looking for more information, be sure to reach out to your sales rep. If you're new to Yardi solutions and looking for a demonstration of Yardi EHR — including the DS smart integration — reach out here.