Changemakers Series
By Natalie Mahn on Aug 15, 2022 in Senior Living
We're nearly at the end of the 2022 Changemakers series, an annual tradition presented by Senior Housing News (SHN). Although each year brings a wave of unique leaders, the 2022 series in particular has recognized a great range of individuals across the industry.
As we approach the conclusion, it's time to showcase the interview from our second-to-last honoree! Keep reading to meet Jesse Marinko, president and CEO of Phoenix Senior Living and a Yardi senior living client.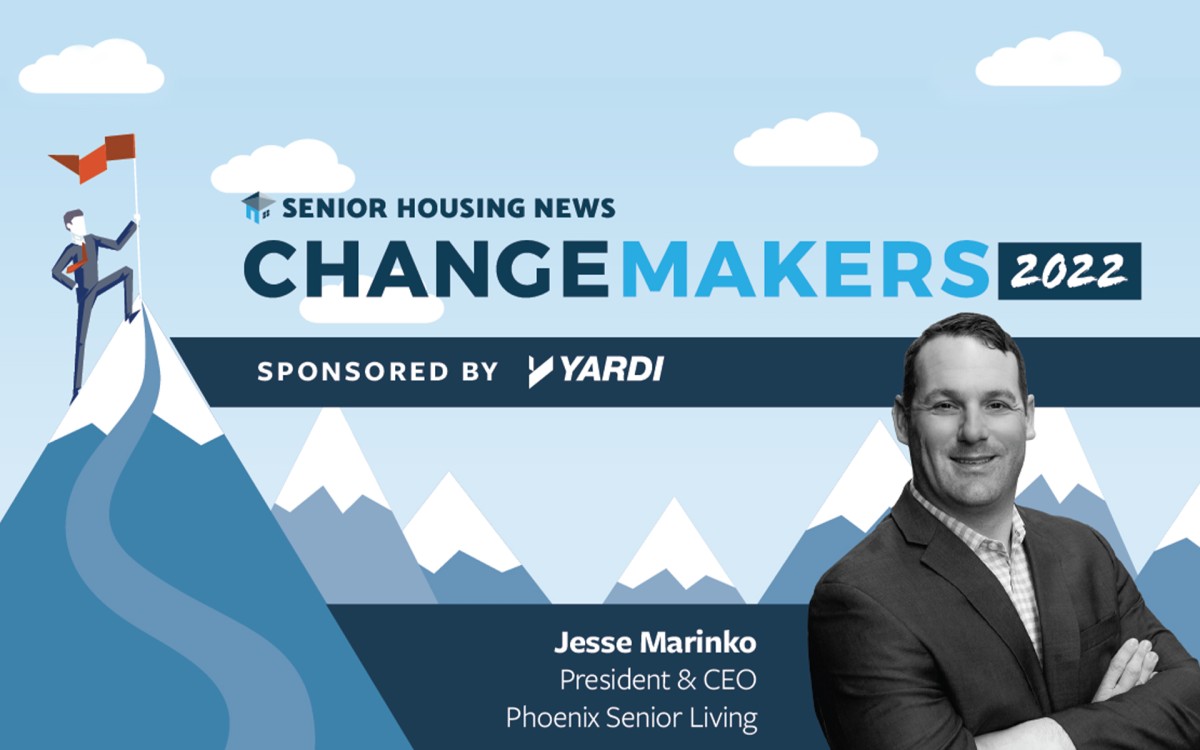 All about Jesse Marinko
With 20 years of experience in senior living, Changemaker Jesse Marinko has taken strategic risks throughout his career. That includes founding Phoenix Senior Living back in 2014, an organization offering innovative, personalized experiences for residents in assisted living, independent and memory care settings.
In his SHN interview, Jesse Marinko talks about his lessons learned in recent years, how he's approached change and the importance of serving the middle market. Keep reading for insights from this one-of-a-kind leader.
SHN: Looking back on your career in senior living, what changes have you led that you're especially proud of?
Marinko: During my time at Benchmark and my time here in Phoenix under my own flag, I've prided myself on recognizing the industry's youth, in terms of how long our industry has been in place.
There's not only a talent shortage, but also a recruitment shortage, and that has been a focused effort at Phoenix.
We've made a strong effort to create training and educational platforms built for high-touchpoint customer service people by understanding how effective tactics in other industries could translate into senior housing. That's not the norm, and I am proud of our effort.
For senior housing to succeed in its infancy, we're going to have to bring in new talent and train people who don't have tried and true senior housing experience. At Phoenix, we recognized that early, and we created a branded model, recognizing the gaps in service offerings for markets and creating a blended solution, whether that's middle market or our new Hammocks brand.
It's basically like if an active adult met an independent living community and had a baby. You bring all the services of an IL into an active adult environment. You build a clubhouse that is staffed and managed correctly. You build a lot of non-wasted space. I am proud of the company, both Phoenix Senior Living and Phoenix Development Group, for taking this progressive lens.
SHN: What are some ways you think senior living needs to change in the next five years?
Marinko: Again, we have to figure out how to serve the middle-market model effectively and efficiently, and we have to attract labor. If you are only going to run a high-end, market-rate senior housing company, I think growth will be pretty tough over the next 5 to 10 years. The greatest number of people need $2,500 to $3,500 [a month] senior housing.
Then, I think people who have cut their teeth at larger shops should continue to spin off and create their own shops. That forces the local cultural norms onto organizations because the leaders are close to the business. They're out there preaching the message with more motivated employees and better execution on planning.
I don't think size necessarily has to dictate a lack of quality. What dictates a lack of quality is the absence of leadership from the business. It just means as we get bigger, I have to work harder to stay plugged in.
SHN: Are there any particular technologies you have found especially effective in driving change or that hold a lot of promise for the future?
Marinko: Continuing down the path of electronic medical records is going to be huge. With that said, I think the limitations [on care] the state regulators put on us undermine the importance of electronic medical records … If I can't give clinical care, then do electronic medical records really matter? Probably not.
I think right now, from a technology perspective, the more intuitive we can be on financials, sales and marketing, the better off we will be.
Our industry really focuses on giving personalized concierge care. I think the more intuitive we can become with consumer needs through programs like LifeLoop that track the number of activities a resident goes to, the more success we will see. Data around how people interact with our properties will become the most influential data in my opinion.
Read more
To access the remaining SHN interview with Jesse Marinko, visit the Changemakers page.
To learn how Yardi supports Phoenix Senior Living with our integrated software, be sure to reach out to us. With solutions ranging from electronic health records to our secure online portal, we're proud to serve Phoenix Senior Living and other clients — continuously evolving our product features and functionality.
And don't forget to stay tuned for the final Changemakers interview, featured right here on The Balance Sheet!