Meet Dan Madsen
By Natalie Mahn on May 31, 2023 in People, Senior Living
Ready to hear from another 2023 Changemaker? Say hello to Dan Madsen, chairman and CEO of Seattle-based Leisure Care. We're loving highlighting this year's honorees — an empowering group of senior living leaders — as the series' sponsor for the fifth consecutive year.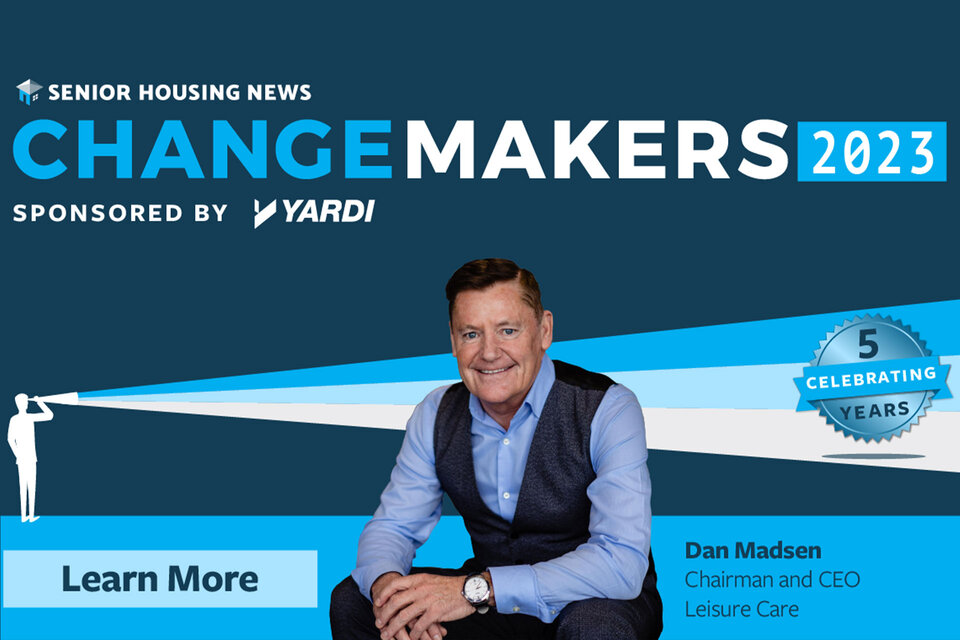 Dan Madsen named 2023 Changemaker
From spending 32 years in the senior living industry, Madsen is well-versed when it comes to taking risks, developing new strategies and driving change. In his interview with Senior Housing News (SHN), Madsen talks about his lessons learned over the years, as well as what he's focusing on looking ahead.
Read on for a highlight of Madsen's interview:
SHN: How have you changed as a leader since starting in this industry?
Madsen: It was 32 years ago, or almost 33, I guess, and I've learned tons. Every year I continue to grow and learn as a leader, gaining a lot of empathy and understanding for people and their behaviors.
One of the greatest things I think I learned was the tolerance of — mine as well, that all people have seasons. We have such longevity in our company that people have really good years, and then they have life that happens as well, and to continue to support them is really, really important.
SHN: Can you talk about a time when you tried to execute a change and things didn't go according to plan? How did you pivot, and what did you learn as a leader?
Madsen: I think that it's more internal than external. We continue to innovate, and it's the acceptance in the field sometimes even at the general manager level to really support that change. That's because it is general managers in the field in those positions who are dealing with their current customers and the current needs and the current wants and desires as they should.
From a home office level, as we continue to innovate and start new programs, we're focused on the future residents. Sometimes those things clash and we need to drive that change to the field and get people inspired to grow and innovate to meet the future customer as well as continue to meet our current customers' needs.
The types of discussions that we have when we get together and continue to push the envelope, and really, less agenda with discussions and more listening, and I guess, permission to play really helped us institute change in the field.
SHN: 2023 is shaping up to be a year of growth and evolution for many senior living operators. In what way is your organization/company changing for the times?
Madsen: 2023 has really been focused on — 2022 was focused on regaining census, honestly because of the challenges that we had during COVID. Really getting people back living with us, and then focusing on the proper expenses.
The labor market has been a challenge in 2022 but 2023 is shaping up to be very, very good for us. We will see good employees doing great things. We continue to see movement in our census as well. As we move forward, that will give us the ability to implement new and innovative programs. Right now, our heads are down and focused on our business.
Read Dan Madsen's full interview
Be sure to read the entire SHN interview with Dan Madsen. And if you have any questions for us, or you're interested to learn more about Yardi senior living solutions, don't hesitate to reach out.