Senior Living Industry
By Joel Nelson on Jan 11, 2021 in News
"Heading into 2020," Senior Housing News reported last January, "many senior living providers are focused on making investments to upgrade the resident experience, to stand out in a competitive landscape and appeal to future consumers."
Those investments are happening, albeit in different circumstances than could have been anticipated. Even before the pandemic, Barron's noted, "The senior-living industry was already in a state of flux—adjusting to longer life spans, more-active retirements, a labor shortage, and changing desires for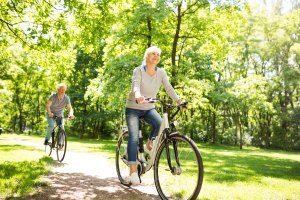 care."
A task force convened by the International Council on Active Aging identified six principal areas that will define the "next normal," including community designs that optimize social distancing and technology that increases connections and efficiency.
The imperative to maintain resident and family engagement in the senior living environment makes digital programming and other technology a top priority for senior living operators, says Detroit-based integrated design firm SmithGroup: "We must design to enable quality of care and flexibility in facilities … while balancing design solutions that protect and promote the social and mental wellness of residents and staff."
To enhance social connections, for example, some communities have implemented videoconference technology that lets residents engage in fitness classes, medical appointments, spiritual services, community activities and more from computers or mobile devices.
Other likely developments on the horizon include the establishment of multiple ecosystems within a community, upgrades to HVAC and other building systems, enhanced infection prevention measures, continuing staff and resident testing, visitor screening and additional protective equipment.
Yardi software solutions help senior living community operators work more efficiently by automating processes associated with marketing, leasing, record-keeping, resident care and more. Learn how.