Rock Island Arsenal
By Erica Rascón on Jan 10, 2018 in News
Rock Island Arsenal, Illinois, is slowly but surely making progress on its latest $47 million housing project. As of th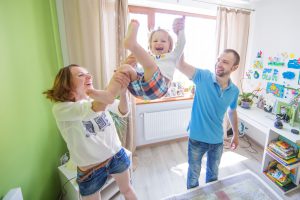 e December, fewer than 10 out of 71 new homes were completed by Atherton Construction Company and Debcon Inc. Earlier this week, Quad City Times reports that more than half of the homes are completed.
Older homes and buildings were demolished late last spring, making way for new construction in the summer. The older homes, mostly constructed during the 1970s, were notably outdated and cramped. More than 50 of those homes were quadplexes.
Residents can now choose between two subdivisions consisting of 41 single family homes and 30 duplexes.
Single family homes, in three or four bedroom floor plans, span 2,020 to 2,520 square feet. The duplexes, located across from the national cemetery, will offer two, three, and four bedroom options ranging from 1,630 to 2,150 square feet.
Each year, 400 service members and their families take up resident in the area. Many families live off of the island due to the housing shortage. The new subdivisions will permit about 24 additional families to live on the installation.
Pricing information for the new homes remains evasive, though there is bad news for those relocating to the area. The Basic Allowance for Housing (BAH) rate for Rock Island residents has decreased, in spite of increases for many other areas in the nation. BAH will cover 83 percent of rent and 17 percent of utilities for the average family, down one percent per category from last year.
For an area in desperate need of new housing, the drop in comes as a surprise. The area has not seen much new construction in more than 50 years. Many families opt to live off of the island in search of more modern and competitively priced properties.
Construction is scheduled for completion in May 2018.