Robert Teel
By Erica Rascón on May 30, 2016 in News
Many commercial property managers seek to abbreviate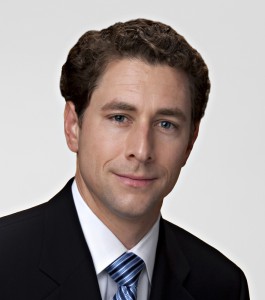 the leasing process, expedite reporting, and improve overall efficiency and accuracy. Unfortunately, it is a struggle to compile and interpret data from multiple software programs within their organizations.
Robert Teel, Senior VP G&A at Yardi, and his team are redefining the way that user groups interact through software. As a former financial accounting systems consultant, Teel is familiar with the challenges that property managers and analysts face when their software is not fully integrated: long process lifecycles and crippling inefficiencies.
"With a single stack, you can shorten nearly every business process lifecycle. In essence, our vision is that our clients can create an ecoysytem on the single stack to connect their front office with back office, and even extend participation to external users," says Teel.
Deloitte Consulting LLP reports that single stack solutions are the new standard for cloud, digital, and analytics. Projects can experience gains through "faster environment readiness, the ability to engineer advanced scalability, and the elimination of power/connectivity constraints." A single stack solution can remove limitations and promote intelligent growth.
Teel observes that self-contained ecosystems allow users to minimize redundancies, capitalize upon a more efficient use of resources, and create consistent and accurate processes that add value to users. For example, Yardi client Prologis (a $20B US REIT with over 4,000 properties) has reduced their quarterly property reforecasting process by months.  "We went from a six-month quarterly forecast process to an eight-week process, and our accuracy is vastly improved," according to Arthur Nelson, Vice President of Global Business Systems, Prologis.
Such results are possible due to the single stack's ability to track a process from start to finish, offering automated operations and consistent reporting.
Teel offers the leasing process as an example, "The prospect—a tenant or real estate company—searches the Yardi COMMERCIALCafé environment to find available space in a commercial building. They initiate a lead for the commercial leasing broker by requesting information. Once the lead is generated, Yardi Commercial LeasingPad allows commercial brokers to track the progress of the lease and all the details required to turn it into a billing record. The lease administration team receives the billing record in Yardi Voyager."
"So moving from a prospect who is looking for space in COMMERCIALCafé through Commercial LeasingPad and to the back office team in Voyager is creating an ecosystem around the lead to lease process that simplifies the technology that's used," explains Teel.
An abbreviated leasing process produces an additional advantage. "The Single Stack solution result in a shortened lease process which means that you're billing for and receiving rent sooner than you would be if you used a different series of systems. It can shorten the leasing process by weeks," says Teel.
"Finally, this ecosystem can greatly improve communication between the front office, back office and external users.   Everyone is drawing from the same source of information in real-time, so nothing is lost in translation.   Documents, like lease contracts, are available to legal, leasing, and billing through the same searchable format.   Even tenants can retrieve a copy of their contract from the same source.   This ability to communicate efficiently across different user groups is a key tenet of the Single Stack," says Teel.
As it relates to data integrity, a business-wide system can translate to more accurate and actionable reporting. Reports and spreadsheets generated by different systems offer data without coherence. Data compiled into a single platform offers consistency and ease of access. Users can complete rollups, consolidate waterfall distributions, and other reports instantly with real time data.
"The single stack allows our IM clients to drill from an investor record, through a fund, all the way to properties and leases.   The operational performance of any property is always available for full drill down in real time," says Teel.
For Teel and his team, incorporating multiple programs into a single platform is the first frontier. There is more on the horizon to make business processes seamless for clients.
Teel reveals a few enhancements, "There is a lot of exciting development going on as it relates to the lead to lease process in commercial.   Our Commercial LeasingPad team has launched several new visualization tools such as the new Stacking Plan, Floor Plan and Reservation Diagram.   Each of these tools allows an Asset Manager or Leasing Agent to visually identify 'at risk' or 'vacant' space, investigate lease terms, or simply start a new deal or renewal on the fly."  The goal of these enhancements is a familiar one – shorten the business process lifecycle. In this case, collecting rent sooner for a vacant space also equates to higher annual revenue.