Retail Management
By Yardi Blog Staff on Oct 31, 2017 in News
As modern landlords strive to drive footfall and revenues in their shopping centers, they are using sophisticated new tools and techniques. Astute use of data can lead to better-informed decisions – but how is the impact of this new discipline being felt across the property industry? Yardi brought together a panel of thought leaders in the sector in a round table event in central London.
Fiona Hamilton, global head of retail for international brands, BNP Paribas
Allan Lockhart, property director, NewRiver REIT
Charles Maudsley, executive director, head of retail, British Land
Sophie Ross, group head of multichannel, Hammerson
Ailish Christian-West, head of portfolio, shopping centers, Landsec
Claer Barrett, personal finance editor, Financial Times (chair)
How widespread is the use of data becoming within physical retail assets?
SR: It's relatively easy to capture data – it's much harder to add value. I would say that only around 20 percent of the data gathered by landlords is being used effectively.
CM: Data is just the starting point. At British Land we collect and analyze more data than ever before about shopping patterns, demographics and spending. We replay that to retailers. Anonymised mobile phone signals can show us a heat map of where shoppers are in the center, and point to linkages between retailers. For example, our brand profiling shows TK Maxx and Pret a Manger are highly correlated.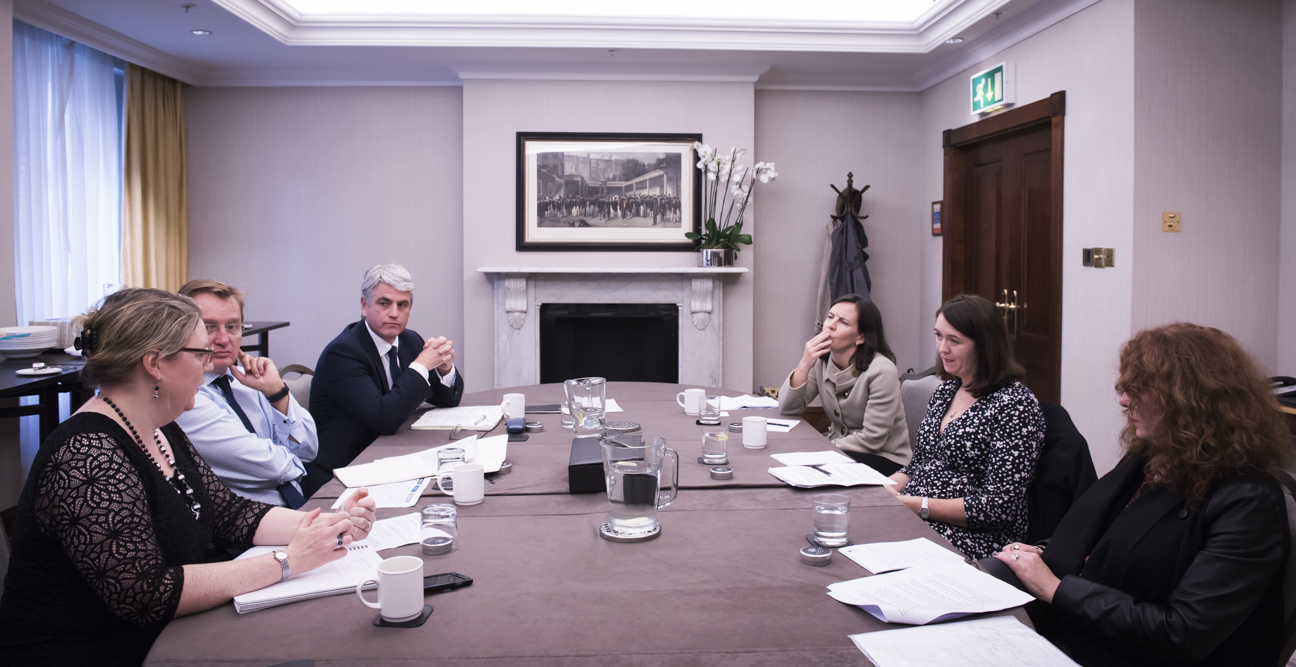 We can measure conversion rates – the number of people who pass a store versus the number who actually go in. We can say to a retailer, it's 30 percent in your shop, but it's 90 percent elsewhere, so let's find out why. We can show retailers looking to open a store with us how their web search will go up in target postcodes. We use data to show the true value of the physical store.
FH: Retailers are increasingly using beacon technology. In the Apple store recently, I got a text saying "Hello Fiona, how are you?"
How will consumers get more out of their shopping experience as a result?
FH: The key is using tech for things that have a positive impact. O2 stores often get very busy, but they can issue a virtual 'deli ticket' to shoppers, and say go and shop elsewhere, then come back at this time to be served. That way the customer doesn't give up and walk out, or get frustrated about a long wait time.
ACW: Big shopping centers like Bluewater can now offer an online product search. You enter the product you're looking for on the website and it will search the retailers who have signed up to it. It addresses what the consumer wants; the shopper can decide whether they want to buy online, click and collect or visit the center.
SR: The Brent Cross app has an artificial intelligence-driven visual search tool called Style Seeker. You can take a picture of a piece of clothing – say, a red dress – and it will show you similar items for sale in the center. We worked with the tech company Cortexica to develop it. It could encourage you to visit a store you wouldn't normally go to. We are also using technology to make the 'boring bits' of a shopping trip like parking and payment much easier and quicker.
FH: Retailers are so 'omni' now. I really like Sephora Flash – it's a beauty store that is bridging the gap between in-store and online with a part-physical and part-virtual shopping experience. A robot welcomes you in and gives you a card that works like a virtual shopping basket. People respond in a different way to robots than salespeople – it's a novelty.
AL: It's all about using technology to try and enrich the key things that are important to your customers, but shopping center owners need to very careful about the return on investment when investing in technology. NewRiver REIT has 33 shopping centers, which are very much at the convenience end of the market. Our customers come in and know what they're going to buy. We have shorter dwell times than bigger centers, but they shop very frequently. We have 150 million visits a year, but our wifi usage is relatively low at 1.27 million. Nevertheless, all of our centers have it.
How are you using the data you gather via social media?
CM: It used to be a linear relationship between landlords, retailers and consumers. Now it's a triangular one! We collect huge amounts of data from social media and do online surveys. There are no secrets now.
ACW: It's not just about Facebook and Twitter – some assets are dominated by tourist visitors, so Trip Advisor and Instagram are just as important. Landsec has an online shopper feedback portal called 'Share your thoughts' and 17,000 customers have fed into that. When we did a recent refit in Bluewater, we asked shoppers what restaurant brands and food styles they thought were missing, and that directly informed our leasing strategy. We have also changed our student lock-in events over the years based on shopper feedback.
SR: There is a lot of focus on family and experiences. Hammerson launched a new family room at the Oracle in Reading, and we monitored social feedback very carefully so we could address any issues people were raising and respond to them rapidly.
FH: It's almost not a bad thing to have flaws if you're seen to rectify them quickly.
What is the data telling you about your customers and informing your decisions?
AL: Demographics are the main driver of retail. Recognizing the significance of the grey pound is crucial – the over-55s have most of the money to spend. It's projected that the over-55s will be responsible for 60% of all spending growth through to 2026.
CM: It is counter-intuitive, because the people who use physical retail assets the most are in the 25 to 34 age range.
FH: Millennials are still physical shoppers. They will educate themselves online, but we shouldn't be frightened they will spend all their money through that channel. We have to enhance the experience. The really tech-savvy retailers are downsizing. Look at the John Lewis in Heathrow Terminal 2, where they're selling through iPads. They're not doing big department stores anymore, but they can still roll out. We shouldn't be worried about losing physical stores. The ecommerce side will be in-store more and more.
CM: How John Lewis are using their Waitrose store network as click-and-collect fulfillment centers is another obvious example. At British Land, our local centers have a 50 percent higher click-and-collect rate than our regional assets. And these customers spend more.
SR: As landlords, what is our role in this? Is the store of the future an endless aisle, and you get it delivered into the store while you shop somewhere else? Maybe that's what we do with car parks – turn them into logistics hubs.
How else do you see data changing the way we shop in the future?
FH: Using interactive RFID (radio frequency identification) in changing rooms is becoming much more common. 'Magic mirrors' can show you the same product in different colors and screens can be used to design personalized goods before they are delivered to you. Ralph Lauren uses RFID chips in handbags so shoppers can customize them on screen, and its custom shop in London allows shoppers to 'design' their own polo shirt.
SR: This tech recognizes what products you've taken into the changing room and gathers information, like how many times that item gets taken in and how many times it is sold. It can also suggest other items you might like to buy. We call it integrated retail – it's not about the digital channel versus the physical one. It's about how the shopper journey tracks across the two.
FH: The retailers and big brands we know and love may not be here in 10 years' time. The Mall of Switzerland in Zurich is putting in transient areas which are changing all the time.
SR: We have a 'white box' area called Link Street at the Bullring which is targeted at younger customers, and has a lot of pop-ups and short-term leases.
AL: There is still much to be optimistic about in terms of the future of physical stores. Lord Wolfson's recent statement emphasized that the Next physical stores are very profitable and cash-generative, and he expects them to remain that way for many years to come. By contrast, every single home delivery by a food retailer loses money.
Every time you move goods around, it costs money. So the big challenge is getting customers back into physical stores as that way they will be more profitable. That's why click-and-collect is so crucial. We know that 62 percent of our click-and-collect customers go on to spend an additional £24, so helping our retailers tap into and grow that spend is a big focus for us.
How can you use technology to manage assets more effectively?
ACW: Landsec can scale the costs effectively. For example, we have a single website platform that delivers consumer websites for 50 of our destinations. We are also using data and technology to help us drive energy reduction across the portfolio. We are learning all the time about what changes to make and driving the benefits into reducing the cost of running the centers for our customers.
SR: Hammerson is running a trial at our Nicetoile shopping center in Nice using online weather forecasts and sunshine and light levels to automate the opening of roof panels. If we open up the roof panels, we spend less on air conditioning – and it also adds value from a customer perspective.
CM: You've got four of the largest listed retail landlords around this table, but the listed property sector only owns around 7 percent of UK retail space. So perhaps the question is how do the other 93 percent put the infrastructure and platforms in place?