Renters' Changing Preferences
By Erica Rascón on Apr 8, 2021 in News
More than a year has passed since we first issued a survey to understand renters' responses to the pandemic. A new survey reveals surprising ways that renters' preferences have changed, and which preferences remain the same.
What renters wanted
The March 2020 renter survey issued by RentCafe.com gave analysts an understanding of renters' expectations and concerns at the beginning quarantine in the U.S.
About 45% of respondents had no concerns in particular. About 18% of renters were concerned if it was safe to move during that time, and 13% were concerned that they would not be able to pay rent in the near future.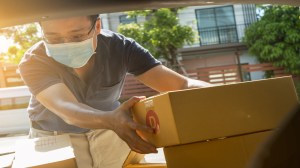 Concerns aside, 56% of renters were intent to move as scheduled. (About 18% had a lease that expired, and they needed to move.) Only 8% were postponing their move because of the pandemic and putting the selection process on hold.
Of renters who were actively searching, 28% sought a unit that was cheaper than their current home. About 5% wanted a floorplan that facilitated roommates so that they could save money.
What renters want now
More than 10,600 people participated in the March 2021 survey. Survey questions aimed to reveal:
how renters' preferences had changed after a year of shelter-in-place practices
their biggest concerns regarding their upcoming move
how the pandemic impacted their rental selection
More than 50% of renters listed the pandemic as a trigger in their decision to move.  Many renters relocated to create a better financial outlook: the top reason for relocation was to save money. Nearly 30% of participants who are in the process of moving sought a better deal.
A quarter of participants needed a change of scenery after several months in quarantine, but they didn't seek a massive change. About 48% of renters preferred to remain in the same city. A noteworthy 90% of respondents sought long-term rentals, which could mean that even those seeking a change in scenery wanted a sense of stability. Others may simply want to lock in a lower rate for longer.
Lifestyle improvements ranked third and fourth on renters' lists. More than 20% of renters searched for open-air amenities and 20% desired more space.
Safety less of a priority across the board, yet solo living is on the rise?
Have renters relinquished their safety concerns? Concerns still linger, though they're nearly half as prevalent as before.
In 2020, 18% of renters were concerned about whether it was safe to move during a pandemic. Exactly 9% are currently concerned about safety. Last year, about 15% of renters were concerned about the hygiene standards of their community. This year, only about 9% listed hygiene as a concern.
Interestingly, 4% of respondents were so concerned for health and safety that they sought to live alone in 2020. Fast-forward one year and that number has risen to 8%. So while trends suggest that health and safety are not as important to renters as they were last year, the amount of renters seeking solitude for safety has increased.
Does the pandemic still influence renter relocation?
Recent survey participants stated that the pandemic had little influence on whether they move now or later. About 67% of renters currently seeking an apartment are committed to relocating now.
As before, necessity motivates most moves today. For 32% of respondents, one of their biggest concerns was if they would be able to pay their rent. Even more renters (34%) are seeking a cheaper unit now that their previous lease has ended.
In short, more renters are relocating due to the effects of the virus rather than the virus itself. In 2020, a considerable amount of people relocated to avoid exposure. The 2021 survey suggests that an even larger chunk of people relocated due to lease expirations and the desire for greater financial savings during uncertain times.
Learn more about what renters want on the RentCafe.com blog.