Satisfied Renters
By Yardi Blog Staff on Jul 26, 2013 in News
In the aftermath of the Great Recession, the fluctuating economic climate along with a staggering housing market resulted in a shift in priorities for many Americans. Younger people don't rush into home ownership as their parents used to, and continue to delay major life decisions like getting married and having kids.
B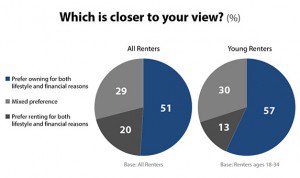 y the numbers, the share of Americans who own their homes was 65 percent in the first quarter of 2013, down 0.4 percentage points from the first quarter 2012 and the lowest level since the third quarter of 1995, according to the latest data from the U.S. Census Bureau. The ongoing decline in the home ownership echoes the rising demand for rental units and increasing investor interest in multifamily assets.
Owner-occupied housing units made up 56.0 percent of total housing units, while renter-occupied units made up 30.2 percent of the inventory in the first quarter 2013. Vacant year-round units comprised 10.5 percent of total housing units, while 3.4 percent were for seasonal use.
Fannie Mae's Economic & Strategic Research Group recently released a new research study that investigates the impact of consumer attitudes toward renting and home ownership on the future of housing in America. As it turns out, Americans' confidence in the recovery of the housing market climbed sharply in 2012, consistent with the trends that point out to a strengthening real estate sector.
Becoming a homeowner is still an important milestone for many people, including the younger generation, though most renters are satisfied with their renting experience.
The vast majority of renters think people are better off owning if they seek control, privacy, and security, want to raise a family or invest wisely, but they give the edge to renting when it comes to making the best decision in today's economic context, living within your budget, and having less stress. Many renters also feel that renting offers them flexibility, convenience, and a better overall tax situation.
Highlights of Fannie Mae's National Housing Survey include: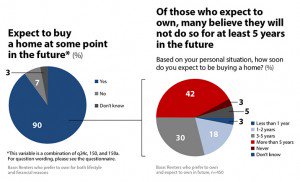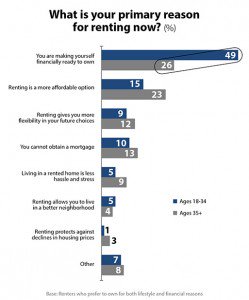 Ninety percent of aspiring renters expect to purchase a home in the future, even though most have ranked their renting experience favorably.
Renters who prefer to own appear to have a sense of measured optimism about their home ownership prospects, although most believe it would be difficult to get a mortgage today.
Forty-two percent of those who expect to buy believe that they will not be able to do so for at least five years.
Despite the hurdles renters anticipate on the path to home ownership, many say they are renting now primarily as a stepping stone toward making that move in the future.
Younger renters (age 18 to 34) are nearly twice as likely to say their main reason for renting is to prepare financially for future ownership, compared to renters age 35 and up. (Fannie Mae)
Indeed, home ownership is still part of the American dream, the only significant difference being that the larger population now seems to be keenly aware of the barriers and financial commitments that homeownership entails.
Whereas the majority of renters would prefer to own their home regardless of whether ownership is framed as a lifestyle or financial choice, their ability to actually become owners will more likely depend on employment opportunities, real income growth, as well as the favorable credit conditions.
*Images and charts courtesy of Fannie Mae