COVID-19 Rental Housing Support Initiative
By Leah Etling on Mar 25, 2021 in Giving, News
Supporting the rental housing sector through the pandemic and beyond is a priority for the industry's preeminent technology provider. Yardi is the primary sponsor of the COVID-19 Rental Housing Support Initiative. The project is a collaboration of The Institute of Real Estate Management (IREM), National Apartment Association (NAA), National Multifamily Housing Council (NMHC) and National Association of Residential Property Managers (NARPM).
The project continues to release new resources in the areas of mental health, legislative support, liability information and media. A summary of those now available (as of March 25) follows: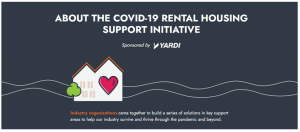 Mental health resources: Mental health resources can help housing providers and renters alike. Find videos and other content on coping with isolation, cultivating resiliency, managing anxiety and handling financial stress.
Legislative support: Accurate data and information is important for decision-makers as they facilitate ongoing emergency assistance programs. These resources help leaders understand the size and impact of the rental housing sector. Legislative educational resources are now available.
Liability information: Property owners and operators must keep up with the latest laws and federal guidelines as they pertain to housing. The project liability resources help ensure compliance with changing legislation.
Media support: The engaging "Rental Housing Industry Myth Quiz" is a way to educate the public and provide details about the pandemic impact for rental housing industry owners and operators.
In mid-2020, Yardi committed $1 million to supporting COVID-19 Rental Housing Support and the programs developed by this initiative.
"With nearly 40 million Americans living in apartments, the rental housing industry plays a critical role in housing them safely and securely. We are delighted that the four major associations who serve the rental housing industry – NAA, NMHC, IREM, NARPM – will share knowledge, develop industry benchmarks, research new ways of operating and provide forward-thinking solutions for the benefit of residents, owners and the rental housing industry," said Anant Yardi, president and founder of Yardi.
"Yardi is committed to supporting the multifamily industry for the duration of the pandemic," said Esther Bonardi, vice president of marketing at Yardi. "Our company mission is dedicated to supporting our clients and communities, and in this case the entire rental housing realm is part of that community."
Explore all of the support resources online at covidinitiative.rentalhousingindustry.org.