Recruiting for Commercial
By Erica Rascón on Sep 30, 2019 in News
Commercial real estate still faces a hiring crisis. Though pipelines are ready to burst, employment levels are at a 50-year low. Talent recruitment pos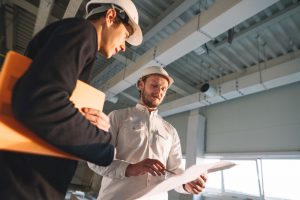 es a challenge throughout real estate management, but commercial firms face unique battles that linger from the Great Recession. Only fresh strategies can help lift these organizations out of the hiring deficit.
Why is Hiring Still an Issue?
Though the Great Recession ended about a decade ago, we are still feeling the aftershock. In the midst of the economic slump, commercial firms stopped hiring. As the nation reeled towards recovery, hiring resumed with the exception of entry level positions.
"That lack of training has created a shortage of people who can step into mid-level positions right now," explains Dianna Rudd, senior director of facility staffing and recruitment at IMPEC Group of California. Her organization offers workplace consulting and witnessed the hiring drama firsthand.
As a result, the industry also dropped off the radar with prospects. Fast-forward and we are still struggling with a shortage of entry-level and mid-tier talent. For example, it took 10 views of a job posting before someone would apply back in 2006. In 2018, it took about 30 views.
What Hasn't (Really) Worked
To bolster recruitment efforts, commercial organizations increased compensation by nearly 16 percent from 2013-2018. This rate is even higher for C-level executives, reports National Real Estate Investor Online. Rates are reported between 20 and 30 percent higher for executives.
But offering more money hasn't solved the problem.  Other industries have recovered while commercial real estate organizations struggle to generate interest. Though the current national unemployment rate fluctuates around a healthy 3.7 percent, commercial real estate faces a nearly negative unemployment rate.
Competitive compensation packages are a viable way to promote engagement. The additional strategies below can fortify recruitment efforts.
Fresh Ways to Attract Talent
Get competitive beyond the numbers. Some incentives hold substantial value to the new wave of prospects. Long-term incentive plans, stocks, and options are just a few equity-centered offerings that may appeal to new talent. Autonomy is a huge selling point as well. Today's talent values creativity, trust, and the opportunity to prove themselves. Telecommuting and flexible schedules rank high on prospects' lists of desirable features.
Give them tools for success. When it comes to tech, real estate organizations are notoriously late adapters. Be the exception. Investment in intelligent prop tech assures prospects that you value their time and energy. You're committed to giving them the tools needed to work efficiently. Prop tech will also let prospects know that you proactively embrace solutions rather than getting stuck in the rut of "how it's always been done."
Create a human-centric culture—and market it. Review your corporate culture and update it, if needed. Focus on community outreach projects and human-interest stories within your organization. Then use your website, blog, and other social media platforms to share such content. In addition to garnering additional support for the causes that matter to you, this approach attracts prospects that share your values.
Embrace early recruitment and mentorships.  Create a respected presence with young audiences. Get involved with groups for young professionals catering to real estate and beyond. Maintain a physical presence at group events by hosting forms and sponsoring activities. Also consider internship and mentorship programs for college students if you haven't already. Programs with a clear-cut path to employment are appealing to soon-to-be graduates.
What recruitment strategies have worked for you? Get and share ideas on our LinkedIn discussion page.