Renewable Power
By Anca Gagiuc on Dec 19, 2016 in News
After signing its first agreement to purchase all the electricity from a 114-megawatt wind farm in Iowa in 2010, Google set the target to be powered 100 percent by renewable energy only two years later. According to one of the company's latest blog posts on the initiative, the said target will be reached in 2017, following a complex process involving many power purchase agr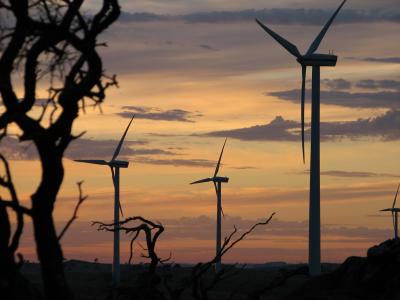 eements.
"To reach this goal we'll be directly buying enough wind and solar electricity annually to account for every unit of electricity our operations consume, globally. And we're focusing on creating new energy from renewable sources, so we only buy from projects that are funded by our purchases," said Urs Urs Hölzle, Google's senior VP of technical infrastructure.
Technology companies have been criticized for the carbon footprint of their operations, which have expanded so fast they now account for about 2 percent of global greenhouse emissions, rivaling the aviation industry.
The internet giant is already the world's biggest corporate buyer of renewable electricity (Amazon is a distant second), last year buying 44 percent of its power from wind and solar farms. The majority of the green power comes from windfarms in the U.S., but also from projects around the world including sites in Sweden, the Netherlands and Chile. In order to get here, Google took part in a number of large-scale deals with renewable producers, guaranteeing to buy the energy they make with their wind turbines and solar cells. Those guarantees help wind companies obtain bank financing to build more turbines.
One of the most attractive, cost-efficient features of wind power is that, unlike carbon-based power, wind supply prices don't fluctuate, thus allowing Google to plan better. Moreover, the more renewable energy it purchases, the cheaper those sources get—in Chile, Google said, renewables have a times become cheaper than fossil fuels.
"Electricity costs are one of the largest components of our operating expenses at our data centers," Hölzle added. "Having a long-term stable cost of renewable power provides protection against price swings in energy."
"We are convinced this is good for business, this is not about greenwashing. This is about locking in prices for us in the long term. Increasingly, renewable energy is the lowest cost option," Marc Oman, EU energy lead at Google said to the Guardian. "Our founders are convinced climate change is a real, immediate threat, so we have to do our part."
The cost of alternative energies, such as wind and solar, have fallen by 60 percent and 80 percent respectively in the past six years. While the falling price meant they had been the cheapest technologies to get to 100 percent by 2017, Google is now interested to sign 10-year agreements for low-carbon power that is not intermittent, such as hydro, biomass and nuclear.
"We want to do contracts with forms of renewable power that are more baseload-like, so low-impact hydro; it could be biomass if the fuel source is sustainable, it could be nuclear, God forbid, we're not averse. We're looking at all forms of low-carbon generation," continued Oman.
In 2015, Google consumed 5.7 terawatt-hours of electricity, "equal to the output of two 500-megawatt coal plants," reported to the NY Times Jonathan Koomey, a lecturer in the school of earth, energy and environmental sciences at Stanford. "For one company to be doing this is a very big deal. It means other companies of a similar scale will feel pressure to move."
Indeed, other companies feel the pressure—Facebook has entered into similar deals with wind producers, while Amazon announced five more solar projects, even though for 2016 it expects to reach about 40 percent of its goal to power its machines entirely with renewable energy. Microsoft says it's been 100 percent carbon neutral since 2014, but there's a catch—much of it comes from the purchase of carbon offsets, like investments in tree planting or renewable projects meant to compensate for the fossil fuels the company consumes. However, the company hopes that by 2018, it will have half of its electric power supplied from wind, solar and hydro sources.