Port Management
By Yardi Blog Staff on Sep 11, 2020 in News
Editor's note: The following interview was originally published in Pacific Ports Magazine's August edition. It is reprinted here with permission. With over 30 years of property management and software implementation experience, Jay Rainaldi is the professional services director for government business at Yardi. and oversees the implementation, support and client acquisition in the government space. He has served on many boards and committees in the residential, military, single-family and government arenas during his career and has been a speaker and moderator at numerous industry conferences and events.
Over the past decade — not to mention the past few pandemic challenged months  — efficient port management has increasingly become an art in and of itself. Whether it be for management of property, facilities or construction projects, tenant services, accounting and payment processing, budgeting and forecasting or even to gain energy efficiencies, the many tasks related to port management have multiplied as the maritime world moves toward digitization, industry growth, environmental sustainability and increasing government regulations.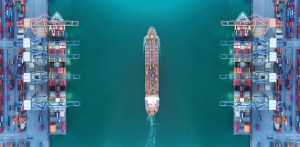 The APP recently discussed the topic of port management with Jay Rainaldi, director of government solutions at Yardi, to gain insights into the many factors affecting efficient operations and how solutions, such as the Yardi Ports Suite, can provide much needed assistance.
Jay, first, thanks for helping the Association investigate ways to assist Port Members on best practices. Could we start by identifying the trends you've seen in port management over the past 10 or 20 years, including how technological advances have impacted on port staff and how has port management changed?
JR: Increasing globalization, world trade and financial constraints have created changes in port management in the last several years. Ports have been forced to modify their infrastructure to allow for larger ships and containers. Additionally, ports are doing everything they can to create use for older tracts of land within the port footprints that are no longer being used for their original purposes. The maritime space is required to do more, faster, and for less. To stem this tide, software providers like Yardi are developing strategic software solutions to manage ports in a central database that handles the higher management and communication demands currently facing ports around the world.
 Looking at the overall management of a port, what areas are most prone to inefficiencies?
JR: Ports need better ways to manage billing and tracking of shipments and real estate. Increasing demands to modify port infrastructure are resulting in new, complex billing of fees and tariffs. Ports need automated ways to bill a variety of fees in many different intervals (ad hoc, hourly, daily, monthly lease). This becomes particularly important as financial demands require higher volumes and complexity of work to be done with fewer workers. Higher demand among ports has also increased competition and drives port management to be as efficient as possible. It is more important than ever that ports have highly sophisticated automated systems with which to manage finance, cargo and human resources.
How does Yardi help?
JR: Automation is the single best way to capture these increasing demands. Yardi is in the unique position of being able to offer a suite of software that can manage the key areas of a port. In addition to being able to manage the leasing, billing and real estate management of a port, Yardi is uniquely positioned to manage financial tracking, fee management and financial and container history. We are even able to manage materials and personnel necessary to maintain the port facilities or costing out new construction projects around the port.
Could you provide some background on Yardi?
JR: Yardi has been offering automated solutions for real estate providers for nearly four decades. Our strength is in our ability to be nimble enough to adapt to changing market trends while still flexible enough to provide innovative solutions to evolving industries across both the public and private sector.
Products within the Ports Suite, which also serves the needs of airport management clients, include:
Property Management & Accounting — Automatically tracks leases and processes receivables using an integrated database.
Tenant Services — Improves tenant experiences through secure portals for online payments, retail sales reporting, concierge services, maintenance requests, property and tenant documents, announcements and
Payment Processing — Provides an efficient, automated payment processing platform, including a complete solution for accounts receivable and accounts payable for commercial property
Procure to Pay —A full suite of software products develop to support every step of the procure-to-pay
Facilities Management — Provides an efficient way to manage all preventative, routine and emergency tasks for all properties as well as reporting that can be analyzed to create even greater
Construction Management — Supports all phases of construction projects from pre-development to close-out while providing complete financial oversight with real-time cost tracking, commitments, and budget comparisons.
Budgeting and forecasting — Continuously measures finances to deliver quick, accurate budgets, custom forecasts and valuations from a single, connected