Office Re-entry
By Luis Estrada on Nov 12, 2020 in News
The topic of safely re-entering the workplace has now been top of mind for over half a year. While some businesses are still closed and employees are working remotely, there are a growing number of offices who have decided to open their doors following local safety guidelines. On a recent BOMA webinar, a group of service providers ranging from software vendors to elevator engineers to wholesale suppliers discussed best practices for ensuring employee health and safety while successfully reopening their physical spaces.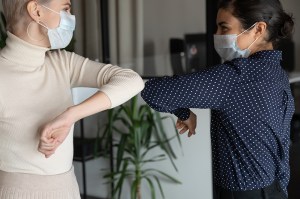 Brian Sutherland, Yardi industry principal, detailed some trends that Yardi has seen based off research from CommercialEdge:
Office vacancy is currently at 10-15%.
Since April, subleasing is up 35% as tenants try to either downsize or upsize for distancing purposes.
New construction is down 40% from the previous year among office assets.
Office demand is changing: f leasing terms, private office demand and suburban models are all growing.
Rent is being paid, but physical occupancy is at risk: landlords are considering whether long-term leases are sustainable or whether tenants will not need the space they're paying for. Only about 12% of New York City workers are back in office, as of latest estimates.
There are specific questions to analyze when considering a move back into the office. Employees who want to confidently re-enter the workspace are asking how to accurately report health status updates and how to stay connected with colleagues. Office managers, on the other hand, are tasked with ensuring a safe and orderly re-entry while assessing how to limit available workspace to promote health and safety and follow guidelines. Landlords want to encourage tenants to return to the office, but they first need to understand their tenants' use and occupancy of the space.
In order to help answer some of these questions, Yardi has developed a new mobile app for internal use, called COROM. Through the app, Yardi will share announcements, event alerts and communication to its employees. It will provide a health screening questionnaire for contact tracing purposes. The app will also allow employees to reserve desks or offices that office managers have identified as adhering to local social distancing and capacity guidelines.
Allied Universal, known for their security services, is deploying high-tech solutions such as screening tools and thermal detection. But they are also employing CARE Ambassadors to help with mask enforcement and social distancing. They even held a drive-thru job fair because many potential candidates were uncomfortable being inside a building together. Video interviews, website chatbot features and other virtual tools are vital to hiring safely during the pandemic.
Just as for interviews, going touchless inside the office is also critical. A study from Kimberly-Clark Professional showed that nearly 9 in 10 employees and visitors said touchless restroom systems are very important to creating a clean experience. People generally associate this with sinks and soap dispensers but creating foot pedals for opening doors is another way to remove touchpoints.
Some of the more tech-advanced safety measures come from elevator enhancements. Thyssenkrupp has developed technologies to make it safer to overcome one of the most significant obstacles of working in a high-rise building – crowding in an elevator. A software update inside elevators can now limit the number of floor calls, so only a limited number of stops can be made per trip. Beyond that, there are also load capacity limitations that prevent the elevator from running if a weight limit has been reached (a 3-person average weight limit, for example, is far less than typical operating capacity). Air purifiers using the latest technology in ionization release positive and negative ions to target viruses, bacteria and mold. Once this system is installed in an elevator, it is low maintenance and claimed to be over 90% effective, according to Thyssenkrupp.
Overall, technology is playing a huge role in getting workers back in offices, but basic non-tech measures need to be implemented as well, in order to ensure safety and confidence. Many companies have positively adapted to work from home environments, but there is a growing sense that employees want to spend occasional time in an office with colleagues. It will take a dedicated effort from employees in the building, as well as tech, service and product providers, to safely achieve that goal