Myth Busting
By Erica Rascón on May 4, 2016 in News
Yardi client Avison Young recently re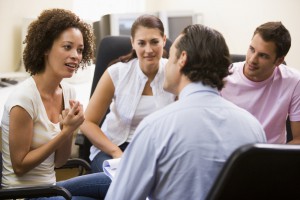 leased "Five generations: Is the need for new workplace structures myth or reality?" The white paper explores the perceived need to overhaul workplace layouts in order to accommodate multi-generational employees. Generations have replaced one another in the workplace since, well, the dawn of the workplace. Yet the introduction of Millennials has employers grasping for new ways to catch and keep the newcomers' attention without isolating older employees.
According to the U.S. Census Bureau, Millennials are the largest generation. Ever. There are currently 83.1 million young adults in the U.S. alone, representing more than one quarter of the nation's population. The group is a dominate force to be reckoned with. Employers are still learning how to reckon.
The first challenge: Millennials are hard to keep on board. The report suggest that Millennial attrition costs are nearly twice that of older workers, "For an organization of 1,000 employees, the additional cost of replacing Millennials could average as much as $300,000 annually."
Stereotypes would suggest that this is because Millennials lack loyalty. Any new carrot could whisk them away to another company. The report reveals the error of this assumption. Jennifer Deal, research scientist with the Center for Creative Leadership, discovered level within the company correlates to loyalty rather than age.
The next assumption is that the workplace itself is wrong for Millennials, hence the tendency for employers to create "hip" spaces that should feel more welcoming to Millennials. Organizations are creating lines in the budget for arcades, cafes, sleeping pods, slides,—the list continues. This, too, is a potentially erroneous strategy. How does one measure the ROI of a hoverboard?
"Our research shows that when you hold the stereotypes up to the light, they don't cast much of a shadow," explains Deal. "Undoubtedly, people of different generations see the world — and, in turn, their workplace — in different ways, but are generational differences used too often as an excuse for the under performance of our people? Could this lead to misdirected capital investment schemes that bring limited return on investment in regards to real productivity improvements?"
Deal proposes that today's multi-generational workplaces don't need to look drastically different than their predecessors. The key is integration rather than relying on prejudices to isolate workers within the workplace (or worse, throw toys at them). Her research suggests that the generations share more commonalities than differences. Customizing the workplace to accommodate these similarities may be the strongest game plan for reducing turnover and promoting productivity.
By focusing on similarities, Deal believes that employers can promote a "we culture" within "places to work" rather than "workplaces that we are forced into". It's more than fun wordplay. The foundation of "we" culture is recognizing, engaging and developing employees. The cornerstones includes people management, communication, leadership buy-in, recruitment, retention and motivation.
Rather than open-desk layouts that encourage multi-generational employees to socialize about anything and everything, direct efforts for management to communicate strategies to employees—and express the value of each employee's contributions– prove more powerful. Instead of offering ping pong tables in the break room for the youngsters, offering flexible working contracts that increase the mobility of employees of any age may prove more valuable.
The report goes on to explore ways that employers can adapt "we" culture in human resources, technology, and organizational framework. Unfortunately, the report stops there. While the research is sound and encouraging, implementation has been minimal. To date, there are no success stories or cost analyses that can help employers determine if this strategy is appropriate for their organization.
What changes have been made in your workplace to successfully accommodate a multi-generational team?