Learning Resources
By Nik Edlinger on Aug 4, 2020 in News
For EHR systems, workplace training is essential. The software helps nurses deliver quality care, so it's important that they become proficient in electronic charting and medication order management. Once they've learned the ropes, they get to spend more time with residents and less on technology.
But when things change rapidly, as the case has been with COVID-19, it can be difficult to conduct enough hands-on training to bring staff up to speed, so it's smart to provide extra learning resources to ensure they have the information they need, right when they need it.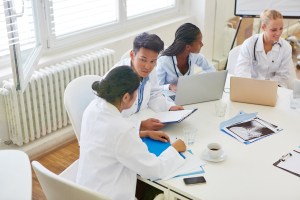 As a recent example, one senior living client of ours had the idea to create handouts for agency nurses who are supporting staff during the pandemic. Some of these new nurses were unfamiliar with Yardi EHR, so they were resorting to charting on paper.
To get the nurses on track, the client created a two-page handout, featuring screenshots and instructions, that outlines what to do at the start, during and after a shift. It effectively guides the nurses through the essentials of a shift in Yardi EHR, and it even offers some troubleshooting in case they get stuck. The handouts have proven successful as a support tool across their communities.
In that same spirit, we've created over a dozen job aids for Yardi EHR and Yardi eMAR to facilitate learning and help your staff be more productive. Each document covers one task (like adding new orders or updating a physician's contact information) in clear, easy-to-follow language that caregivers can reference if they're new to the process or just not quite sure about the steps.
Here's a quick rundown of what our new Yardi EHR and Yardi eMAR job aids explain:
Adding, verifying and linking orders (both medical and non-medical)
Navigating a resident card and charting tasks through care stream
Preparing for a pharmacy interface integration and tips to running it well
Solving common error messages in the order resolution queue
To download the job aids, please sign in to Client Central. In the Documents section, set the Type to "TechNotes" and the Module to "Senior Living." All the job aids will appear under EHR. We hope you find these resources useful for onboarding and training your own caregivers, and please let us know if there are any more you want to see!