Landscape Architecture
By Yardi Blog Staff on Jul 1, 2014 in News
Curb appeal is key when it comes to your investment properties, be it residenti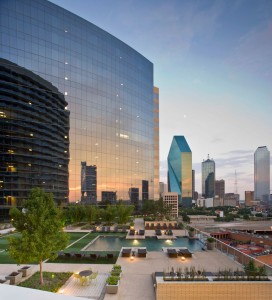 al projects or commercial developments.  Whether you want to attract or retain residents at your apartment community, or create a stimulating office environment, creating curb appeal may help you get ahead of the competition while delivering a top-quality product.
Curb appeal may mean a lot of things, from the general appearance of the space and building architecture to cleanliness and landscaping. Multi-family experts agree that the first impression that the prospective client gets when entering a property may be decisive in the selection process; but it does not stop at that. By providing great recreational amenities, you'll be making it increasingly difficult for existing residents to depart. Curb appeal can bring you up or take you down, depending on what you have to offer, hence the importance of adopting a holistic approach when embarking on development projects.
Moreover, curb appeal may be used to give a huge boost to your marketing efforts. Make sure you feature photos spotlighting the curb appeal of your communities when running social media campaigns, online ads and any other promotional crusades. It can be effectively used to transmit a visual message by translating it into promotional language and integrating it into your marketing pitches. Descriptive lines such as "beautifully landscaped community", "lush English-style gardens" or "modern design complementing existing architecture" will render your property unique and memorable, so as it sticks in your prospects' minds.
Visualization is a powerful tool when trying to turn the tables in your favor. Prospective customers may easily picture themselves lounging around at your community's infinity pool, enjoying exquisite sunsets on the rooftop garden while sipping on a favorite cocktail, or barbecuing with friends. It's these kinds of images that linger and make prospects want to buy what you're selling.
As one of Texas' largest landscape architecture and planning firms, TBG has witnessed first-hand the effects of well-constructed environments. Heavily -sought after properties are most often defined by their ability to provide inclusive environments where functionality meets sustainability and innovative design. Just like location, price or staff responsiveness, curb appeal may act as a deal breaker in today's competitive market.
"There is a great focus on including outdoor spaces in commercial projects whether it be a small courtyard where people can interact, a rooftop garden or site landscaping", Bill Odle, managing principal at TBG Partners' Houston office, told the Houston Business Journal. "That is nothing new or earth shattering. What has changed is that owners and developers are bringing TBG in at the beginning of the project, and landscape spaces are not just an afterthought. It's a priority and a way for them to distinguish themselves and their projects. Outdoor spaces are now becoming the reason someone chooses to buy which is very powerful."
Founded in 1987, TBG Partners has evolved from a small practice in Austin to a multifaceted firm with offices throughout Texas as well as in Florida, Oklahoma and Dubai. Their portfolio includes developments at all scales around the world, from mixed-use and residential communities to corporate campuses, civic buildings, hotels, resorts, healthcare and educational facilities, city parks, and historic sites.
The company has several big projects on roll in Texas, including Toll Brothers' Sienna Plantation, a 10,500-acre master-planned development in Missouri City which is expected to contain 7,200 homes by year's end. TBG developed a comprehensive master plan and landscape architecture program for the community which included the integration of schools, churches and retail with Sienna's 19 distinctive neighborhoods; pedestrian-oriented streetscapes for a plus of vibrancy; and an extensive trail network successfully connecting parks and lakes with the community's retail and residential fabric.
Boasting more than 2,000 acres of green spaces, parks, recreation areas, lakes, greenbelts as well as a golf course, Sienna Plantation is a success story and a remarkable example of a premier amenity-rich community. It is one of the most active master-planned communities in the country, ranking No. 16 on the nation's best-selling communities, with 445 sales in 2013 as reported by the Houston Chronicle.
In designing the community, TBG laid emphasis on the natural component of the land as well as the preservation of existing elements, including mature live oaks, some more than two centuries old, which have remained an integral part of the green infrastructure. The trail system includes 20 miles of community trails and four miles of nature trails, encouraging residents to embrace active lifestyles.
TBG Partners has also been instrumental in the design and planning of Energy Center Four, a 22-story, Class AA office tower in the heart of Houston's booming Energy Corridor. The project is a joint venture of Trammell Crow Co. and Principal Real Estate Investors, and the second tower to break ground at the Energy Center complex, according to Commercial Property Executive. It features 598,000 rentable square feet of office space as well as a stand-alone, 2,300-car parking garage. The compound is pre-certified Leadership in Energy and Environmental Design (LEED®) Gold for core and shell.
For the development of Park Seventeen in Uptown Dallas, TBG worked with the architect to create an urban landscape design complementing the upscale mixed-use high-rise complex as well as existing architecture in the surrounding neighborhoods. The office component of the development is LEED Gold-certified while the multifamily component boasts LEED Silver certification. The two towers share an impressive one-acre amenity deck on the seventh floor. Among a series of refined elements, including a resort-style pool and chic seating options, the deck features a 30,000-pound live oak which the project team managed to hoist onto the 7th floor.
Photo credits: TBG Partners website