Health at Home
By Erica Rascón on Mar 3, 2021 in News
As a company grows, it can be challenging to maintain a personal connection with the communities that it serves. When two international chains and a national housing provider behave like good neighbors, communities take note. CVS, Walgreens and EAH Housing have teamed up to provide in-house immunizations for seniors and other vulnerable groups.
Rapid changes in senior living communities
Seniors have faced unique challenges during the pandemic. To protect vulnerable residents, senior housing providers were required to cancel conventional family visits,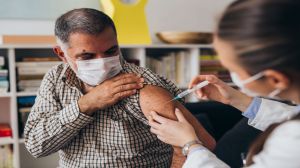 group excursions and most daily outings. With ample creativity, staff members helped seniors thrive during quarantine. But undoubtedly, seniors missed time with their families and trips outside of the community.
Additionally, seniors had to embrace technology in new ways. Seniors are a tech savvy bunch, and technology adaptation comes with health benefits. The new approach to health care, however, replaced many in-person office visits with telehealth options. Seniors again found themselves on unfamiliar terrain.
The COVID-19 vaccine could save lives. It would also provide a safe way for seniors to resume a somewhat normal lifestyle. But with cases on the rise, venturing outside of their communities to access the vaccine posed risks of its own.
Senior housing providers such as EAH Housing sought means to bring vaccinations to residents. CVS, Walgreens, and the Center for Disease Control (CDC) answered the call.
Walgreens and CVS answer the call to serve seniors
Yardi client and affordable housing provider EAH Housing recently announced that residents are receiving Pfizer-BioNTech COVID-19 vaccinations. The initiative is part of an immunization clinic provided by Walgreens and CVS.
Residents and staff of Reflections at Barbara Ann in North Hollywood were among the first recipients of the vaccine in January. This month, the site completes the second dose of the program.
Reflections at Barbara Ann hosts 64-units of senior affordable housing. It is owned by the Housing Authority of the City of Los Angeles (HACLA), a Yardi client. The property is one of many HACLA communities managed by EAH Housing that will receive clinic services.
"COVID-19 has shown us how critical having a home is to maintaining good health," said Tina Booth, director of asset management at Housing Authority of the City of Los Angeles (HACLA) in an interview with EAH. "We appreciate the efforts of EAH Housing and Walgreens to ensure that our seniors and most vulnerable residents have timely access to the vaccine."
"As the number of COVID-19 cases and deaths is surging, it is imperative that our seniors and other vulnerable residents receive COVID-19 vaccinations," said Laura Hall, president and chief executive officer at EAH Housing.  "We applaud Walgreens and CVS for providing us with this critical service onsite, making it safer and more convenient for our residents."
EAH Housing has steadily continued vaccinations since January, providing service for thousands of seniors and other vulnerable residents in its California and Hawaii properties. The immunizations are issued in conjunction with the Center for Disease Control (CDC) and its national retail pharmacy program.
Yardi is committed to serving the communities in which employees live and work. Learn how Yardi supports communities during COVID-19.