Global Growth
By Leah Etling on Oct 14, 2013 in News
A year ago, Yardi announced the opening of a new office in Du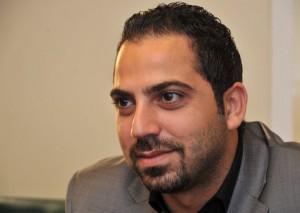 bai, UAE, offering the global real estate technology provider the chance to better serve clients and expand our presence in the region. In just 12 months, major client growth and significant expansion of the staffing resources in the Dubai office have taken place.
We caught up with Said Haider, Regional Sales Manager, who leads our business development efforts in Dubai. "Besides being a global private held company, the adaptive culture that is aligned to Yardi business goals routinely outperform its competitors in the niche real estate solutions market," Haider noted. Read on for more of his insights on Yardi's Middle Eastern expansion.
Q: Yardi's growth in the Middle East marks an exciting new regional expansion for the global company. Tell us about the company's focus there?
A: While Yardi has had a handful of clients in the Middle East for the past four years, our client base has grown 300% growth over the past twelve months.   We see tremendous demand from a broad range of real estate investment, asset, property managers and developers for a more effective asset and property management platform. The demand in the Middle East is aligned to the increased focus by owners of real estate on more effective and focused asset management and tenant services. We see this across the major real estate sectors including retail, office, industrial, residential and mixed use type of properties.
Q:  Where is the office serving the Middle East located and what staffing resources are in place?
A: The Yardi Dubai office was established in October 2012, in Dubai Internet City (DIC). Dubai Internet City (DIC) is the Middle East and North Africa's largest ICT hub, and was the logical place for Yardi to establish a regional headquarters for the Middle East & North Africa.    We started the office with one person and now have a team of ten people, which include business development, professional services and client services. We expect to continue to expand our team over the next 12 to 18 months in the Middle East
Q: What type of clients does Yardi have in the area, and what type of real estate do they manage or hold?
A: Our clients range from family offices, private equity, asset and property service companies, government linked companies and some of the largest owners and developers of shopping centres in the Middle East. Clients use Voyager  to manage real estate assets across the Middle East and North Africa including in: United Arab Emirates, Egypt, Oman, Lebanon, Jordan, Kuwait, and Saudi Arabia.
Q:  Are there any technology needs unique to the region that Yardi is providing solutions for?
A: Each country often poses unique challenges, and the countries in the Middle East are no different.    This includes language  (Arabic and English), the use of Post Dated Cheques (PDCs), communication to investors, owners, tenants and consumers, financial reporting, and others.  As part of our investment of people and infrastructure in the Middle East, we have also evolved the functionality of  Yardi Voyager to be able to cater to the needs of clients in the Middle East.
Q:  TDIC is a master developer of tourism resources in Abu Dhabi, is among the entities choosing Yardi in the Middle East. What were their reasons for selecting our software?
A: I think our clients can also provide the best feedback as to why they have chosen  to partner with Yardi.  Matar Al Qamzi, Chief Information Officer at TDIC, said: "TDIC's IT vision is to automate the business operations by implementing latest tools & technology.   As part of that strategic initiative, we partnered with Yardi for our Asset Management business systems." 
We find this a common theme with our prospects and clients that are looking to partner with company that is a real estate domain expert, rather than a broad based ERP software.  Yardi's 30 years of focus in real estate software really helps set us apart.
Q:  Tell us about some of the clients who have chosen Yardi as their technology partner for property and asset management in the region?
A: Our clients in the region include Khidmah, Waseef, Majid Al Futtaim, Etihad Towers, Tanween, Sino Gulf, Jumeirah and many others.
 Q: What features of Yardi's software are especially attractive to our Middle East clients in comparison to that of our competitors?
A: Yardi has spent a lot of time working with real estate companies operating in the Middle East to understand the unique regional requirements.    Yardi in turn has taken these requirements and built them into Voyager as core functionality.
The Yardi Voyager platform provides our clients with a localized leasing process and controls, tenancy contracts & renewal notices per the local law, enhanced Post-Dated-Cheques Controls, credit control mechanisms (Inclusive of un-cleared PDC's) and many others.
Market response to the Yardi Cloud and offering Voyager through a Software as a Service (SaaS) model has been very position.    This enables our clients to focus on their core business rather than worrying about managing applications and IT infrastructure.   The Yardi Cloud in turn reduces their overhead and capital costs.