Flexibility Holds Key
By Joel Nelson on Nov 25, 2020 in Energy, News
COVID-19 has had a jarring impact on commercial real estate in the form of health risks, stunted growth prospects, permit and construction delays, reduced income for property owners and the acceleration of e-commerce at the expense of physical stores, among other disruptions. The pandemic precipitated what global management consultant firm McKinsey & Company calls "an unprecedented crisis for the real estate industry."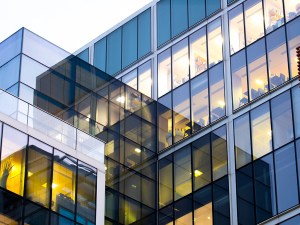 What will the CRE landscape look like when the pandemic fades? For one thing, new building codes designed to limit the risk of future pandemics could affect standards for HVAC, square footage per person and amount of enclosed space. Office building tenants will almost certainly be driven "to look beyond their traditional building preferences. In this new environment, tenants will gravitate towards the properties that best solve for flexibility, adaptability, and well-being," according to Erin Saven and Evan Danchenka of Gensler, a global architecture, design and planning firm.
Maria Sicola, a founding partner of real estate planning services provider CityStream Solutions and sales and training consultant Integrity Data Solutions, believes tenants will likely make their space "more personalized and less communal – we will likely not return to all-private offices and fancy conference rooms. But all space – personal and meeting — will need to be viewed with more breathing room."
And, of course, cleanliness will command more attention than ever. Commercial Property Executive predicts that "some products and techniques that have been used in medical office buildings and in hospitals are going to be brought to the office sector," such as microbe-resistant door handles and elevator buttons and sanitation with ultraviolet light.
Amenities as differentiators
Building owners and developers, for their part, would be well advised to explore "new real estate design strategies that can differentiate them from the competition and adapt to this new marketplace," especially since some businesses might be tempted to continue avoiding the costs associated with occupying a physical office, according to Saven and Danchenka. Differentiators in the new commercial real estate landscape will include amenities, which "are not going away — they are simply evolving," they say, to encompass such things as food halls, fitness centers and conference facilities.
"For any new construction projects," notes Laura Ford, an executive vice president for Colliers International, "I recommend rooftop deck amenities, operable windows, and high-quality air filtration systems, so that people feel safe and have somewhere to go." Employers should encourage employee requests for flexibility, she adds, and they can be accommodated most easily with well-designed office buildings.
Using tech to enhance the experience
Furthermore, many property owners and managers "will feel an even greater sense of urgency than before to digitize and provide a better—and more distinctive—tenant and customer experience," four McKinsey partners said in an article titled "Commercial Real Estate Must Do More Than Merely Adapt to Coronavirus." That includes using smart building technologies to drive organizational productivity, along with AI-based software platforms that deliver analytics on HVAC and lighting systems.
"While relatively few real estate companies were actively developing or pursuing digital and advanced analytics strategies before the pandemic, such strategies can help with tenant attraction and churn, commercial lease negotiations, asset valuation, and improved tenant experience and operations," the McKinsey team says. And as CRE stakeholders try to emerge from the pandemic, they continue, "those that succeed in strengthening their position through this crisis will go beyond just adapting: they will have taken bold actions that deepen relationships with their employees, investors, end users, and other stakeholders."
Yardi energy management solutions optimize energy performance in commercial properties with intelligent load-based algorithms, artificial intelligence and more.  Learn more and view a short video.