YASC Global
By Joel Nelson on Sep 9, 2020 in Events
The Yardi Advanced Solutions Conference began in 1999 with about 200 guests in attendance. YASC eventually encompassed six events on four continents dedicated to giving real estate professionals in-depth training in Yardi property and investment management software. There were always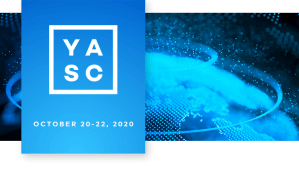 plenty of networking opportunities and fun as well.
COVID-19 diminished in-person meetings this year but not the YASC mission. Yardi kept the tradition going in May, hosting a digital version in lieu of gathering in Washington, D.C. More than 16,000 clients around the world completed 107,000 on-demand classes and viewed 50,000 hours of content at YASC Digital.
Yardi will build on YASC Digital by combining the year's five remaining conferences into YASC Global, a presentation of more than 280 on-demand classes Oct. 20-22. Like YASC Digital, YASC Global is free to all clients and features customized, self-paced learning and market-based registration tracks. There's also live chat support from product specialists, in-depth spotlight sessions, real-time chat with fellow attendees, prizes and giveaways, and social media interaction. Attendance at YASC Global is expected to exceed that of YASC Digital.
"We're gratified that our clients gained so much from YASC Digital. That outcome inspired us to repeat the experience and enhance it with expanded class offerings, panel sessions and exclusive special events," said Kevin Yardi, the company's vice president of global solutions. "We look forward to joining industry leaders around the globe in a memorable event."
Learn about the value in store for Yardi clients at YASC Global.