IM Insights
By Luis Estrada on Dec 21, 2020 in Events
Yardi's November Executive Briefing brought together a collection of industry leaders to discuss current trends and solutions to mitigate a year of unique challenges.
As part of the session, Yardi senior vice president of global solutions, Rob Teel, provided an update on some of Yardi's current initiatives and what trends are driving Yardi's efforts moving forward. The company is underwriting a major tenant survey with BOMA which received over 3,000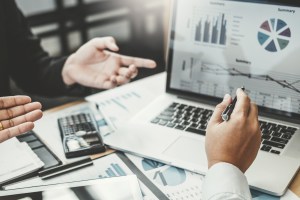 responses. The survey responses will be revealed in the coming weeks and there will be upcoming webinars with BOMA to review and analyze the findings, such as the likelihood for commercial tenants to renew, factors driving their renewal decisions and factors driving office occupancy levels.
Teel noted that some of the prevalent industry trends this year are topics he's rarely had to deal with, such as concern over rent deferrals and concessions. Yardi's response was to create a new product called Lease Manager, which helps landlords better manage tenant risk and overall portfolio health. In addition, with a focus on removing touchpoints, Yardi felt it was key to help clients eliminate paper from their day-to-day operations. To do so, there was a corporate initiative to promote products such as VendorCafe and CommercialCafe, which make it easy to electronically submit payments, vendor invoices, tenant invoices and any other documents which normally would have required mailing or submitting paperwork.
The industrial, retail and office sectors have all been affected differently by the global pandemic. Industrial has become the "shining area of commercial," Teel noted, thanks to a large spike in e-commerce growth and demand staying steady along with occupancy and rent. On the flip side, retail has naturally seen more challenges with less foot traffic, shutdowns varying by jurisdiction and higher vacancy rates. This has led retail managers to reach out for tech solutions more than ever, according to Teel, as they look to solve issues around collections, chasing bad debt and redevelopment. Finally, the office sector has experienced widespread vacancy, a slowdown in lease renewals and a spike in work from home which is now leading to the debate of not just when workers will return to office, but if they'll return in the same daily manner as they did prior to the pandemic. As a result, flexible workspace and hub and spoke models are trending up, as property managers try to find alternatives to public transit commuting and distancing requirements in traditional office.
Beyond Teel's high-level overview, a panel of industry leaders discussed the benefits of an automated investment management solution, especially amid the pandemic. In the discussion, Alex Droste, global real estate platform leader for Alter Domus, explained his company's thought process behind their expansive use of Yardi solutions. "In the real estate fund administration space, a lot of our clients were starting to ask for more of a view of the assets underneath the funds and we needed a solution to make sure that not only could we consolidate financial statements, but also give us more of a view of the assets at an underlying level, ideally in the same system," he said.
His perspective is unique because as an employee of Cortland, the company was purchased by Alter Domus over 7 years ago and using the Yardi product line, they've expanded to a global reach, creating the same single system environment for all of their real estate services.  Their use of Yardi investment management products allows them to deliver detailed and accurate reporting to investors, analyze management fees and performance calculations and most importantly, keep everything in the same connected solution as their accounting with Yardi Voyager.
Ohad Porat, co-founder and CIO of Faropoint Ventures, an investment company whose focus is last and middle mile industrial facilities, used manual Excel documentation or disparate systems before adopting Yardi's single connected solution. "At one point we realized we [needed] a real estate CRM or enterprise system to really hold all of our needs today and for a growing operation," Porat said. Understanding that the company was "insecure at the investor level, not at the property level," Faropoint turned to investment management. "We needed to make sure once a report or a capital statement goes to an investor, it will be on the spot with no risk of [errors in data]."
"We're able to handle all the consolidation, able to handle rolling up processing distributions, housing all the documents for the investors and producing all the property level reports," said Gary Shaw, president of Arcadia Management Group. Their use of Yardi products goes back over 20 years and using investment management products over the past three years has helped them manage clients of widely varying levels, from Goldman Sachs to a family-owned strip mall.
Navigating business through the pandemic has exposed some challenges for businesses in real estate, such as improving communication with tenants in a timelier fashion, as Shaw explained. The future of commercial real estate is coming into clearer focus as businesses continue to reopen offices, reshape the way we work and shift demand for workspace. It will be incumbent upon landlords and property managers to leverage technology to satisfy client needs and adapt to changes quickly, especially as it seems remote work for many will be common for the foreseeable future.