Onward, Ottawa
By Erica Rascón on Dec 28, 2019 in Events, News
Ottawa used to be a city that thrived under the radar. Now, its growth is catching international attention. The 2019 Ottawa Real Estate Forum explored the rapid growth and evolution of the nation's capital city. This year's theme, "Ottawa's on Track: The Hidden Gem of Canada" presented attendees with economic and social forecasts to inform investment decisions.
The evolution of Ottawa
In 2018, Ottawa was ranked the second most concentrated tech city in North America. With more than 180 tech companies in Ottawa and growing, a smart growth revolution is necessary to attract and retain talent.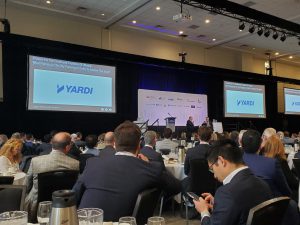 Yardi sponsored the session "A Vision for the Evolution of Ottawa" with His Worship Jim Watson the Mayor of Ottawa as keynote speaker. Hugh Gorman, CEO of Colonnade Bridgeport, lead a subsequent interview.
Watson and Gorman discussed the need of improved efficiencies for policy approvals and repurposed buildings to help municipalities keep up with economic growth. Ottawa has plenty of space to welcome new industries and support existing businesses. At 2,790 km², it is larger than Toronto, Montreal, Vancouver, Calgary and Edmonton combined, the Mayor emphasized. Yet the evolution of Ottawa isn't solely about new spaces and experiences. Watson encourages the reimagining of existing spaces to enhance usability.
Ottawa is also making a name for itself as a center for transportation tech innovations. The city is constructing an autonomous vehicle test track. Ottawa's vast range of weather conditions make it an excellent training ground for un-manned vehicles. When combined with the $2.1 billion new light rail system Ottawa's status as transportation innovation center grows.
Understanding the retail market
Canada's growth is undeniable. The population of 37 million is estimated to reach nearly 40 million by 2025; since 2016, major cities have created the bulk of the nation's jobs, reports ADP Research Institute. These new workers and new jobs demonstrate an upward trend of contingent workers.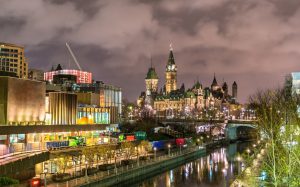 To discuss the way that growth impacts employment and real estate, Fraser Paddison, director, retail leasing, Colonnade BridgePort Realty Inc. moderated a panel consisting of Candice Lerner-Fry, first vice president, leasing, Marcus & Millichap; Brian O'Hoski, general manager, CF Rideau Centre, The Cadillac Fairview Corporation Limited; Tim Roos, vice president, operations, RioCan REIT; and  Julie Taggart, vice president, leasing & operations, Taggart Realty Management.
For retailers, tenant mix is still sought after. Roos explained that the most influential newcomers are food halls, cannabis stores, and pop-up stores and brands with flexible leasing terms. Consumers are shying away from big box stores and cookie-cutter chain retails. Instead, they desire shopping destinations that offer unique experiences.
Downtown Ottawa is transforming at a rapid pace. To explore the changes, Shawn Hamilton, senior vice president & managing director, CBRE Limited moderated the panel that included Wayne Berger, CEO, Canada & Latin America, IWG;  Rob Cameron, vice president, strategic transformation, Nokia; Lisa Fulford-Roy, senior vice president, client strategy, CBRE Limited; and Sonya Shorey, vice president, strategy, marketing & communications, Invest Ottawa.
Flexible workspaces
Berger notes that IWG has capitalized on an opportunity to invest in urban cores where enterprise and tech companies seek flexible spaces. "They want to use space as a service and remove it from the balance sheet," said Berger. "In Ottawa, the demand has accelerated because they are a huge driver in tech."
Coworking spaces are sought after by employers and employees alike. Berger estimates that by 2050, a vast majority of Canadians will be living in major cities. Infrastructures need to accommodate the growing population but not in the sense of traditional offices spaces with dedicated seats. Flexibility and coworking are key.
"Employees want to be in an ecosystem, café-like environment with access to private and team space when needed. There is also an interest in access to other coworking locations," he adds. The trend serves companies well. They would rather invest in employees than real estate, Berger notes. Coworking addresses that issue.
Learn how you can improve efficiencies and cut operating costs by automating your coworking space with Yardi KUBE.